Attention Black Friday shoppers, Best Buy has an online preview of its flyer for the post-Thanksgiving shop fest featuring doorbuster-priced Windows 8 PCs, gaming consoles, DSLRs, and 3D HDTVS. As usual, Best Buy will open its doors at 12:01 a.m. Friday, November 23 and hand out reservation tickets for select doorbuster items up to two hours before the store opens. Shoppers unwilling to brave the cold can also find some online-only deals starting Thanksgiving Day (Thursday, November 22) at BestBuy.com/onlineonly.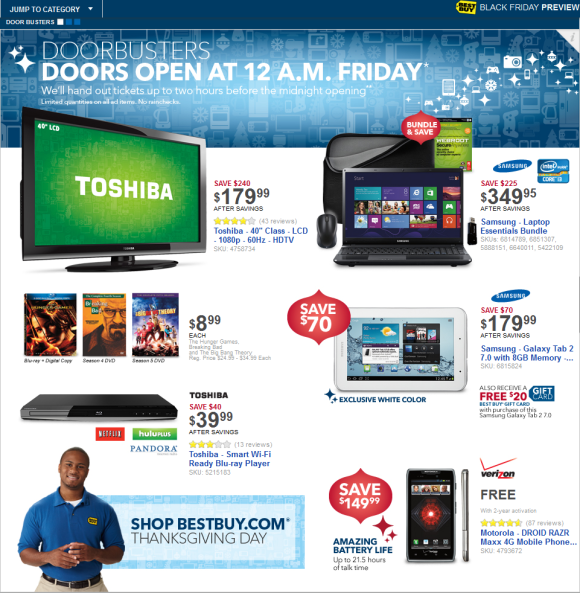 Best Buy's Black Friday preview not only lets you get a jump on planning your shopping strategy, but you can also do a little price checking to see if Best Buy's deals are as good as it claims (spoiler alert: they're usually not). To check your item just look for the SKU number of the product you're interested in and plug that number into the search function on Best Buy's site. You can then find the current price and compare that to Best Buy's Black Friday price.
Meanwhile, here's a look at five highlights from Best Buy's upcoming Black Friday sale.
Samsung Windows 8 Bundle

Black Friday Price: $350
Current Price: about $560 (combined)
Real Savings: about $210
HP Envy 14-inch Windows 8 laptop

Features: 14-inch display (1366-by-768), 8GB DDR3 RAM, 1 TB HDD, 2.2 GHz Ivy Bridge Core i7-3632QM processor.
Black Friday Price: $630
Current Price: $800
Real Savings: $170
Best Buy hasn't listed prices yet for its online deals that start Thanksgiving Day, but some of the items slated for "hot prices" include the Canon EOS Digital Rebel T3 12.2 megapixel DSLR (currently $500), and a Toshiba Satellite 17.3-inch laptop with Windows 8, 4GB RAM and 500GB HDD (currently $400).
Best Buy will also be offering more deals on Monday, November 26 for Cyber Monday, the official kick-off of the online holiday shopping season.
Panasonic 55-inch 3D LED HDTV

Features: 1080p,120Hz refresh rate, 4 pairs of 3D glasses
Black Friday Price: $900
Current Price (TV only): $1,400
Real Savings (TV only): $500
PSVita Bundle

Features: crystal black PSVita Wi-Fi, 4G memory card, and Call of Duty: Black Ops Declassified
Black Friday Price: $200
Current Price: $250
Real Savings: $50
40-inch Toshiba LCD HDTV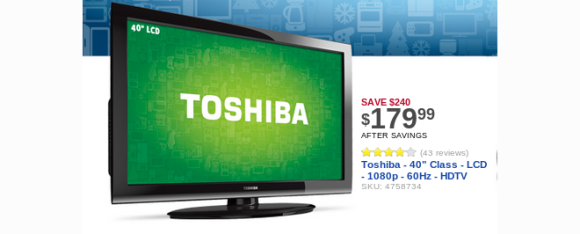 Features: 1080p resolution and a 60Hz refresh rate.
Black Friday Price: $180
Current Price: $420
Real Savings: $240