In today's information economy, backing up your company's data is more than a good idea – it's an absolute necessity. But many small businesses work so hard at building their business that data backup gets pushed down their list of priorities. It becomes something that's done inefficiently, ineffectively, and sometimes put off altogether.
It's easy to understand the difficulty of staying on top of data backups: It can be time-consuming, awkward and expensive, especially when you invest in large quantities of hardware like hard drives, optical media, tape systems and flash drives. It's tempting to just get by for now or put all that off until you get a break in your schedule. But beware – failing to maintain backups can have disastrous consequences, and most states now require businesses to disclose data loss to their customers.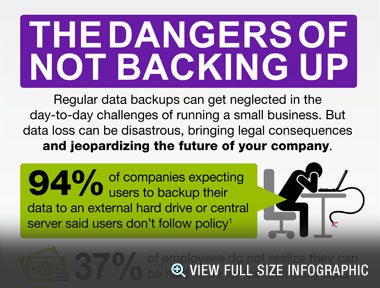 Backing up data has become increasingly critical as more people work outside the office on laptops and other mobile devices. Portability is a terrific convenience, but it can also create serious problems, such as when a laptop is lost or stolen. Laptops are easily bumped and bruised and that can lead to hardware failure. A lost, broken or stolen laptop is costly – more than just the sum of its parts – because you have to factor in the cost of recovering the lost data, too.
This is what makes Carbonite Business an ideal solution, especially for your mobile workers. Carbonite Business automatically backs up an unlimited number of computers, external hard drives and NAS devices consistently and in real time without affecting the performance of your network and no matter where the devices are located. The files remain accessible to your employees via any internet-connected computer, smartphone or iPad with the free Carbonite Business App.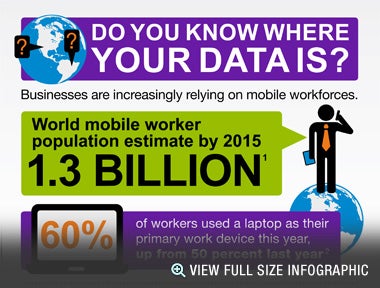 What's on the line here? Almost half of your business, according to some estimates . Sometimes data is compromised because a hard drive or some other critical component fails. But a lot of the time, operator error is to blame. Other major challenges offset by off-site storage solutions from Carbonite Business include software corruption and viruses.
Regardless of what the problem may be, downtime for your business means losses in productivity and profit. Here are some sobering statistics to show you just how much lack of preparation can cost your business: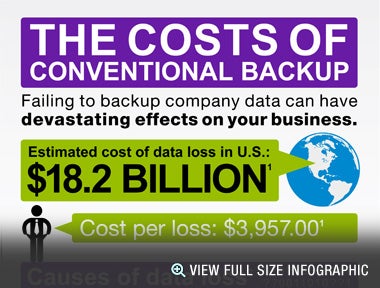 Carbonite helps you rest easy, knowing your data is encrypted and backed up safely offsite. Backed up files are encrypted at all times and stored on redundant disk arrays at one of Carbonite's highly secure data centers. Carbonite's browser-based admin dashboard lets you monitor your business' backup status from one central point, allowing you to easily manage the backup of your entire business. And best of all, it's all for a predictable annual cost you can budget with confidence. For just $229/year, you get 250 GB of backup space to share between an unlimited number of computers, external hard drives and NAS devices.
Carbonite's winning combination of value, simplicity and security make it the ideal solution for data backup. With nearly 200 billion files backed up and more than 7 billion recovered, Carbonite has a proven track record helping small businesses make sure their most important data is safe and sound. Don't put your company and your customers at risk by relying on outdated, on-site methods or putting data backups off for another day. Try Carbonite Business risk-free for 30 days (no credit card required) at www.carbonite.com.
i http://bit.ly/NHC8bz