Despite Microsoft's big marketing push, sales of the Surface RT tablet have started "modestly," Microsoft CEO Steve Ballmer says in a recent interview. While Microsoft subsequently said its CEO's comments referred to distribution of the new tablet, the Surface RT is drawing some gripes and apparently less interest than Microsoft likely wants.
Ballmer did not disclose any sales figures, but says he is optimistic that demand will pick up with the launch of the higher-end Surface Pro early next year.
Microsoft started taking pre-orders for the Surface RT tablet in mid-October, and promptly reported a shipping delay of up to three weeks for the $499 model. The tablet went on sale on October 26 to a limited sales channel: online from Microsoft, or at its 65 stores across the U.S. and Canada—34 of which are pop-up stores.
Some of the first customers of the Surface RT have complained that the touch cover for the tablet, sold separately, is splitting where it connects to the tablet, while the Microsoft logo on the back is starting to rub off. In addition, a survey last week indicates that 52 percent of adults had not heard of Windows 8, and 69 percent of the consumers surveyed had little or no interest in buying a Surface.
Speaking with French newspaper Le Parisien this weekend, Microsoft CEO Steve Ballmer admits sales of the Surface RT began "modestly," and that he expects stronger initial results for the more advanced Surface Pro tablet, running the full version of Windows 8.
After this article was first published, Microsoft told media outlets including PCWorld that Ballmer's comments weren't about sales of the Surface RT. "When asked about Surface, Steve's use of the term 'modest' was in relation to the company's approach in ramping up supply and distribution of Surface with Windows RT, which has only been available via our online store and Microsoft retail and holiday stores in the U.S. and Canada," the company said in a statement. "While our approach has been modest, Steve notes the reception to the device has been 'fantastic' which is why he also stated that 'soon, it will be available in more countries and in more stores.'"
Although the Surface RT and Surface with Windows 8 Pro are physically similar, some customers may be holding off for the latter. The Surface RT comes pre-installed with Office 2013, available in the traditional desktop mode only, along with typical bundled Windows apps such as Paint. But you won't be able to install applications such as Adobe Photoshop or Firefox in desktop mode in Windows RT, aside from the apps that come with the OS. You can install only apps that use the modern Windows 8 tile interface, and that's via the Windows Store.
In comparison, the Surface with Windows 8 Pro, running on Intel processors, is thicker, heavier, has a higher-resolution screen and can run apps from the Windows Store as well as Windows 7 apps in the desktop mode, making it a fully-fledged computer/tablet hybrid. Microsoft however, has yet to reveal a launch date and pricing for the upper tier tablet, which is expected early next year.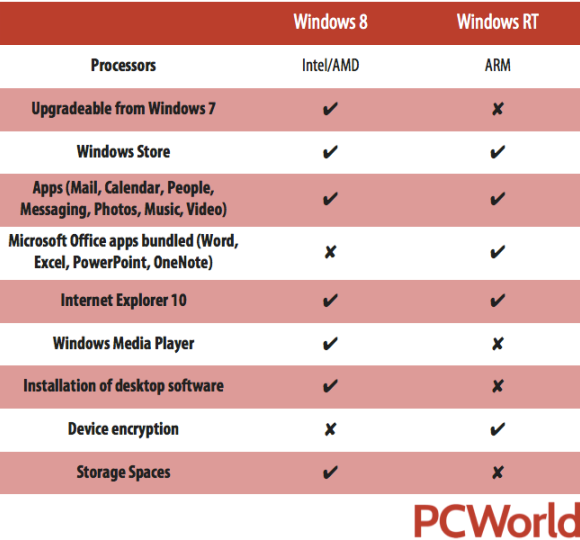 Updated at 4:05 p.m. with a statement from Microsoft regarding Steve Ballmer's comments.