Most cloud storage services already offer apps for accessing their servers from every major platform, but Microsoft is taking the model one step further by weaving its cloud storage service directly into Windows 8—if not every major component of the new Windows universe, including Windows Phone 8 and the new Office Web app.
Welcome to SkyDrive. Microsoft's cloud service has been in business since late 2007, but now its app lives front and center on the Windows Start screen, and it's built to integrate with other Microsoft software and hardware. SkyDrive offers features and pricing plans that rival established cloud storage services like Dropbox and Box. But because there are three ways to access SkyDrive on a Windows 8 PC, each with its own peculiar strengths and weaknesses, it can be a pain to figure out how to best bend the service to serve your needs.
What SkyDrive does well
SkyDrive has evolved from humble origins (remember Windows Live Folders?) into a useful cloud storage service that competes favorably with established services like Dropbox, Google Drive, and Apple iCloud. SkyDrive offers new users 7GB of free space, with the option to upgrade to 50GB or 100GB via a monthly subscription.
Despite the Microsoft logo, SkyDrive is relatively platform-agnostic, and you can access files stored on SkyDrive via apps on an Android, iOS or any other device with a Web browser. That said, SkyDrive really shines if you use Microsoft Office or own multiple Windows devices, because it has a bunch of neat features that tie into the Windows ecosystem.
For example, Microsoft has built a Web app version of Microsoft Office directly into the SkyDrive app. You can now view and edit documents in your SkyDrive folder right from your browser using a limited version of Microsoft Word, or create a spreadsheet in your browser and email it to a client (or share it directly to their SkyDrive) so you can both edit it simultaneously. It works just like real-time collaboration via Google Drive, but the Office Web apps offer more features (like tracking changes in Word) than Google Drive's editing suite.
SkyDrive really shines in this regard, because it basically offers anyone with an Internet connection the opportunity to access Microsoft Office products for free, with few limitations on how they share their work.
SkyDrive is a remarkably good platform for sharing data with friends and family, too. There's an option to share just about any file type in your SkyDrive folder via email, Facebook, or HTML embed codes, or directly to another SkyDrive user. I particularly appreciate the option to share images stored on SkyDrive via a URL, which lets you use the service as a more secure stand-in for popular image-hosting services like imgur. Simply upload an image to SkyDrive (which uses HTTP Secure encryption), and then select choose Share from the Sharing menu and copy and paste the link into an email, an IM conversation, or your social network of choice.
Where SkyDrive falls short
Between the Windows 8 app, the traditional desktop app (which is really more of a plugin for File Explorer), and the SkyDrive Web interface, it's very easy to get confused about how you should best access SkyDrive on a Windows 8 PC. The dual nature of Windows 8 is partly to blame, but Microsoft needs to make it easier to understand the strengths and weaknesses of the different ways in which desktop users can access SkyDrive.
For example, the Windows 8 app is great for browsing photos or other media stored on your SkyDrive, but you can't move those files around within your SkyDrive or share them with others very easily, because you're limited by the apps linked in the Share charm. If you want to share a direct link to an image or edit a document online, you must boot up your browser and access the SkyDrive website, where you can generate links and move files between different folders in your SkyDrive.
You can't upload any files larger than 300MB via the SkyDrive website though, so if you want to upload large files, you need to download and install the SkyDrive desktop app, which creates a SkyDrive folder in your File Explorer that syncs itself with your SkyDrive. You can drag and drop files or folders directly into the SkyDrive folder to upload them quickly, and this way you can also bypass the SkyDrive website file-upload limit of 300MB so that you can upload files up to 2GB in size. The SkyDrive desktop app works with Mac OS X Lion, Windows Vista, Windows 7, and even Windows 8, so it's theoretically possible to have both the Windows 8 SkyDrive app and the SkyDrive desktop app installed and running on your PC simultaneously. This won't cause any problems (if anything, it affords you more power to control how your PC shares files with SkyDrive), but it's way more confusing than it needs to be.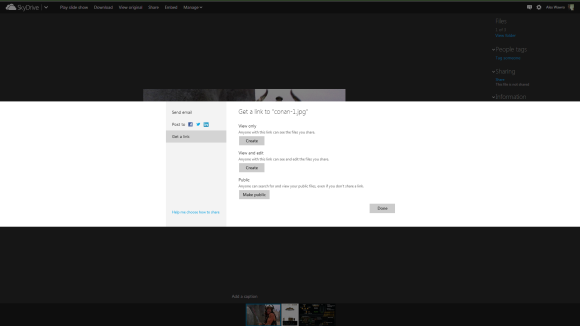 SkyDrive is also a little too closed for comfort. For example, you can use it as an impromptu image-hosting service by logging in to the SkyDrive website and generating a direct link to the image you want to show your friends. But when you share that link, your friends will have to log in to their SkyDrive accounts before they can access the image you're trying to share, unless you put the image in your Shared folder and share it from there.
You can actually make any folder public by opening SkyDrive in your browser, right-clicking on the folder you want to make public and selecting Properties > Share > Get a link > Public and clicking the Make public button. This allows anyone to view files in that folder without having to first log in to SkyDrive, which makes it easier for you to use SkyDrive as a personal file host.
Also, don't forget that everything you store on SkyDrive is subject to the Code of Conduct for Microsoft services, and that you can have your Microsoft account suspended for uploading anything that Microsoft believes to be in breach of that code. Microsoft frowns upon (among other things) material that depicts full or partial nudity, vulgarity, and gratuitous violence. Your SkyDrive account will be monitored for potential violations, and if Microsoft chooses to suspend your account, you will lose access to everything tied to your Microsoft account. That includes (but is not limited to) your SkyDrive account, your Xbox Live account, and the Windows Store.
Key options and settings
No matter which device you use to access SkyDrive, you'll see the same familiar lineup of blue rectangular tiles after you log in with your Microsoft account. The options and settings available to you depend on which version of SkyDrive you're accessing, but for the purposes of this article we're going to highlight how you use the Windows 8 app on a tablet, smartphone, or PC.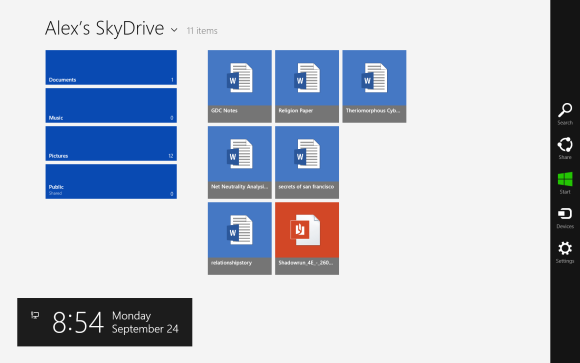 Using the Windows 8 SkyDrive app is pretty intuitive: Tapping a file will open it, and tapping a folder lets you dive right into it. Swiping up from the bottom of the screen (or simply right-clicking if you're rocking a traditional mouse and keyboard) on the main SkyDrive page brings up a bar with options to organize your SkyDrive by uploading new files, creating new folders, swapping between a tile-based or detailed view of your SkyDrive files, or selecting everything at once. To upload files to SkyDrive via the Windows 8 app, just swipe up from the bottom and tap Upload, then use the file browser that opens to find the file(s) you want to upload, tap them and hit the Add to SkyDrive button.
You can share your files and folders with other apps and the Internet at large by tapping the Share charm, and you can use the Search charm to search for files and folders within your SkyDrive. You won't find much of interest in the SkyDrive Settings menu, just a visual representation of how much available storage you're currently using and an option to upgrade your storage plan by tapping the Manage storage button.
SkyDrive tips and tricks
SkyDrive has a Recycle Bin that works just like the recycle bin on your Windows desktop, and files you send there don't count toward your SkyDrive storage limit, so you can use it as a temporary holding area for files if you accidentally go over your storage limit. Be careful when doing this, as Microsoft guarantees preservation of files in the Recycle Bin for only three days after you discard them. Files may remain in your SkyDrive recycle bin for up to 30 days, but Microsoft will erase them sooner if the recycle bin grows larger than 10 percent of your maximum SkyDrive space.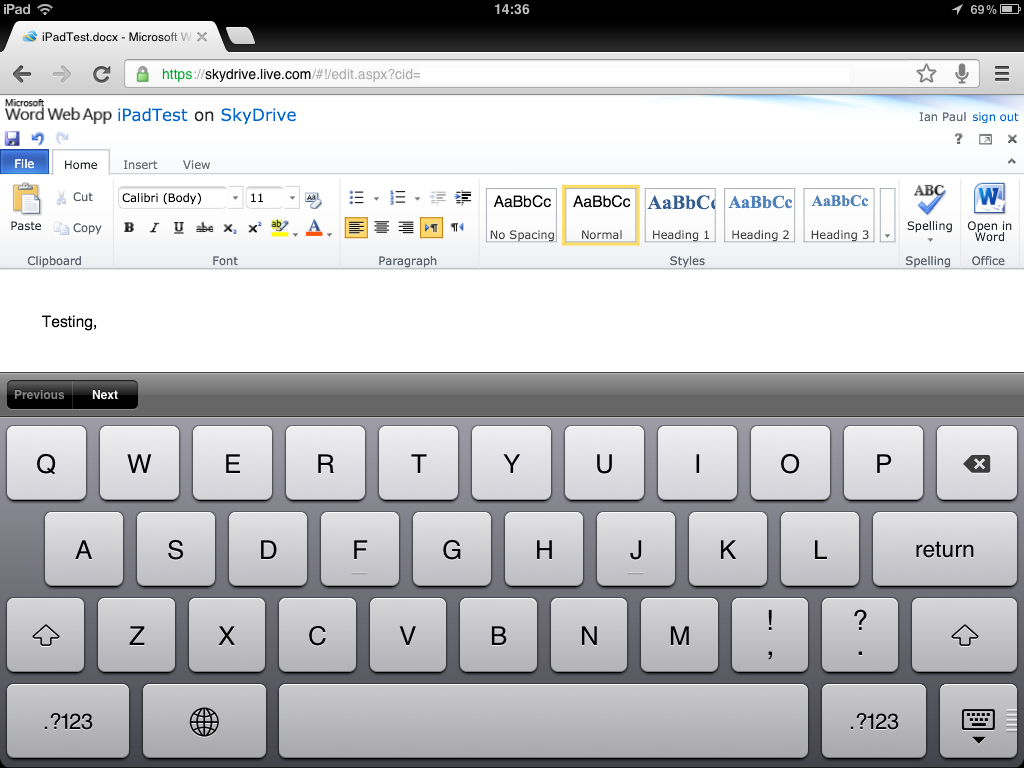 Also, as of this writing, the Office Web apps are available only if you access SkyDrive via the website. If the notion of collaborating in real-time on documents with remote coworkers sounds appealing, make sure you open the document in question from the SkyDrive website and not from the SkyDrive Windows 8 app so you can see what changes your collaborators are making as they make them. We hope Microsoft will update the SkyDrive apps, but, in the meantime, you can always access the SkyDrive website via the Chrome mobile browser if you want to edit Office documents on your iPad or Android phone.
Alternatives to SkyDrive
As mentioned earlier, there are a number of excellent cloud storage services to choose from if SkyDrive doesn't suit you. Dropbox, Box, and Google Drive are all excellent alternatives, but only Box has a Windows 8 app at this time (Microsoft confirmed during the Build 2012 keynote that a Dropbox app for Windows 8 is coming soon).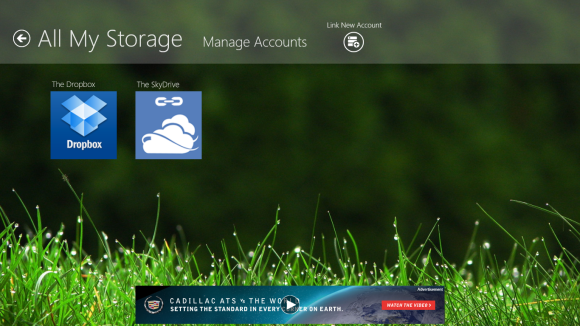 Fellow editor and PC enthusiast Alex Cocilova recently published an overview of 11 winning alternatives to Microsoft's Windows 8 apps, and he called out All My Storage as an excellent alternative to SkyDrive, because it lets you link your accounts on Dropbox, Box, and SkyDrive and see all your disparate cloud data in a single unified app. You can download an ad-supported version for free in the Windows Store, but I recommend shelling out $3 for the full version if you need a Windows 8 app that lets you manage your cloud storage without locking yourself within the Windows ecosystem.