It's easy to take a good photo management app for granted. Now that we store and share so many of our photos online, the value of a good program for organizing, displaying, and editing images can be difficult to appreciate—until you find yourself without one. In the past I was happy to stick with the default Windows Photo Viewer, but there's no Windows Photo Viewer app in the Windows Store. In its place you'll find Photos, a media management app designed by Microsoft to make it easy for you to view photos and videos from disparate devices and social networks in one central location.
If that's all you want your photo management app to do, Photos has you covered. But if you want to edit or organize your photos, you'll need more power than Photos provides. Thankfully, an App Store is built into every copy of Windows 8, with plenty of alternatives available in it. But before we get to those, let's look at what Photos does—and doesn't do—best.
What Photos does well
Photos does an adequate job of pulling your photos from disparate devices and services, organizing them, and presenting them to you in a pleasant, easy-to-navigate interface. If you're using Windows 8 on a tablet that has a high-quality screen, launching the Photos app transforms your device into a slick photo album that lets you swipe seamlessly back and forth through images from your DSLR camera, Facebook, SkyDrive account, and other PCs on your network.
Navigating through your photos feels intuitive. Tap an album to open it, swipe back and forth between images, or pinch to zoom out and see an entire album at a glance. When you zoom out, you'll notice that Photos shrinks your images to the size of a thumbnail, algorithmically cropping and orienting each thumbnail based on the components of the image. It's a small but welcome luxury, especially if you're fed up with squinting at image tiles or the preview pane in Windows 7. If you just need a slick platform for browsing through your photos and videos, the Photos app is a reasonable option.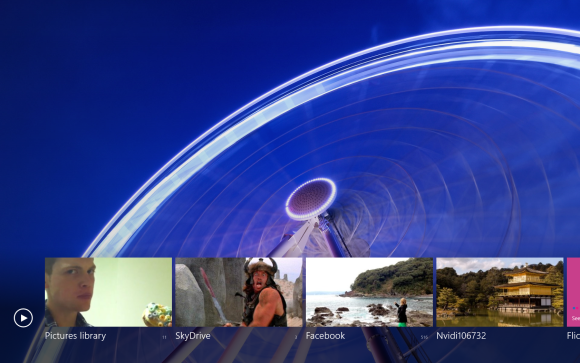 Photos also capitalizes on the sharing features built into Windows 8 by letting you display photos, slideshows, and videos on connected devices via the Devices charm. If you have an Xbox 360 or a home-theater PC hooked up to your HDTV, for example, you can easily select a slideshow or video in your Photos app, open the Windows 8 Charms bar, and use the Devices charm to output your media to your TV. Though Photos isn't quite as good as a dedicated wireless media streaming system—such as AirPlay or even YouTube mobile device pairing—the feature works well if you have the necessary hardware.
Where Photos falls short
Photos is functional and pretty, but it's not very powerful. If you want to edit images and you're using Windows 8 on a PC instead of a mobile device, the Windows 8 Photos app pales in comparison to several more-useful image management apps that you can download for free. Photos does a great job of automatically pulling images from specific services (like Facebook or SkyDrive), but it doesn't give advanced users much control over how to load images into Photos or how to edit and control such content once it's there.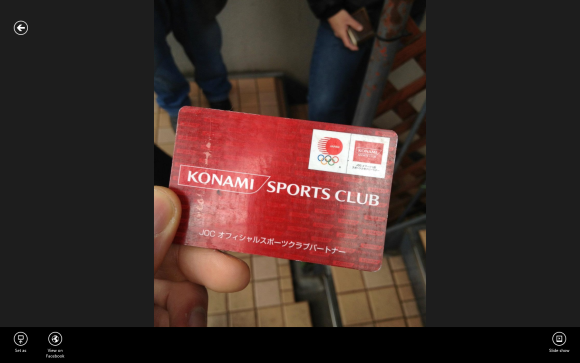 Photos currently offers no options for editing, resizing, or rotating photos, and that's an embarrassing omission by Microsoft. Even the rudimentary Windows Photo Viewer that came bundled with every copy of Windows 7 allowed you to rotate, crop, and rename your photos, so it's vexing that the Photos app doesn't include similar functions. Sure, you can download the free Windows Essentials Photo Gallery tool (which functions in much the same way that the old Photo Viewer did), but it's a desktop app, so Windows 8 RT users are out of luck.
Key options and settings
The Photos interface is spartan, but a few useful features lie buried in the Charms bar. The Search function works the way you'd expect it to: Bring up the Charms bar by swiping in from the right side of the screen (or by moving your mouse to the right-hand corners of the screen) and click Search to search your PC for a specific file name. Opening Search while you're inside the Photos app will cause the default search to run through Photos, but you can change that arrangement by tapping a different search area.
The Share charm is a little more practical, because you can use it while you're viewing a specific photo or folder of photos, and share that data with another Windows 8 app, with another human being (via email or SkyDrive), or with the world at large (via the Windows 8 People app). Presumably you'll also be able to share directly to Twitter, Facebook, and other social networks once they release their own Windows 8 apps; but at this writing, you can't.
Let's take a quick look at the settings you can fiddle with when you pull up the Charms bar within the Photos app.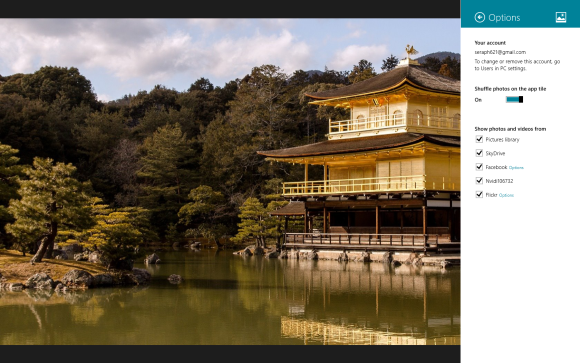 The Options menu is the nerve center of Photos. The menu displays the Microsoft account you're currently using, offers you the option of refreshing the Photos Live Tile with random photos, and lets you select the source from which Photos pulls images and video. The list of media sources includes Facebook, Flickr, SkyDrive, and any folders containing images on the device you're using or on the devices connected to it. You control where Photos can pull photos by selecting the checkboxes next to each service. Usually, it's as simple as that.
When it comes to Facebook, though, things aren't so simple. Getting Facebook and your Photos app to work together entails linking the two accounts, which you may already have done while setting up your Microsoft account or using the People app. Click the Options link next to your Facebook checkbox in the Photos Options menu, and you'll jump to a page of settings for your Microsoft account, where you can configure Photos to pull images and videos from your Facebook account and even publish photos and videos to your Facebook page.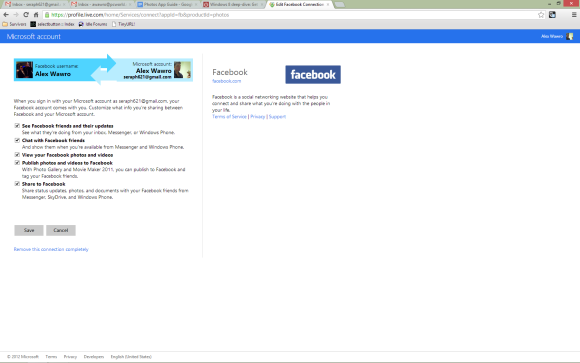 You can also choose to connect your Flickr account to your Microsoft account, so your Flickr photos will appear in your Photo app. Unfortunately there's no option to post photos from the Photo app to your Flickr account, but having easy access to your Flickr albums is still a pleasure.
The only other setting worth noting is the Help button, which (as in other Microsoft Windows 8 apps) provides links to Microsoft's official support pages. The remaining settings in your Photos app are less helpful: The Permissions option is handy for staying on top of your data privacy because it shows you what the Photos app is allowed to do with your device (access the Internet, for example, and share your data with connected services). Unfortunately, you can't change those settings from within the app. To manage the permissions on your Photos app (or on any other Microsoft app), you must log in to your Microsoft account and access the Microsoft Permissions page.
Among the other settings are About (which displays the version number and other technical information about Photos), Feedback (which lets you send Microsoft feedback on the app), and Rate and Review (which takes you to the Windows Store so you can review the app).
Next, let's run through a brief overview of how you use Photos based on what device you're accessing it from.
From the main Photos screen, you can swipe or scroll through your media, or click the white Play icon in the lower-left corner to start displaying an automated slideshow of all your photos. Swipe up from the bottom of the screen (or right-click, if you're rocking a keyboard and mouse) to bring up the options bar, which contains the Upload button. This is the button to click if you need to import photos and video from a camera, USB drive, or other external device. To trigger this action, simply click Upload and then, in the window that appears, select the device that you want to upload from.
The options bar contains a few more features that are useful when you dive deeper into a folder of photos. You can tap (or click) select photos and use the Share charm to share them with other apps. The Slideshow button in the options bar will always run through an automated slideshow of all the photos in the folder, regardless of whether you have selected specific photos.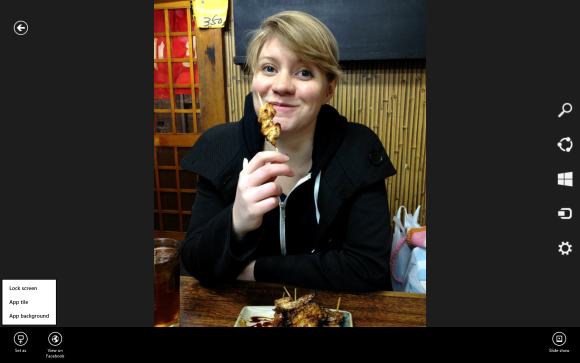 Tapping or clicking a single photo will enlarge it to fill your screen and give you the option of setting the photo as your lock-screen image, Photo app background, or Photo app live-tile image. You can also share the photo directly to Facebook, or (oddly) start a slideshow of all the photos that share a folder with the one you're currently viewing. There's not much else you can do with your photos from within the Photos app. If you want to edit, resize, or exercise more control over them, you'll have to use a different app or (on an x86 PC) resort to a Desktop app.
Tips and tricks
The best way to get more from Photos is to add as many pictures from as many different devices and services as you can. Photos is a rather paltry app by itself, but it's a beautiful tool for showcasing your photos, so the first thing you should do is slide your finger in from the right edge of the screen (or drag your mouse to the right corners of your screen) and start linking accounts by navigating to Settings > Options > Show photos and videos from and then linking Facebook, Flickr, and SkyDrive.
You can also use SkyDrive as a go-between for ferrying photos from remote PCs to your Photos app, regardless of where you are or what device you've used to access it. To do this, first install the SkyDrive desktop app on the PC containing photos you want to access, then sign into it using your Microsoft account, and finally run through the SkyDrive setup utility as normal. Be sure to check the Make files on this PC available to me on other devices option, to allow Windows 8 to fetch files from that PC and make them available anywhere you can log in to your Microsoft account via either SkyDrive or Windows 8. These files won't count against your SkyDrive storage limits either, so you can access a lifetime of photos from any device without worrying about filling up your SkyDrive with pictures of your cat.
Alternatives to Photos
Photos is a decent app, but you can get better alternatives online or in the Windows App Store. Fellow editor and photo fiend Alex Cocilova recently wrote an article ("11 winning alternatives to Windows 8's built-in apps") about worthy alternatives to the stock Windows 8 apps in the Windows 8 Store; if the photo management options in the Photos app leave you cold, he recommends checking out Albums HD. This $2 app lets you add notes to your photos and create photo albums with customizable templates.
If you want to do some light photo editing from within Windows 8, check out the free Fhotoroom app in the Windows 8 Store. The name is a little goofy and the app will constantly ask you to upgrade to the paid version (which, at $1.50, is worth it if you want to get rid of the ads, have access to more editing tools, or need to edit images larger than 3MB) but even the free version lets you crop, resize, rotate, and retouch your photos, and then save the edited version back to your Photos app as a .jpg or .png file. Fhotoroom also includes a bunch of neat image filters a la Instagram, if you're into that sort of thing.
If you need to edit and retouch your photos and you have access to the Windows 8 desktop, consider heading onto the Web and downloading the GIMP, Photoscape, or any of the other great image-editing tools available online for free. For more information on how to use those tools and where to find them, I encourage you to check out our guide on how to edit images for free.