As Google grows, so too does government surveillance of its users.
That's the takeaway from a new Transparency Report from Google, which discloses the number of government requests it has received to hand over user data or remove public information.
For the last three years, Google has issued these reports on a semiannual basis, and each time, the number of requests to hand over user data has risen.
Since the start of 2010, the United States has sent more requests for user data than any other country, a trend that continues in the latest report. Between January and June, the U.S. government sent 7,969 requests for user data. No other country came close. (India, in second place, submitted 2,319 requests.)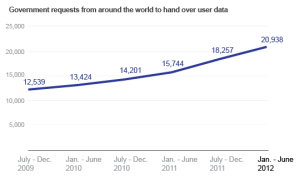 "The increase isn't surprising, since each year we offer more products and services, and we have a larger number of users," Google's report says.
The number of government takedown requests also spiked in the latest reporting period, after a year of relative stagnancy. These claims mainly relate to defamation, privacy, and security.
How it works
Like many other Web companies, Google hands over information to governments when required by law, such as under court order, as outlined in the company's privacy policy. Google mainly provides user data to help with criminal investigations. However, the company notes that it "can't always be sure" that a request is related to criminal matters, so some requests may fall outside that category.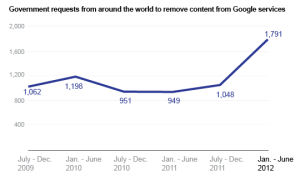 Still, Google is one of the few Web companies that provide aggregate reports on all the government requests it receives, as well as reports on copyright takedowns. In a blog post, Google Senior Policy Analyst Dorothy Chou praised Dropbox, LinkedIn, Sonic.net, and Twitterfor taking similar steps.
Google is also among the leaders in its surveillance policies when it comes to safeguarding consumers, according to a scorecard from the Electronic Frontier Foundation. The company is part of a coalition to reform electronic surveillance laws, and has a record of resisting overly broad government requests in courts.
Google did lose points for not having clear, public law-enforcement guidelines and for not having a clear policy to inform users when the government seeks their data, but overall the company ranked higher than most other tech firms.
"Our hope is that, over time, more data will bolster public debate about how we can best keep the Internet free and open," Chou wrote.