Early adopters of the Windows 8 operating system are flocking to Microsoft's Surface tablet, making it the most popular device in the burgeoning market with an overall market share of 11 percent, according to AdDuplex.
Other hardware makers that build multiple devices for the Windows 8/RT market have a larger share of it, notably HP with a 17 percent share.
Alan Mendelevich, in a AdDuplex blog, acknowledged that the network's numbers may be skewed because it is collecting data from apps sold through the Microsoft store. Most of the usage of those apps right now is occurring on tablets and not on traditional PCs, he explained.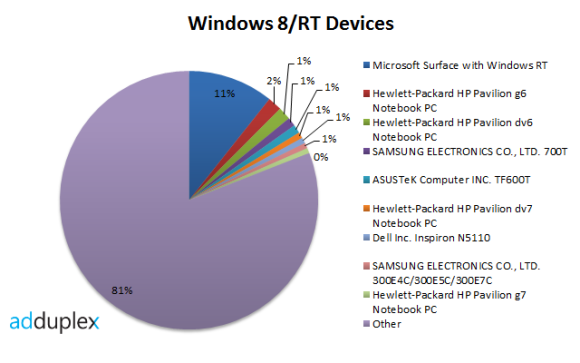 He also noted that the Surface is being primarily used in landscape mode by 92 percent of its owners. That makes sense since a snap-on keyboard is one of the major selling points of the device.
Microsoft has been quiet on Surface sales figures, but chief executive Steve Ballmer has described sales of the tablet as " modest."
The initial success of Microsoft's tablet doesn't appear to be fazing one of its chief competitors. In an interview that appeared in CITEworld, the executive vice president of HP's Personal Systems Group, Todd Bradley, called Surface "kludgy" and expensive.
It's true that Microsoft has priced Surface as a premium product. A recent teardown of the device found that it cost $284 to make the unit, which sells for $499 in its basic configuration.
However, there's anecdotal evidence emerging that the Microsoft tablet may not have the finish of a premium product. Users have complained of peeling touch covers and the Microsoft logo on the back of the tablet rubbing off. And complaints have arisen on Microsoft's Surface support forum about Wi-Fi connectivity issues.
When you purchase through links in our articles, we may earn a small commission. This doesn't affect our editorial independence.