At a Glance
Expert's Rating
Pros
Above-average audio
Excellent performance
Cons
Heavy, uninspired design
Graphics performance could be better
Our Verdict
The EON17-S is bulky, heavy, and generic-looking, but it's an excellent performer.
Have you picked up your laptop lately? If it's getting long in the tooth, it's probably as heavy as it is slow. Fortunately there's no better time to look for a more portable and modern machine than during the holidays. Even if you can't find a year-end deal on the particular model that interests you, you'll be able to impress family and friends when you whip out your new laptop at holiday gatherings.
Thanks to the performance and efficiency of Intel's Core-branded processor platform, Ultrabooks are gradually gaining in popularity. These machines provide great performance and long battery life, despite weighing less than 4 pounds. They're also a traveler's best friend—slim and light, with quick boot times owing to built-in solid-state memory drives.
That said, if you need more raw power and are willing to compromise on portability, you can find plenty of great traditional laptops. These machines may weigh more, but they also carry larger screens, which are helpful in countless multitasking scenarios.
To help you with your purchasing decision, we've compiled a list of the best Ultrabooks and laptops available right now. PCWorld staffers test as many models as possible—and then we pass our experiences on to you.
Without further ado, let's start with a look at our four favorite Ultrabooks, and then follow up with four great traditional laptops.
Vizio CT15-A2
Vizio CT15-A2
The CT15-A2 is the 15.6-inch version of the 14-inch CT14-A2, which impressed us last August with its sleek, minimalist design. Though the 14-inch model is no longer available, you can pick up the 15.6-inch model for the same low price—despite its extra screen real estate.
The keys are shallow, but large and easy to locate even for the clumsiest fingers; and the accompanying touchpad supports multitouch gestures. Best of all, the CT15-A2 delivers strong performance at an affordable price. In our WorldBench 7 benchmarking gauntlet, it earned a mark of 81 for overall performance, keeping pace with some of the highest-rated Ultrabooks, at for a much lower cost. Read our full review of the 14-inch model here.
[$1199 for a 15.6-inch Ultrabook with a 1600-by-900-pixel display, a Core-i7 processor, and Windows 7]
Asus Zenbook Prime UX31A
The UX31A upgrades last year's UX31E with a new touchpad and an Intel Ivy Bridge CPU. It rivals other top-rated Ultrabooks in overall performance, and sports a beautiful full HD IPS display with an excellent antiglare filter to reduce annoying reflections.
The UX31A demolished our demanding WorldBench 7 benchmark suite with a score of 150, meaning that it was 50 percent faster than our baseline desktop system. When you factor in thoughtful extras such as an SD Card reader that supports the latest SDXC high-capacity cards, and a USB-to-ethernet adapter, the newest Zenbook prime is a home run. Read our full review here.
[$1449 for a 13.3-inch Ultrabook with a 1600-by-900-pixel display, Core i7-3517u processor, and Windows 7]
Acer Aspire S7-391
The Aspire S7-391 offers solid performance, despite weighing a mere 2.8 pounds. Couple its light weight with a svelte chassis that is just 11.9mm wide and yet is demonstrably rigid, and you have an Ultrabook that could double as a ninja star.
This Windows 8 machine features a 13.3-inch touchscreen covered in Gorilla Glass 2, a pair of 128GB SSDs in RAID 0, and a Core i7-3517U processor. The S7 achieved a score of 72 on our brand-new WorldBench 8 benchmark suite (which is expressly designed for Windows 8). Read our full review here.
[$1649 for a 13.3-inch Ultrabook with a 1920-by-1080-pixel display, a Core i7-3517U processor, and Windows 8]
Lenovo IdeaPad Yoga 13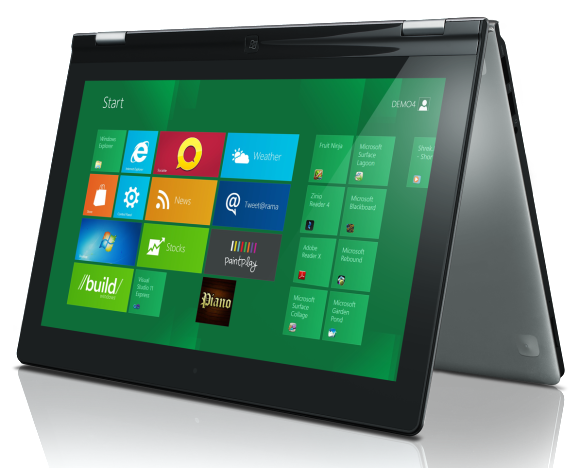 The aptly named Yoga 13 is the most flexible machine we've seen. It bends, swivels, and downward-dogs to perform dual duty as both a Windows 8 tablet and Ultrabook.
The keyboard, trackpad and bezel-less 13-inch multitouch screen are all top-notch and comfortable to use, making Microsoft's new OS easy to navigate by touch, keyboard, or mouse. Lenovo managed to squeeze an Intel Core i5-3317U CPU, 4GB of RAM, and a 128GB SSD into the Yoga, which achieved an overall mark of 60 on our new WorldBench 8 benchmark suite. Whether you need a laptop or a tablet—or maybe just something to prop up and watch a movie on—the economically priced Yoga 13 won't disappoint you. Read our full review here.
[$1099 for a 13-inch Ultrabook with a 1600-by-900-pixel display, a Core i5-3317U processor, and Windows 8]
That's the Ultrabook story. If you're looking for stronger performance, though, and are willing to surrender some portability, consider a traditional laptop. We name our favorites after the jump!
If Ultrabooks leave you longing for serious power and functionality, the laptops on our list deliver the goods you want. Here are four of our recent favorites.
Lenovo IdeaPad Y580
It may induce a bit of a backache at 6.2 pounds, but the IdeaPad Y580 repays you for the the hardship when you put its speedy Core i7-3610QM processor to work. Coupled with 8GB of RAM and a discreet Nvidia GeForce GTX 660M graphics card, this beast is an envy-inducing machine at an affordable price.
The Y580 managed to outperform our baseline desktop system on WorldBench 7, with a mark of 108 (8 percent faster). The included discrete graphics card makes this machine a viable candidate for LAN parties, too, as the Y580 managed playable frame rates at high graphics settings on gaming benchmarks. We also love the fact this machine comes with a Blu-ray drive and a high-definition screen. Read our full review here.
[$1099 for a 15.6-inch laptop with a 1920-by-1080-pixel display, a Core i7-3610QM processor, and Windows 7]
Dell Inspiron 15R 7520
Weighing in at 7.4 pounds, this Inspiron model is a behemoth when matched against Ultrabooks (and even some laptops). But in its favor, it sports serious features, strong performance (a 137 mark on WorldBench 7), and a full 1080p, 15.6-inch LED screen.
Unlike all four of the Ultrabooks we looked at, the Inspiron 15R 7520 offers a plethora of ports and an optical drive, so you can get the most out of your external devices and media. The sensitive trackpad supports multitouch gestures, and the keyboard's indented keys invite more-accurate typing. Finally, if you're looking for style options, you'll enjoy the Inspiron 15R 7520's replaceable lids, available in different colors. Read our full review here. [$1149 for a 15.6-inch laptop with a 1920-by-1080-pixel display, a Core i7-3612QM processor, and Windows 7]
Origin EON17-S
By modern standards, Origin's portable is insanely heavy at 11 pounds—and it's quite expensive, too, though you can option it down to a lower price than the one we list below. On the other hand, its gaming features blow everything else out of the water.
This powerhouse outscored many of our performance desktop PCs on WorldBench 7, streaking to an impressive score of 200 (that's double what our baseline desktop system achieved). Origin has long produced standout desktop gaming PCs, and that design prowess clearly extends to laptops. The EON17-S delivered a sustained frame rate in excess of 75 frames per second in Crysis 2 on high settings at native resolution—an extremely impressive score. If you need an escape from "quality holiday family time" this holiday season, this is your ticket out. Check out our full review here.
[$3442 for a 17.3-inch laptop with a 1920-by-1080-pixel display, a Core i7-3920XM processor, and Windows 7]
Lenovo IdeaPad U410
The IdeaPad U410 is an outstanding option if you're trying to stay under the $1000 mark, but don't want to skimp on power and usability.
The U410 packs a discrete Nvidia GeForce 610M graphics card, 8GB of RAM, and a strong Intel Core i5-3317U. In this configuration, it broke the 100 barrier on our WorldBench 7 benchmark, romping to a score of 117 (17 percent faster than our baseline desktop PC). A small SSD augments a 500GB hard-drive to deliver SSD performance at a traditional hard-drive price. The keyboard keys are comfortable and responsive, and the touchpad detects only fingers, preventing stray palm touches from taking over the cursor. This is the perfect tool for the student in your life. Feeling generous this holiday season? Check out our full review here.
[$800 for a 14.1-inch laptop with a 1366-by-768-pixel display, a Core i5-3317U processor, and Windows 7]
To keep up with all of the best mobile PCs, consult our charts of top-rated laptops and Ultrabooks.