At a Glance
Expert's Rating
Pros
Great keyboard, trackpad and touchscreen
Smooth, responsive display
Excellent speakers
Our Verdict
The Yoga is perhaps one of the most usable devices on the market. It has a great keyboard, trackpad, and touchscreen, and can be used in multiple positions.
Best Prices Today: IdeaPad Yoga 13
Lenovo's Yoga is aptly named – it's flexible in more than one way. Not only can this Ultrabook be used as a laptop and a tablet, its screen can actually swivel around the hinge 360 degrees to maximize the tablet experience.
Sure, at 0.67 inches thick and 3.4 pounds with a 13-inch screen, the Yoga isn't the most comfortable, portable tablet on the market. But it's a pretty cool device when you consider that, oh yeah, it's both a laptop and a tablet.
Our review model, which costs $1099 as configured, has a third-generation Intel Core i5-3317U processor, 4GB of RAM, and a 128GB solid state drive. The Yoga has a 13-inch multi-touch touchscreen, a 720p webcam, and built-in Wi-Fi 802.11b/g/n, and runs Windows 8.
Performance
In our new WorldBench 8 benchmark tests, the Yoga scores 60 out of 100. This means that the Yoga is 40 percent slower than our baseline testing model, which has a third-generation Intel Core i5 desktop processor, 8GB of RAM, and an Nvidia discrete graphics card. The Yoga's score of 60 isn't great for a desktop, but the Yoga isn't a desktop – it's an Ultrabook. Its score is actually quite good for an Ultrabook – the only other Ultrabook we've tested on WorldBench 8 is the HP Envy TouchSmart 4 (57), which has the same i5-3317U processor as the Yoga, 4GB of RAM, and a 500GB hard drive.
The Yoga's performance is therefore just about average, if not a little better than average, for an Ultrabook. It performs well in individual tests, as well. It's got the fastest start-up time of any computer, laptop or desktop that we've tested – just 7.9 seconds. The Dell XPS 12 Convertible Touch is the second-fastest starter, at 8.8 seconds, while the Envy TouchSmart 4 lags behind at 11.8 seconds.
The Yoga scores 2115 on the PCMark 7 office productivity test, which is only slightly higher than the Envy's 2058. In our graphics tests, the Yoga performs acceptably well, considering it has no discrete graphics card. In our Dirt Showdown (1366 by 768 pixel resolution, low quality settings), the Yoga managed to output a playable frame rate of 30.1 frames per second, almost twice the frame rate of the Envy (17.4 fps) in the same test.
In our battery life tests, the Yoga managed five hours and 37 minutes of battery life on its "Balanced & Power Saver" mode. This is actually pretty good compared to the last few laptops we've tested – the Envy managed just four hours and seven minutes, while the XPS Duo 12 managed a slightly better four hours and 39 minutes. Five hours and 37 minutes certainly isn't the best battery life we've seen on an Ultrabook, but it's not terrible, either.
Design and Usability
The Yoga's design is what really makes it stand out from the crowd – it's a laptop-and-tablet in one, and it can be folded into a variety of positions.
But, first things first. This Ultrabook is 0.69 inches thick, which means it's not the slimmest laptop we've seen, but it does fit within Intel's Ultrabook thickness guidelines (18 mm, or 0.7 inches). It weighs 3.4 pounds, which is a bit heavier than comparable laptops of its size, but the build feels sturdy. Still, it's not something you're going to want to hold tablet-style for extended periods of time.
The Yoga's exterior is silver-gray in color, and has a soft, rubbery finish. The cover is solid, squared off, and has a small silver Lenovo logo in the upper left corner. The inside of the machine has the same soft rubbery texture on the wrist rest, and the screen features a glass-to-glass "bezel-less" design that makes it look more like a tablet (or a very fancy HDTV, or a MacBook Pro). The bezel is slightly thicker than what we usually see on an Ultrabook, probably so you'll have somewhere to put your fingers when you're holding the Yoga in tablet mode.
The wrist rest and the area surrounding the keyboard is devoid of discrete buttons. There's a small button Windows button on the bottom bezel of the screen, for switching between the Metro screen and the regular desktop. The power button is located on the front edge of the laptop.
The edges of the laptop have both ports, for regular laptop use, and buttons, for tablet use. The left side of the Yoga has a USB 3.0 port, an HDMI out, and a combination microphone/headphone jack, as well as a volume button for adjusting the volume in tablet mode (this button also works in regular laptop mode). The right side of the machine has one USB 2.0 port, an SD card reader, and a button for locking screen rotation in tablet mode (this does not work in laptop mode). The front edge of the laptop has the power button and a small reset button.
The Yoga has a full-size island-style keyboard and a button-less glass trackpad. The keyboard is extremely comfortable to type on and easy to use, with great tactile feedback, and nicely spaced keys. The trackpad is also very nice – smooth, accurate, and responsive. The entire trackpad depresses when you click it, and there's a small line in the center to denote left and right mouse clicks.
Screen and Speakers
The Yoga has a 13-inch glossy touchscreen with a native resolution of 1600 by 900 pixels. This resolution is better than what you usually see on what is essentially a 13-inch Ultrabook, and it definitely stands out – the screen is a pleasure to look at and to touch. Text and images are crisp and clear, and colors are bright and vibrant. The screen gets very bright, though it's still a little difficult to use in bright or direct sunlight.
Unlike some of the other Windows 8 touchscreens I've used, the Yoga's 10-point multi-touch touchscreen is a pleasure to use. It's responsive and accurate, and multi-touch gestures are extremely smooth. It feels much more like a tablet screen, rather than a touchscreen that's been tacked onto a laptop. Because of this, using the Yoga in tablet mode is very easy, though it can be a little awkward because of the size and weight of the machine.
The Yoga can be used in multiple positions, not just in straight laptop or tablet mode. For example, you can lay the entire thing flat and still use both the keyboard/trackpad and touchscreen input methods. You can also flip the screen about 300 degrees around the hinge and use the device in what Lenovo calls "Tent Mode." In all the positions I tried during my tests, the Yoga felt sturdy and tough, and not at all like the hinge was going to break or give out.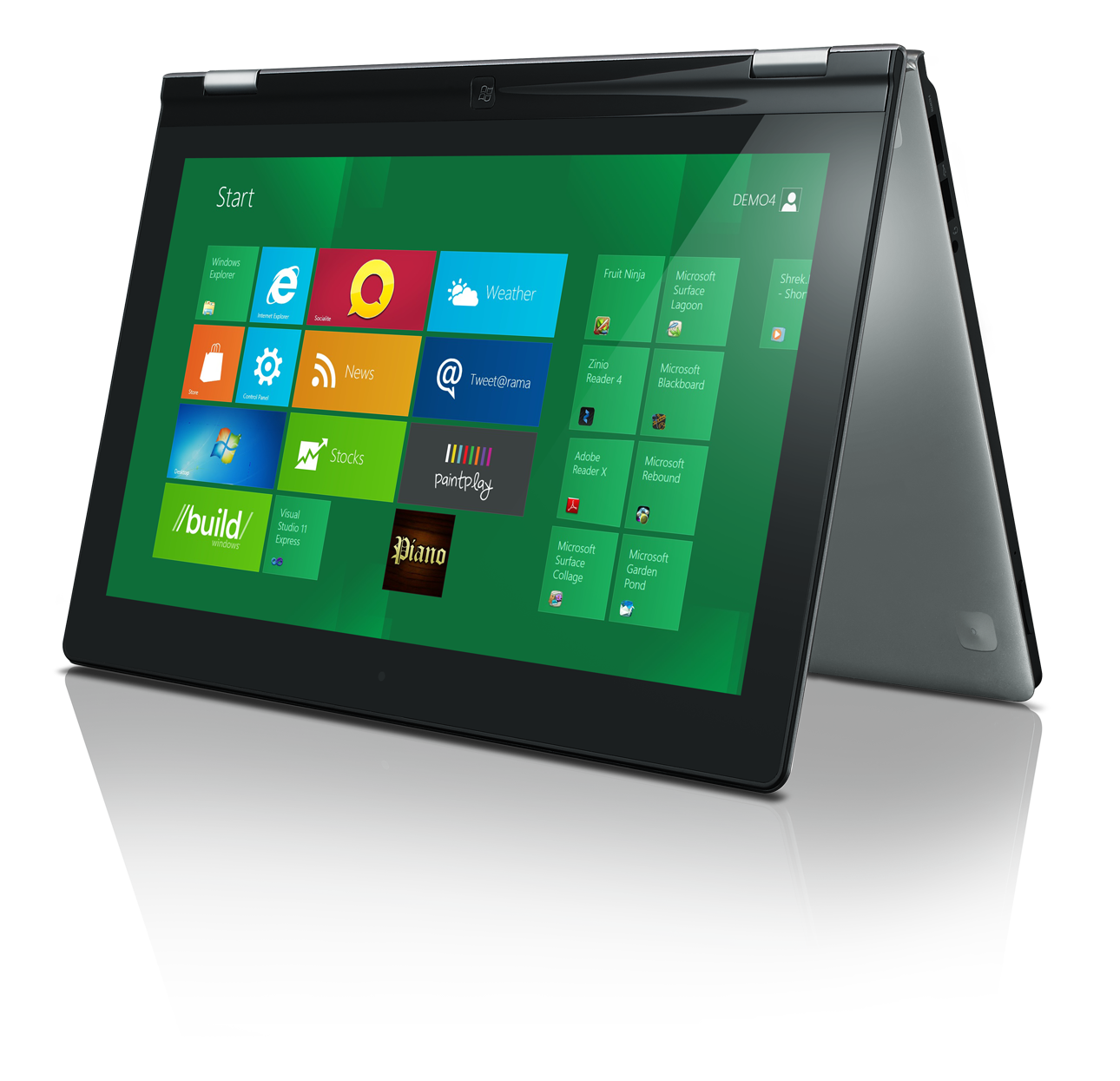 Video looks and sounds pretty good on the Yoga, thanks to its pretty, vibrant screen and loud speakers. The speakers are located in the hinge of the machine, so they sound decent whether you're using the device as a laptop or as a tablet. Audio sounds surprisingly excellent on the Yoga, with lots of fullness and bass.
Bottom Line
I'll admit it – at first I was a bit skeptical of the Yoga as a concept. In theory, it seems like an Ultrabook-slash-tablet is doomed to be mediocre at best. But the Yoga is surprisingly awesome. Sure, it's not going to replace your iPad, but for a laptop it does the tablet thing very well (and it does the laptop thing pretty well, too). It helps that the keyboard, trackpad, and touchscreen are all top-notch – the Yoga is so eminently usable that I barely care what its performance scores are.
Best Prices Today: IdeaPad Yoga 13