Cyber Monday can be a gold mine for an online merchant, but sometimes the opportunity is lost because their websites turn consumers away instead of welcoming them with a good user experience.
"Consumers don't have a lot of patience with websites," Greg Trexler, a product manager in the network management division of Ipswich in Lexington, Massachusetts said in an interview. "It's easy for them to jump to another website."
The larger number of frustrated shoppers who leave a website, the less cash that website can rake in on Cyber Monday, which is expected to be bigger than ever this year. In 2011 it generated $1.25 billion in sales. This year, the forecast is for $2 billion or more.
Some merchants are so excited about Cyber Monday that they're taking a page from the bricks-and-mortar crowd and rolling out their sales a day earlier, on Sunday.
Whatever day an outlet treats as Cyber Monday, it had better have a website with a good user experience. According to Ipswich, 92 percent of online shoppers will depart a website that's difficult to navigate or not functioning properly.
"It's a lot easier for them to jump to another website than it would be in a retail environment where they'd have to get in a car or walk to another store," Trexler says. "If a website isn't performing within the threshold of what a shopper thinks is quick, it's very easy for them to click on another site and take their business elsewhere."
Ipswich found that 79 percent of consumers will desert a site after two failed transaction attempts.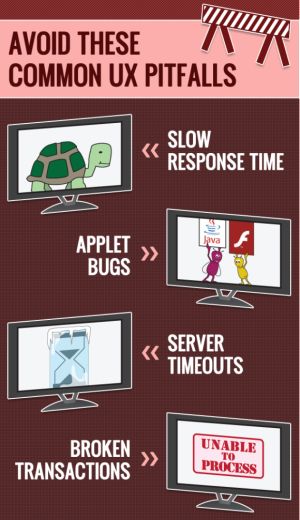 In addition, poor website performance may not only result in sales to competitors, but sour a consumer toward the merchant or the product in general.
More than half (52 percent) of shoppers will buy a product from a competitor after leaving a website with a bad user experience, Ipswich reports, and nearly a third (32 percent) won't buy a product at all after one.
Common pitfalls identified by Ipswich as contributing to a bad user experience include:
slow response times
buggy applets
server timeouts
broken transactions
Creating a satisfactory user experience at a website isn't as easy as it used to be, according to Trexler. "The modern website is much more complicated than it was five, ten years ago," he says. "We've gone from simple HTML pages, which were easy to validate, easy to test, to these multiple component sites with these high-end shopping carts that use multiple technologies to bring products together from different areas on the Web."
The cloud also adds to the complexity of websites. "It's not just one web service in one space hosting up a number of pages," he adds. "They're going after databases everywhere in the world."
Browser proliferation, too, contributes to website complexity, according to Trexler. "Building a website that functions well has gotten much more complicated," he says. "That's as true for the top end resellers as it is for mom-and-pop operations."
And it won't get any better for retailers who fail to keep the online user experience up to snuff. "It can only get worse," Texler said. "I don't see people getting more patient and expecting higher wait times and applications that break down more often."