My, how time flies when you're swiping through live tiles. Microsoft's new-look Windows 8 launched exactly one month and one day ago, bringing its modern user interface and mobile-style apps to the desktop masses on October 26th. So how has the system actually fared during its honeymoon period? Read on for the full synopsis of Windows 8 wins and losses.
It can't be all bad. Or can it?
Stephen Sinofsky: the gorilla no longer in the room
Many eyebrows were raised on November 12 when Microsoft announced that Stephen Sinofsky—the president of the Windows division, a driving force behind Windows 8, and a long-time leader at Microsoft—was leaving his post, effective immediately. The odd timing and abrupt announcement led to a rash of speculation. Was Sinofsky fired or did he quit? Was it planned? Are Windows 8 sales that bad?
Neither Microsoft nor Sinofsky will talk about their divorce, but many analysts believe Sinofsky's penchant for secretiveness and territorial mindset alienated external and internal partners alike, which proved troublesome in the new, cross-departmental world of Windows 8. It's hard to believe Microsoft would dump Sinofsky over two weeks of (possibly) poor OS sales. Regardless of the reason behind the split, Sinofsky's exit was badly timed and led to a fresh wave of media focus on the negative aspects of Windows 8.
"I think it was unwise to fire the head of the unit during the launch cycle and during the critical 4th quarter," says Rob Enderle, the president and principal analyst of the Enderle Group. "It was a dangerous distraction."
Sinofsky's departure may have been a dangerous distraction, but headlines alone don't make or break an operating system. Indeed, sales figures define the bottom line, and Sinofksy has never been a household name. Nonetheless, the unceremonious exit of the Windows boss adds up to a net fail for Microsoft in the executive comings-and-goings department.
Windows Store: growing, but still unimpressive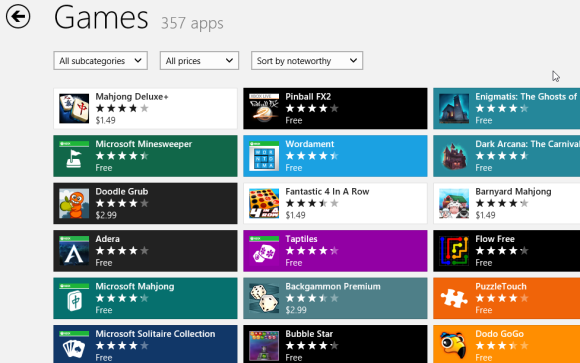 As the Windows Store goes, so goes Windows 8. The fancy-schmancy modern UI and its glittering live tiles are all powered by new-style Windows 8 apps, and the only way to get these apps is through the Windows Store itself. Our prelaunch examination of Microsoft's digital wares revealed a worrisome dearth of apps, along with a serious paucity of blockbuster apps, to boot.
One month in, the Windows Store is looking a bit better. Wes Miller, an independent Microsoft analyst at Directions on Microsoft and the curator of the WinAppUpdate website, recently announced that the Windows Store finally cracked the 20,000 app barrier, with new apps showing up at a clip of roughly 500 per day, postlaunch. Only around 13,000 of these titles are available in the United States, however, and Microsoft still has a long way to go before it nears the 700,000-plus app selection of the entrenched Android and Apple markets. Still, the Windows Store is growing nicely.
The quality level of those apps is still a concern, however. The last post on Miller's website is titled, "Windows Store: I'm holding out for a hero app," in which he bemoans the lack of exclusive Windows 8 apps and says flat-out, "There aren't a ton of stellar apps." It's an observation that mirrors our own. Most of the available apps are ho-hum Web wrappers, uninspired utilities, or lackluster games.
Sure, a few big-name apps have already reared their heads on Microsoft's platform. You'll find apps from Netflix, Hulu Plus, ESPN, Slacker, Kindle, SugarSync, Skype, Evernote, Amazon, Newegg, Angry Birds, and more. Dropbox and Twitter apps are in the works, albeit with no announced release dates. However, you won't find apps from big names like Facebook, YouTube, Gmail, IMDB, CNN, Pandora, Spotify, and hosts of others.
Nevertheless, many user needs are now covered if you look hard enough, as evidenced by our Best Windows 8 Business Apps and Best Windows 8 Gaming Apps roundups. That need to dig deep, however, highlights another early woe for the Windows Store. Despite its nifty spotlight section, Microsoft simply doesn't do a great job of steering users toward standout apps, which will become a bigger and bigger problem as the Windows Store becomes more packed.
"I think they need to do a better job of profiling so that they present apps they know I will like, similar to what Amazon does in their online store," Enderle says. "It amazes me how much better Amazon is than any of the app stores at this."
While the Windows Store hasn't impressed anyone with either its inventory quantity or quality, it does deserve kudos for remaining on a steady, uphill climb. We'll refrain from issuing a failing grade in this category, and simply give the Windows Store an "incomplete."
The new interface: charming or chilling?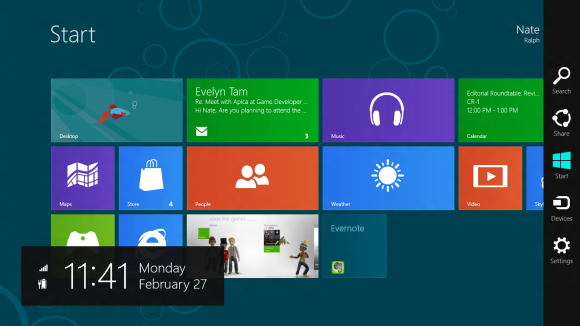 Aside from the app selection, many early criticisms targeted the modern UI itself, which throws everything you know about navigating Windows, well, out the window. Early adopters—especially nontechie types—have reported running into issues with the overhauled interface, which is made worse by Windows 8's near-complete lack of instructions when you boot it up for the first time.
The complaints led us to question interface experts, who universally panned the dual-natured design of Windows 8. The complaints came to a head when usability guru Jakob Nielsen published a scathing blog post deriding almost every aspect of Windows 8's design. His brutal examination was then reblogged far and wide.
Nielsen blasted the flat, nonintuitive look and "low information density" of the modern UI. He derided the way Windows hides commands in off-screen menus, and its too-shifty live tiles. He ripped into overly similar gesture controls, and Microsoft's decision to display just a single Windows 8 app at a time. "The product ought to be renamed 'Microsoft Window'," he quipped.
The dual desktop and modern UI in particular create cognitive problems for everyday users, Nielsen says. In his opinion, Microsoft made a big mistake in attempting to create a single operating for desktops and tablets alike, as the two have very different uses and form factors.
"Windows 8 on mobile devices and tablets is akin to Dr. Jekyll: a tortured soul hoping for redemption," he wrote. "On a regular PC, Windows 8 is Mr. Hyde: a monster that terrorizes poor office workers and strangles their productivity." Ouch. We, too, found the Windows 8 UI a bit nonintuitive, though navigating the operating system quickly becomes second nature, especially if you use Windows 8 as a touch-only OS. It's just different. (Really different.)
Nonetheless, our one-month report card must focus on widespread public reception, and, without a doubt, prelaunch gripes about Windows 8 have only gotten louder since the system's actual release. The new UI receives a failing grade (mostly for its muddled desktop implementation), though that could change as more and more people learn to live with Windows 8, and all its clumsy behaviors become the new normal
Sales: the unknown factor
Why didn't we start off with hard sales numbers? Simple: Microsoft hasn't been forthcoming with those numbers, and the company declined to comment for this article. That institutional reticence makes it hard to divine just how well Windows 8 is actually selling on the streets.
All that said, sporadic leaks, whispers, and data from third-party channels help us paint a partial picture of Windows 8's sales success—and what we've gleaned suggests that the OS is stumbling out of the gate.
The company's one on-the-record comment came during the developer-focused BUILD conference, which kicked off on October 30, just four days after the official launch of Windows 8. There, Microsoft CEO Steve Ballmer said the company sold 4 million upgrade licenses over the opening weekend, along with "tens of millions of units to our corporate customers who can upgrade when they want to."
Since then, silence.
Four million system sales in three days is certainly nothing to sneeze at, but auxiliary evidence suggests that the blistering pace set by early enthusiasts soon tapered off. Data from the Web measurement firm Net Applications showed that at the end of October, only 0.45 percent of computers were running Windows 8. Windows 7 hit a 2.33 percent adoption during the same time frame in its life cycle—a five-fold-plus difference. On the plus side, Windows 8's 0.45 percent slice of the pie more than doubles the measly 0.19 percent stake that Windows Vista managed to snag during its opening month.
Merle McIntosh, SVP of product development for Newegg—a popular electronics e-tailer with billions in annual sales—recently told ReadWrite that Windows 8 software sales have been "slow going," paired with "slow but steady increases" in hardware sales. Windows 8 "did not explode, as I think you know, coming out of the gate," McIntosh said. He went on to say that Windows 8's launch "doesn't even come close" to Windows 7's numbers.
Consumer confusion over the differences between Windows 8 and the more feature-limited Windows RT have been a slight issue, but not nearly as big a concern as some analysts predicted it would be. "The Microsoft stores are doing the best job of positioning the two products and have the lowest return rates as a result," Enderle says. "Other stores have been mixed. Those that didn't invest in training are having the biggest problems with returns."
So what's it going to be, a pass or a fail in terms of sales? Again, we don't have enough data to make a decisive call. But you can look at it this way: Considering how many tech pundits and long-time Windows users openly mock Windows 8, beating the early adoption numbers of Windows Vista is actually a win—bittersweet and poignant, but still something that passes as a measure of success.
Enterprise adoption: What enterprise adoption?
Things don't look much brighter on the business side of the sales story, despite the big numbers Ballmer bounced around at BUILD.
"Windows 8 is seeing roughly half of the interest from IT hardware decision-makers that Windows 7 saw at the same point in its release cycle," Forrester's David Johnson reports. The numbers get even scarier for Microsoft once you dig into the details. Only 4 percent of the companies Forrester surveyed plan to switch to Windows 8 in the next year, with another 5 percent planning to migrate sometime after that. An even larger total—10 percent—replied that they plan to skip Windows 8 entirely.
A torrent of other reports echo Forrester's sentiment. It's safe to say that one month in, Windows 8 is a complete nonstarter in the enterprise realm. That was expected, however, considering that many businesses only recently upgraded to Windows 7, and many more are hesitant to take on the training hurdles associated with Windows 8's modern UI.
Grade: Fail.
Don't panic!
Of course, while Microsoft no doubt hoped Windows 8 would be immediately embraced by a loving public, we can't judge the success of an operating system by its first month on the market. Grizzled Windows veterans often refuse to buy in to a new version before the first service pack is released, and Enderle notes that Windows 8 is still an early release experiencing "typical initial teething issues."
Directions on Microsoft analyst Wes Miller also cautions against reading too much into Windows 8 adoption rates this early in the operating system's lifetime.
"This holiday season is critically important to the success of Windows RT in particular, as well as the lower-end market for Windows 8 tablets," he said via email. "We won't really know until the new year how well those have done in the marketplace."
Along those lines (and despite his less-than-optimistic talk over at ReadWrite), Newegg SVP Merle McIntosh told us via email that "Sales have met our expectations so far. Currently, the majority of our Windows 8 assortment consists of desktops and notebooks so, naturally, those categories are the strongest right now. Tablets are also doing well, and we expect this category to continue to grow."
McIntosh acknowledges that Windows 8 sales are more likely to slowly build steam rather than explode out of the gate. "Windows 8 is a completely new OS, so it will take a bit of time for consumers and businesses to fully embrace it and move away from Windows 7," he says. "Windows 7 was a very successful product, so there will be some consumers who may prefer that OS for the time being."
That single statement may shed the most light on Windows 8's apparently lackluster adoption rates. People couldn't wait to upgrade away from Vista. Everybody loves Windows 7, which offers a damn near ideal desktop experience. Throwing that excellence out the window to focus on tablet functionality hasn't convinced laptop and desktop users that they need to switch to Windows 8 right now and learn a whole new, fairly unintuitive interface.
Windows 8: One month down, many to go
Newegg expects Windows 8 hardware sales to be a major growth factor for the OS as a whole, and therein lies Microsoft's strongest ace in the hole. Even if the operating system struggled a bit during its first month, the overwhelming majority of all laptops and desktops shipped henceforth will ship with Windows 8 installed. No early adopters? No problem. Windows 8 has legs in the long tail, with the IDC estimating 391.1 million PCs to ship in 2013. "It's still very early to be calling out any definitive sales trends," McIntosh told us, and he's right.
Sure, Microsoft made some missteps with the rollout of Windows 8, but few of the problems are deep-rooted. As adoption rates slowly grow, the apps are sure to come—and Microsoft is courting developers hard to make sure those apps do come. The Windows Store itself needs some usability tweaking, and that tweaking will have to be done under new management. Possible customer confusion issues should clear up as Windows 8 and Windows RT become more widespread, and businesses will be forced to integrate the operating system into their networks when employees start dragging in BYOD Windows 8 laptops and tablets, even if IT departments hesitate to roll them out whole hog.
Windows 8 may—may—be struggling now, but sheer scale means it will be adopted by many more people. Eventually.
Just don't expect the modern UI to disappear anytime soon. Despite the deep-seated hatred that desktop enthusiasts and usability experts toss the interface's way, Microsoft spent a lot of money creating the cross-platform design in a bid to lure tablet shoppers away from Android and Apple alternatives. Remember that PC sales are sluggish and mobile sales are booming. What's a first-time tablet shopper more likely to buy: A tablet with a completely new operating system, or one that looks like and syncs with with the UI on their home computer?
When you look at Windows 8, you're staring at the future of Microsoft, folks. So you might as well get used to it. In the present, however, Windows 8 still has a few kinks left to work out after a month on the market.