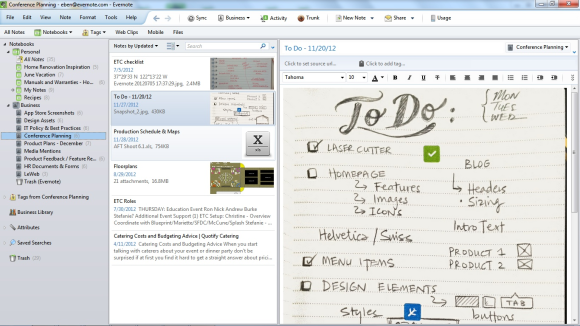 Most of Evernote's 45 million users already put the app to work at work. Now Evernote is tailoring its service to small and midsize companies with the launch of Evernote Business for Mac, Windows, iOS and Android.
The new tool lets users share information within a company or with clients, while IT controls permissions. You can join Evernote Business with your existing personal account, which remains invisible to the company, and you keep your own data if you leave at any time.
For companies that already have a core group of Evernote users, this is a natural upgrade, It's double the price of Evernote Premium, which offers 1GB of monthly uploads. For $10 per user per month, Evernote Business covers 2GB of new personal content per user and another 2GB of shared content across shared Business Notebooks. If your business is new to Evernote, though, it may be a tougher sell. By comparison (admittedly, not an apples-to-apples one), it costs the same as the full Google Apps for Business suite with Vault for extra security.
Evernote CEO Phil Libin doesn't see Evernote as a competitor to productivity suites like Google Apps. Instead, his service fills a "universal human need." He explained last week ahead of the launch.
PCWorld: What's the number one most requested feature?
Libin: Two-thirds of users are using Evernote at work. The vast majority, about 85 percent, brought it into the workplace themselves. Only about 15 percent are using Evernote because their IT department set them up with Evernote. The number one thing they've asked for is much better collaboration and sharing capabilities so they can use Evernote with their teammates, and that's what we've focused on.
PCWorld: At the latest Evernote Trunk Conference you were dreaming big, in terms of one day having 1 billion users. Some people have called that crazy. How is that possible?
Libin: The billion user goal is totally realistic, and I could be crazy. Our goal is to make Evernote the external brain for everyone. The goal of Evernote is to make you smarter. I think everyone needs it. It's a universal human need.
Our goal is to build a 100-year startup. We're about four and a half years into that, four and a half percent done.
PCWorld: In a way Evernote is a database and it can go in pretty much any direction–CRM, or a basic word processing tool, or even Google Apps. Are there any directions you'd like to go in beyond the basic use of Evernote as a repository of information?
Libin: We do have a specific idea of where Evernote needs to get to. I wouldn't describe Evernote as a database as I wouldn't describe my brain as a database. When you capture something (in Evernote) you can capture it in any format on any device anywhere in the world. Then what? How do you make it useful? How do you find it? How do you have that information on the tip of your tongue and not be overwhelmed by it?
It's really the capture and discovery that's the heart of Evernote. The storage and synchronization are the plumbing. We do a good job of it but that's not what's sexy about Evernote for me.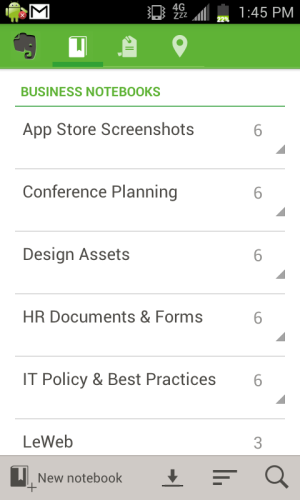 EW: How would you like to see Evernote do more in terms of helping people discover information that's already there?
Libin: That's exactly the point of Evernote Business. As soon as you're working in a team the big question is, how do you know what your team knows? Evernote Business is not only searching across your personal account but also across related business accounts of your coworkers. I've been using it for a couple of months. I've never felt more aware of what my company knows.
Let's say we're planning an event and I search for a particular location. I'll find that co-workers have notes about that location in their accounts. I may not have known that a co-worker was just there and took some notes. I can ask them. Or, outside of search, let's say we're meeting about where we should have an event and I start taking notes about a particular restaurant. As I'm typing in Evernote on my Mac, I'll see that someone on my team has notes about that restaurant already.
And then it even works outside of Evernote. We're releasing new versions of our browser extensions, of our Web Clipper and Clearly. If I do a Google search on that restaurant, then next to public Google results I see my private business results if co-workers have knowledge about this restaurant.
PCWorld: It sounds like discovery and serendipity are key here. What about other more structured ways that Evernote Business can help you run your business better?
Libin: We don't want to make a distinction between structured, task-driven organizational searching and serendipitous discovery, between left and right brain. Both are important. With Evernote Business one of the things we're launching is the concept of a business library. An administrator could choose which business notebooks go into the business library. Anything in the business library shows up in search results. Anything that's a business notebook the company can manage, can assign it to different people, so as people come and go, that information stays with the company.
Over the past few years we've had one major obstacle: When you're using Evernote as a consumer it's not really useful to you until you've put at least a few weeks of work into it. But with Evernote Business, as long as any employees in the company have been using Evernote, it's immediately useful to you because you have access to all that information. You're not starting at square one staring at a blank screen.
PCWorld: It sounds almost like taking your company's shared intranet wherever you go.
Libin: That's a great example. With an intranet here, an internal wiki, and all that kind of stuff, they suck. Here's what happens 100 percent of the time: You start out and think, I'm gonna put information there so people can find it. But maintaining the intranet as an individual it does you no good; you're only doing something to help the company. What's worse, the information is not only not there, if you haven't updated it, it's just wrong. Evernote Business is a much more scalable approach than intranets, which frankly I've never seen up to date.
PCWorld: Have people at Evernote been using Evernote Business for a while?
Libin: Everything we build at Evernote we build for us. The target customer looks like us. It's small and medium sized companies or small and medium size teams at larger companies who are fundamentally knowledge workers, where the productivity of the team is dependent completely on how elegantly employees can access knowledge. It has everything to do with how happy people are. It's organizations who trust their employees to do the right thing.
PCWorld: How many times do you use Evernote in a given day or hour yourself?
Libin: The average user overall uses Evernote five to seven times a day, about a 15 minute session. I use Evernote a few hundred times a day, basically every few minutes. I take a note, take a picture of something. I've got about 10,000 notes in my Evernote account. I've met users with 90,000 notes. It's nice to know I'm not all the way out on the side of the bell curve graph.
PCWorld: If you could get an Evernote implant in your brain, would you?
Libin: Yeah, I would. It probably goes back to your question about whether I'm crazy. I'm first in line for a neural implant. Before that, though, it's gonna be the Google Glass stuff, that's gonna be a real thing next year. I'm really looking forward to that. That doesn't quite get all the way into your head but it gets close.
PCWorld: No Evernote integration with that?
Libin: We're definitely hoping to be on it. It's still not clear what Google's plans are. I'm a big believer.
PCWorld: What business use do you see for that? Libin: The next couple of years it's gonna be just the real early adopters. It's just a slightly more extreme version of the Evernote Business idea, which is situational awareness. Everything that we do tries to make you smarter by giving you access to information you didn't know you had exactly when you need it. You don't have to stop and research; you just kind of know it. And glasses are kind of an extension of that. You can figure out where you are who you're talking to, what you're doing, and they can provide information ambiently about it as it's happening. We try really hard not to be on the cutting edge of sci-fi, though, we're just making consumer-ready products.
PCWorld: What other tools does your staff use?
Libin: We don't have a lot of requirements, we pretty much let people use the tools they use. We're on Gmail and use a lot of Google stuff, calendaring. We give people a choice of phones, most are iPhone and Android, some have Windows phones. I use Excel a lot. I haven't opened Microsoft Word in years. I'll just write in Evernote.
PCWorld: You're doing other interesting things–you eliminated desk phones, you have a big video wall where offices can see each other, you have an Anybot.
Libin: Yeah, and we have treadmill desks. Someone put the Anybot on a treadmill desk.
PCWorld: Seriously?
Libin: We try to have a culture that says everyone at Evernote is here because they want to be here and build something great. Our job is to knock down any obstacles that get in the way of that. We try to be as creative as we can about how we set up the office, benefits, that kind of stuff.
PCWorld: Are you a paperless office?
No, we don't use a lot of paper. We don't have a policy around it. If one of our employees wants to print out 500 pages I'm just going to assume they have a good reason for doing it. We try to carry that philosophy into Evernote Business. We want to make it really easy to see what you're doing.
PCWorld: It's a pretty exciting time for small businesses. You can start up on a shoestring, work with people around the world with very little effort. What's the most exciting thing happening in tech now for small businesses?
Libin: Think of the phrase business class. When you're talking about travel it means something pretty nice. When you're talking about internal tools, business class means crappy.
Workers expect a really high quality experience by technology in their personal lives—by Apple and Google and Amazon. User experiences have become beautiful and powerful, but people aren't getting that at work. When you're talking about business software what that means is an unpleasant experience.
This is not a sustainable thing. Why should my employees have a crappy experience when they're doing the most important thing, which is work? Why do you have to surrender your expectations for taste and quality when you walk into the office? You shouldn't have to. That's changing very quickly. We're seeing the last few years of unpleasant work technology.
PCWorld: What would you like to change about Evernote?
Libin: I want to make it simpler, which is much harder than to make something complicated. Companies will respond really well to having beautiful, elegant experiences for their employees.