Move over iCloud, there's a new app in town. Younity, a personal cloud service, launched a public beta today of its mobile app that enables iPhone and iPad users to access data seamlessly from Mac OS X or Windows PCs.
The premise is fairly simple: Download Younity on your Mac OS X or Windows computer and set up an account. Younity scans the entire PC to find documents, songs, photos, and videos, and then makes that data available to your mobile devices. When you install Younity on your iPhone or iPad and log in to the account you created, your iOS devices can instantly access all of the data catalogued by Younity.
It's not all sunshine and roses, though. Let's start with the good stuff: The data doesn't have to be placed in specific folders in order to be available via Younity, and it isn't stored in the cloud. Nor is data synced across devices—so you don't have to worry that data available through Younity will eat up the limited storage capacity on your iPhone or iPad.
Basically, Younity just enables you to see your data across all devices in one place, and streams it on demand. It means that your 16GB iPhone can have seamless access to terabytes of data from multiple Mac OS X or Windows PCs. Documents, songs, photos, and videos can also be downloaded so they're available when your mobile device isn't even connected to the Internet.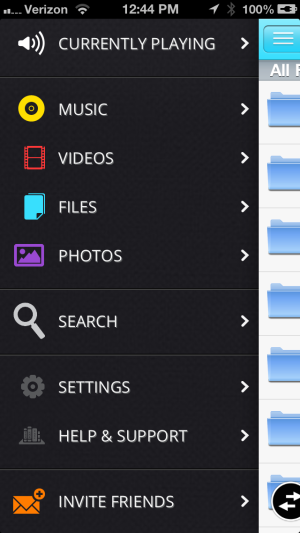 I've had an opportunity to work with Younity for a week or so, and I have to say it's pretty slick. The way the data is presented by Younity, you can't necessarily even tell where it actually resides…and it doesn't really matter. I can play music through my iPhone whether the file is located on my MacBook Air or my Windows 8 tablet.
Now for the negatives: Younity seems to scan only local drives, and I was unable to find anything in the settings that would let me change that. The reason that's a problem is that both my MacBook Air and my Windows 8 tablet have 128GB SSD storage, so I rely on USB hard drives and SDXC memory cards to expand that space. All of my music and photos are actually stored on an external 1TB ioSafe G3 drive—which means they're unavailable to me through Younity.
Another problem I encountered was with updating delays. I added a new Word doc to my Windows 8 tablet, and after a half an hour it was still not showing up on my other devices. I even shut down Younity in Windows 8 as well as on my iPhone, and restarted both to see if it would jumpstart some sort of refresh. Nada. Eventually a box popped up informing me that the Younity rescan had completed, but the file was still not immediately available on my iPhone.
Younity does overlap some with Apple's iCloud, but it isn't really a direct competitor. Sure, iCloud also promises to make photos and files available across different devices, but that is only one facet of it. iCloud also keeps the Notes, Reminders, Calendar, and Contacts apps in sync across different Mac OS X and iOS devices, and Apple offers an iCloud Control Panel utility to sync data with Windows as well. Younity doesn't do those things.
It's a bit rough around the edges, but Younity has tremendous potential. With a few minor tweaks or updates, I can see Younity becoming an indispensable tool that lets me have simple, universal access to all of my data from any of my devices no matter where that data is actually stored. That is awesome.
Younity is free to use and available today for Mac OS X and Windows, as well as all iOS devices including iPhone, iPad and iPod. Younity promises that Linux and Android versions are coming soon. You can check it out by visiting the Younity site to download the Mac OS X or Windows tool.