At a Glance
Expert's Rating
Pros
Better performance than many tablets
Sturdy construction
Cons
Takes time to adapt to the keyboard
No physical right-click option
Samsung's latest Chromebook – the Series 3 XE303C12-A01US – is small, slim, and speedy. This little laptop weighs less than 2.5 pounds and packs a decent performance punch, assuming you're comparing it to the right machines.
A laptop-shaped improvement to a tablet or smartphone

The Samsung Series 3 looks like a laptop, but it's not. It's equipped with a mobile processor and very little internal storage, and it runs the browser-based Chrome operating system instead of the Apple Mac OS X or Microsoft Windows platform. It performs more like a tablet or advanced smartphone than an ultraportable. If you're looking to do much more than surf the web and create cloud-based content (via Google or another service), then this is not the laptop for you. But if you're looking for a tablet with much better content-creation functionality–namely, an integrated keyboard–then the Samsung Chromebook is an appealing option.
Our review model, which costs $249.99 as configured, sports a 1.7GHz Samsung Exynos 5 dual-core ARM processor, which is the same mobile system-on-a-chip found in the Google Nexus 10 tablet. Like the Nexus 10, the Chromebook pairs the Exynos 5 with 2GB of memory and 16GB of hard drive space.
The Chromebook also sports built-in Wi-Fi 802.11 a/b/g/n, two USB ports (one USB 3.0, one USB 2.0), a 3-in-1 card reader, and a headphone/microphone combination port. There's also an HDMI-out port on the back of the machine. Samsung offers USB dongles for VGA-out and Ethernet (sold separately).
Fast performance compared to tablets
Because the Chromebook is technically a tablet, with a mobile system-on-a-chip and no discrete graphics card, we tested it using our tablet benchmark tests – Peacekeeper, SunSpider, and WebVizBench.
The Chromebook performs very well compared to tablets in all three of these tests. It scored 1233 on Futuremark's Peacekeeper HTML5 browser test, which is more than twice the score of Apple's iPad 3 (516). The Chromebook was also very fast on SunSpider, taking 0.69 seconds to complete the same JavaScript test that the iPad 3 took 1.78 seconds to complete, and that the fairly speedy Asus VivoTab RT took 1.03 seconds to complete. On WebVizBench, another HTML5 test, the Chromebook scored 5.4, slightly behind the Windows Surface RT tablet (6.9) and, surprisingly, the HTC Windows 8 phone (5.9).
The Chromebook also loads pages quickly. In our page-load test, it took just 7 seconds to load a page that took the Asus VivoTab RT 23.3 seconds to load.
Silvery design takes cues from MacBook Air
The Samsung Chromebook looks a lot like the 11-inch Apple MacBook Air. It's thicker (0.8 inches to the MBA's 0.68 inches) and slightly heavier (2.43 pounds to the MBA's 2.38 pounds), and it's made of plastic instead of Apple's standard aluminum. However, it clearly took cues from Apple's ultrathin, ultralight premium laptop, right down to the island-style black keyboard and smooth, button-less trackpad.
The Chromebook may be lightweight and made of plastic, but it feels very sturdy. When closed, the laptop feels solid, and when open, the hinge is practically unshakeable. Speaking of the hinge, that's the only major eyesore on the machine: When the laptop is closed, the hinge juts up about a half-centimeter. This breaks up the otherwise clean, smooth lines of the machine.
The Chromebook sports a solid, matte-silver lid featuring both the Google Chrome logo (in the upper left corner) and the Samsung logo (left, center). Inside, the laptop is all matte-silver plastic, including a silver plastic bezel surrounding the machine's 11.6-inch screen. There's another Samsung logo below the screen.
Keyboard built for Chrome, not Windows or Mac
The keyboard is still a full-size QWERTY keyboard, but Google and Samsung have modified the layout to better suit the Chrome experience. First, there's no Windows or Apple key (after all, this isn't a Windows or Apple computer), just larger Ctrl and Alt buttons. There's also no Caps Lock key – instead, there's a Search key that, when pressed, brings up a list of apps installed on the computer. This is sort of like the Windows key, since it essentially brings up the apps in a Start Menu-esque format.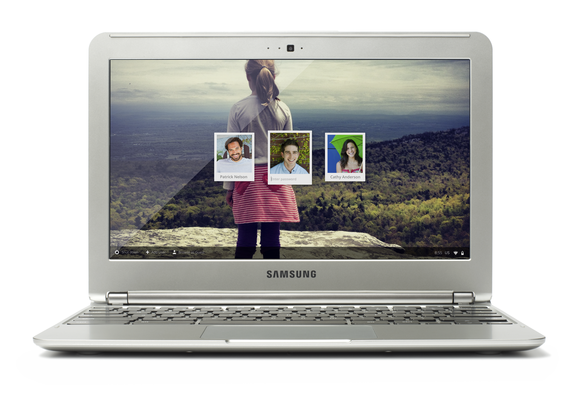 There's also no Fn key. Instead of function keys along to the top of the keyboard, above the numbers, there are dedicated keys for various tasks. From left to right, you'll find: Escape, Back, Forward, Refresh, Full Screen, Next Window, Brightness up/down, Mute, Volume up/down, and Power. This setup shouldn't take too much getting used to if you're a Mac person – MacBooks' function keys are, by default, set to perform tasks instead of the typical F1, F2, etc.
The keyboard, which sports Chiclet-style keys, is fairly comfortable to type on, though it's certainly not the best keyboard I've ever used. The keys offer somewhat light tactile feedback, which can be an issue if you're typing quickly. The keys are also a bit small, though the keyboard itself is full-size.
Trackpad is a few features short
The Chromebook's multi-touch-enabled trackpad sits below the keyboard. Similar to Apple trackpads, it has no discrete buttons, just one big, clickable pad. Unlike Apple's trackpads, however, the one on the Series 3 lacks a setting for a physical right-click (that is, you can't set it to right-click if you click in the lower-right corner). All right-clicks must be performed by tapping the pad with two fingers.
The trackpad supports some multi-touch gestures, such as two-finger scrolling. It does not support pinch-to-zoom, which is unfortunate considering the Chromebook's screen is so small. The trackpad is comfortable, responsive, and otherwise easy to use.
Display could be brighter
The Chromebook's display is adequate, considering the size and price of the system. The laptop sports a matte-finish LED display with a native resolution of 1366 by 768 pixels – the same resolution you'll find on the 11-inch MacBook Air. This resolution is perfectly acceptable for an 11.6-inch screen, and images and text look crisp and clear. Color fidelity is fairly good, though some colors look a little washed-out when the screen is cranked up to its brightest setting.
That said, the screen's brightness could be an issue, considering this is designed for portability. The screen is 200 nits (a term for a unit of measured brightness). This is fine for basic indoor work, but I usually like at least 250 nits for working outdoors or in direct sunlight. Apple's MacBook Air has a very bright screen, at 354 nits.
Video looks and sounds surprisingly good on the Chromebook, considering it has no discrete graphics card (and a mobile chip, at that). High-definition streaming video plays well, though darker scenes suffer from quite a bit of artifacting. Audio from the Chromebook's two 1.5W stereo speakers sounds decently full and loud, and the headphone jack is clean. I wouldn't make this your main video machine, but for casual watching and listening it works just fine.
Designed for the web-centric life
The Samsung Chromebook is designed for a user with very specific needs. Because it runs the Chrome OS, you can't use traditional applications – you have to use web-based apps or apps that are built within the Google infrastructure.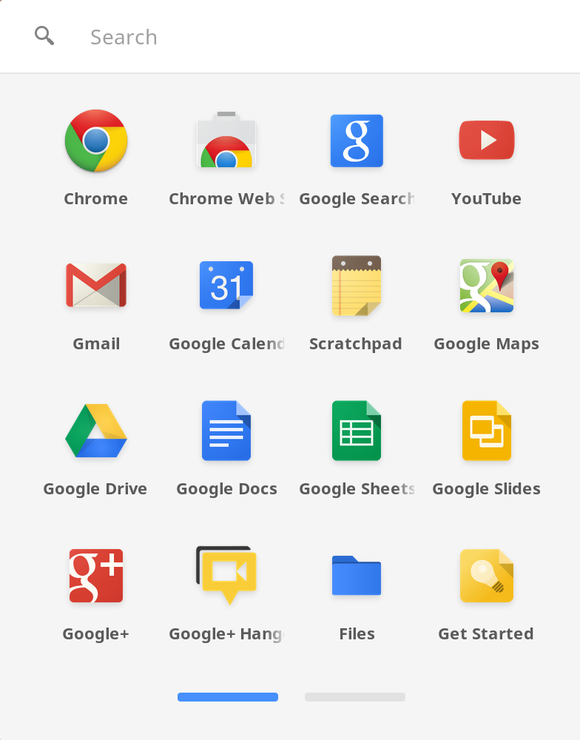 The Chromebook comes with several apps built-in, including the Chrome web browser, Google Maps, YouTube, Gmail, Google Calendar, Docs, Sheets, Slides, Google Drive, and a calculator app. You can download additional apps, either paid or free, at the Chrome Web Store.
This Chromebook is really designed for people who do little more than surf the web and create documents and spreadsheets, and who want something light, portable, and with a physical keyboard. It only has 16GB of internal storage, but never fear: Chromebook users get 100GB of free Cloud Drive storage for two years.
While the Chromebook isn't for everyone, it's certainly a cheap and productive alternative to a similarly-equipped tablet. You don't get a touchscreen, but you do get extra Cloud Drive storage, better performance, and a keyboard.