Amazon and Barnes & Noble are cutting the prices on the Kindle Fire HD and Nook e-reader tablets as the holiday shopping season enters the homestretch. On Monday only, Amazon shaved $50 off 8.9-inch Kindle Fire HD devices, while Barnes & Noble permanently dropping the price of the Nook Simple Touch to $79, a $20 price cut.
Kindle savings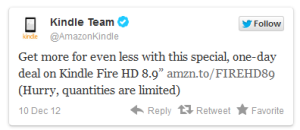 Amazon is offering $50 off the 8.9-inch versions of the Kindle Fire HD. You can pick-up the 16GB Wi-Fi only version for $250 or the 32GB Wi-Fi + 4G version for $450. These lowest prices are for Kindle devices with special offers, but you can also get $50 off the versions of the Fire HD without built-in advertising. Amazon is limiting the deal to one purchase per customer and you have to use the code FIREHD89 at checkout to get the savings. Amazon says this deal is only available while supplies last, so it's not clear if the company plans to cut off the sale after a certain amount of devices are sold on Monday.
Nook price cut
On Sunday, Barnes & Noble dropped the price of the Nook Simple Touch (without GlowLight) from $99 to $79. The new price appears to be permanent, and brings the low end Nook closer to the price of Amazon's cheapest Kindle at $69 with special offers. However, for an extra $10 over the Kindle, the Nook includes a touchscreen, one feature the base Kindle doesn't have, and it doesn't come with advertising.
Touchscreen and ads aside, the base Kindle and Nook are pretty similar in terms of specs. Both devices feature a six-inch E Ink Pearl display, long battery life, Wi-Fi, and a compact size. One advantage the Nook has is a microSD card slot that supports up to 32GB of storage. The Nook also gives you free access to Wi-Fi at more than 24,000 AT&T hotspots.
Green Monday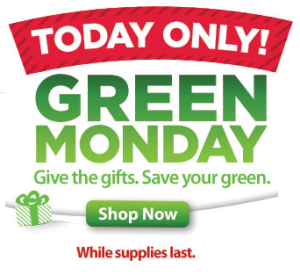 The two deals arrive on what is currently referred to as Green Monday, yet another supposed holiday deals day where you can save money on holiday gifts.
Green Monday is a marketing term originally coined by eBay referring to the second Monday in December. Despite following sales-heavy days such as Black Friday and Cyber Monday, many retailers on Green Monday see a sharp increase in online traffic. Walmart in 2011 had its highest online traffic day in December on Green Monday, a company spokesperson told PCWorld. Online metrics firm comScore said Green Monday for 2011 was the third biggest spending day of the holiday season.
Online retailers have also coined a phrase for December 17 which is called Free Shipping Day, the last day that many retailers can guarantee shipping in time for Christmas. Between December 14 and 17, some more electronics deals are expected.