Holiday shoppers hoping to buy a hybrid Windows 8 notebook—those half laptop and half tablet devices—will be sadly disappointed. Shipping delays are pushing delivery dates for some popular models made by Dell, Hewlett-Packard, Lenovo, and Toshiba into 2013. Experts say stronger demand than anticipated coupled with a shortage of touch panels are to blame.
Hybrid notebooks are one of the most innovative new Windows 8 PC form factors that highlight the operating system's versatility and touch-centric features. While demand for hybrid devices is tepid, as with Windows 8 PCs in general, the dearth of hardware is putting a damper on the potential success of the unique PC form factor.
PCWorld found the HP Envy X2, Dell XPS 12, Lenovo Yoga, and the Toshiba Satellite U925t are hard to come by at local computer shops. You won't fare much better online. When we asked sales representatives about availability of those hybrid PC models, each said ship dates are in January.
Here's the good news.
Despite an extended wait for some Windows hybrids, some models are available. Staples, for example, is carrying the Lenovo Twist—however, spot checks at stores in New York City and Boston indicate that stock levels for these devices are low. A Staples store representative said Thursday that the chain had only sevn units in stock across all its Manhattan stores.
Best Buy reports carrying the 13.3-inch Lenovo Yoga IdeaPad, but online checks at stores in New York, Boston, Chicago, Los Angeles, and Seattle revealed that just a handful of retail locations had the device in stock. Checks at Best Buy for traditional laptops with touchscreens from companies such as Acer and HP were more readily available. And most manufacturers are still promising delivery in time for Christmas for non-touchscreen, traditional Windows 8 laptops.
Sony lists its Duo 11 hybrid notebook as out of stock online, but the higher end version is scheduled to ship on December 18. Other devices such as the Sony Duo 11 were spotted at retail shops several weeks ago, but are now hard to find.
The supply problems
Could these missing convertible laptops already be sold out for the holidays?
It's possible, and at least some computer makers were caught off guard by the demand for laptop-to-tablet devices. An HP spokesperson told PCWorld the company was "experiencing an imbalance between supply and demand in the U.S." for the Envy x2.
The main problem in the supply chain is sourcing touch components, according to Stephen Baker, vice president of industry analysis for market research firm NPD Group.
"There are just not enough touchscreens out there," Baker says. "[Computer makers] didn't recognize how important touch was going to be on Windows 8. Everybody was distracted by Ultrabooks earlier this year, and then all of a sudden in the summer [computer makers] came to the realization that people wanted touch-based products."
Baker's suggestion seems hard to believe. How could computer makers not see that touch devices would be a huge part of Windows 8?
"It's easy to say [computer makers] should've done this, or they should've done that," Baker says. "But you're talking about decisions involving tens to hundreds of millions of dollars."
The question computer makers continually must answer, Baker says, is, "How big a bet am I willing to make on certain device types?"
The big computer makers, it seems, weren't willing to bet much on convertibles, at least for this first round of Windows 8 device sales.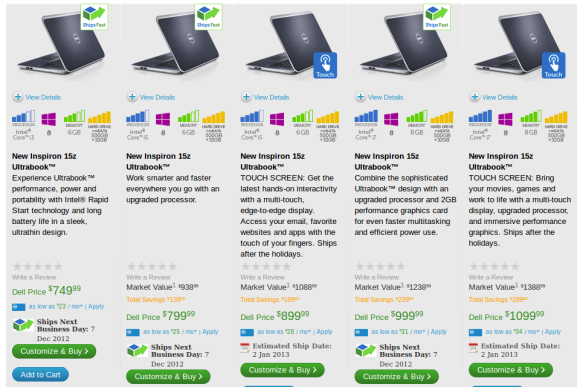 Touchscreen supplies certainly appear to be the problem for Dell.
The company's new XPS 12 convertible laptop is not the only device the company is holding back until January, based on checks with Dell's website on Thursday. Touchscreen versions of Dell's Inspiron 15z Ultrabook are also delayed until early next year, while at the same time the company is promising ship times within 24 hours for non-touch versions of the 15z.
When asked about reasons for the XPS 12 delays, Dell wouldn't comment, saying only it is "encouraged by the strong interest in the XPS 12." The computer maker also says anyone wanting to give an XPS 12 for the holidays can purchase the convertible laptop and download a gift card that lets the recipient know a new PC is coming.
Toshiba did not respond to PCWorld's request for comment. Sony declined to comment.
Supply chain challenges
Beyond touchscreens, the early Windows 8 PC supply chain has been problematic in general, according to Brian J. White, senior analyst for Topeka Capital Markets who specializes in supply chain issues.
White says component suppliers in China and Taiwan in the run-up to October 26 launch of Windows 8 were hesitant to ramp up component supplies. "The sentiment around Windows 8 was overwhelmingly negative," according to White. "[And] the supply chain [was] experiencing little life ahead of the October 26 launch [for Windows 8]."
Baker and White, along with other analysts and critics, don't expect Windows 8 device production to get going until mid-2013.
Can hybrids compete against the iPad?
But unlike previous Windows rollouts, computers running Microsoft's OS have some tough competition this time around.
Instead of buying a Windows laptop, holiday shoppers in 2012 can opt for Apple's iPad or any number of slates running Google's Android operating system. Tablets can, for many people, replace a PC for tasks such as Web surfing, email, games, and online video streaming.
In this so-called post-PC era, timing appears to be everything, especially when Apple's slick product launches include well-timed product availability. So being slow to market with new and anticipated hardware could be detrimental to the long term success of Windows in the touchscreen era, couldn't it?
There is already some debate about whether Windows 8 is being readily adopted by consumers. NPD Group recently said Windows PC device sales were lower in 2012 during the Windows 8 debut than during the same four-week period for Windows 7 PCs in 2011. Microsoft said in late November that it has sold 40 million Windows 8 licenses so far.
Despite the slow sales, Baker says it's unlikely that availability of new hardware was contributing to the anemic adoption of Windows 8.
"We're talking about products [hybrid laptops] selling for $800 to $1000 or more," Baker says. "The market has not flipped over to the point where consumers are willing to spend $700 to $900 on a PC versus $400 to $500."
So it's not like convertibles would be flying off the shelves even if they were readily available.