PCs are incredibly useful tools, but if you want to get the most from your desktop or laptop, you''ll need to look beyond CPU speeds and storage capacities, and pick the right accessories. Gamers are well serviced here—check out our guide to gaming upgrades if you're looking to get more from shooters, strategy games, and so on. And if you're just looking for an inexpensive new monitor or a comfortable keyboard, we've got you covered too.
But there's a lot of stuff to choose from, and prices can vary wildly. We took a look at peripherals and accessories that won't set you back more than $200, and rounded up 10 of the best.
Harman Kardon SoundSticks III
Desktop speakers don't have to be ugly. Consider Harman Kardon's SoundSticks III, a 2.1 channel sound system that sports a gorgeous transparent design. The down-firing plastic subwoofer complements a pair of skinny speakers, and the speakers are controlled with touch-sensitive volume and mute buttons. The speakers are compatible with all devices with a stereo mini-jack output, and while they won't necessarily match the raw output you'd get out of a full surround-sound system, they will make a stunning visual statement on your desk.
Price: $154.99, Amazon.com
Asus VS247H-P 24-inch display
Looking for a second desktop monitor, or an external monitor for your laptop? Asus' 24-inch VS247H is a fairly affordable choice at about $180, and comes with DVI, HDMI, and VGA ports. This slim black monitor has a native resolution of 1920 by 1080 pixels, and it performed well in our subjective viewing tests. Color quality is fairly good and we appreciated the wide viewing angles, but the monitor lacks any sort of height adjustment, which can prove problematic for some.
Price: $180, Amazon
Logitech HD Pro webcam C920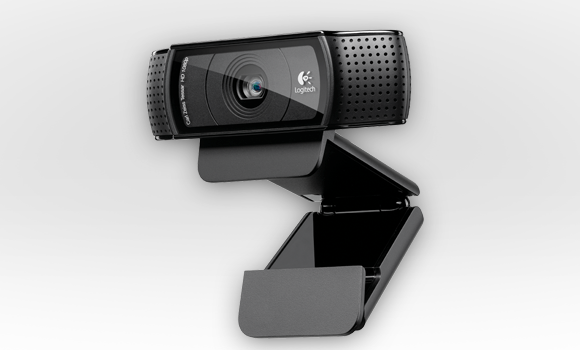 Logitech's HD Pro webcam C920 offers 1080p resolution for Skype video calls. This makes it perfect for high definition conference calls, or even casual video chats when you want a better picture of friends and family across the country or the world. The C920's Carl Zeiss lens also offers 20-step autofocus, and if you're not a fan of Skype, it will serve up 720p video on other instant messaging clients.
Price: $69.99, Amazon.com
Logitech K310 washable USB keyboard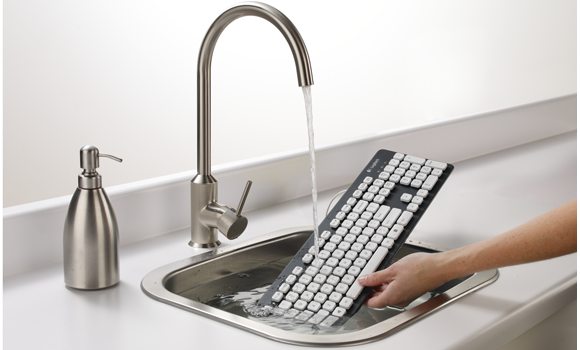 Keyboards are notoriously difficult to clean, but Logitech's new K310 washable keyboard is easier than most. Indeed, this USB-wired keyboard can be hand-washed in water with soap! The K310 has laser-printed, UV-coated chiclet keys and drainage holes for quick drying, and can be soaked for up to 24 hours in cold water (or washed in five-minute cycles in warm water of up to 50 degrees Celsius).
Price: $29.99, Best Buy
Fujitsu ScanSnap S1100 color mobile scanner
Portable scanners can save you quite a bit of desk space, and the Fujitsu ScanSnap S1100 is quite possibly the tiniest of them all. The S1100 allows you to scan all sorts of documents—including smaller items like receipts and business cards—wherever you are. This slim scanner is about the size of a pencil box, weighs 12.3 ounces, and is compatible with both PCs and Macs. You might scoff, "A scanner? In this day and age? Who needs one?!" But trust us: If you have any type of personal business that involves emailing paperwork bearing your own personal signature (work contracts, loan applications, etc.), the ScanSnap will prove immensely valuable.
Price: $199.00, Fujitsu
Logitech K400 wireless touch keyboard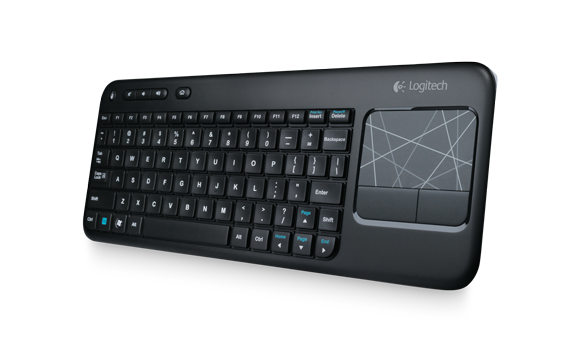 If you're looking for a keyboard that's couch-friendly, check out the Logitech K400 wireless touch. This keyboard has a built-in 3.5-inch touchpad so you can control your PC from across the room without needing a separate mouse. The K400 connects to your PC using Logitech's tiny Unifying USB receiver, and works up to 33 feet away from your machine. (Hint: It's a great complement for your new home theater PC.)
Price: $39.99, Logitech
Logitech Anywhere Mouse MX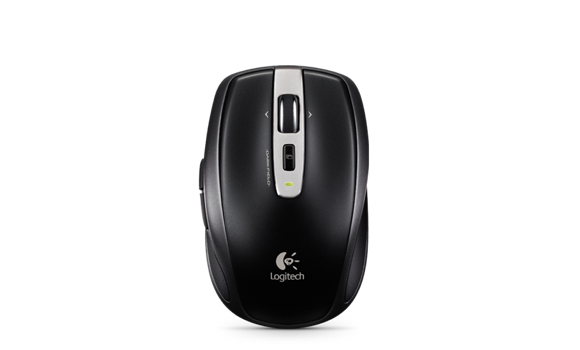 Logitech's Anywhere Mouse MX is small and compact, and boasts Logitech's Darkfield laser technology, which Logitech claims will allow it to track accurately on most surfaces. Like the K400 keyboard, the mouse connects to your computer using Logitech's Unifying USB receiver—the tiny USB dongle will actually let you connect up to six compatible Logitech devices. The mouse has five buttons, including a pair running along the side and a center button that can be re-programmed. The mouse is compatible with Macs and PCs.
Price: $59.99, Logitech
WD My Passport 2TB portable external hard drive
Western Digital's My Passport portable external hard drive is a good deal for just $140. This small, compact hard drive is USB 2.0 and USB 3.0 compatible, has built-in automatic backup software, and is packed with a whopping 2TB of storage capacity. It's compatible with both Windows and Mac systems, and it comes in a number of colors.
Price: $139.99, Amazon.com
Dell S2240M 21.5-inch ultra-wide monitor
Here's another affordable external monitor for your desktop or laptop. The Dell S2240M's glossy 21.5-inch display has a native resolution of 1920 by 1080 pixels, and its stand tilts up to four degrees forward and 21 degrees backward, which should make it a bit easier to find a decent viewing angle. The display's ultra-thin bezel also makes it a rather attractive but you'll have to settle for DVI and VGA ports, as it lacks DisplayPort or HDMI connectors.
Price: $199.99, Dell
Microsoft Wedge touch mouse
Microsoft's tiny, avant-garde Wedge touch mouse was designed with Windows 8 tablets in mind, but that doesn't mean it isn't a great complement for an Ultrabook or a laptop. This Bluetooth wireless mouse features four-way touch scrolling, Microsoft's BlueTrack technology that boasts accurate tracking across a variety of surfaces, and is powered by a single AA battery. The mouse will work on PCs (running Windows 7 or 8) and Macs, though the four-way scrolling feature will serve you best on a Windows 8 machine.
Price: $69.95, Microsoft