At a Glance
Expert's Rating
Pros
Easy to set up and configure
Fast 802.11ac performance
Optional cloud-based services
Cons
Very few advanced router features
Slow 802.11n performance on the 2.4GHz band
Very slow when writing to an attached USB storage device
Cisco arrived late to the 802.11ac party, but its Linksys EA6500 (it's hard to say the entire name—the Linksys Video Pro AC1750 Smart Wi-Fi Router EA6500—in a single breath) is a solid, easy-to-use dual-band router with one unique, gee-whiz feature.
That feature, called SimpleTap, uses near-field communication technology; with it, you can join NFC-enabled mobile devices to your network by tapping them with a provided plastic card. That simple physical action instantly provides the device with the router's security credentials. Unlike with WPS (Wi-Fi Protected Setup), you never need to touch the router when using SimpleTap. It does, admittedly, require you to install a Cisco app on the mobile device. But I call it a gee-whiz feature because relatively few mobile devices are NFC enabled (Samsung's Galaxy S III smartphone being the most notable). The SimpleTap card is something of a security risk unless you lock it away, and the feature is easily disabled if you don't want to use it.
The EA6500 remains easy for inexperienced users to set up even if you can't take advantage of SimpleTap, although that entails installing software on a client PC and creating an online account with Cisco. If you're an experienced user and you prefer not to use this cloud-based option, you can log in to the router to perform its initial configuration without setting up an account—but in that case you won't be able to take advantage of Cisco's Smart Wi-Fi cloud service, which allows you to manage the router remotely from anywhere you have Internet access. It also enables you to remotely access data stored on an attached USB device. (The EA6500 has two USB 2.0 ports, so you can share both storage and a printer on your network. You don't need Smart Wi-Fi to enable local clients to use connected USB devices.)
In addition, Linksys offers a collection of Smart Wi-Fi apps. These run on the router and/or your mobile devices to provide everything from parental controls (so you can control when your children can go online, where they can go, and what they can do while they're there) to media aggregators, device monitors, and IP-camera viewers. The apps are a far simpler alternative to jiggering port-forwarding, static routing, DMZ, and other settings, but Cisco doesn't prevent advanced users from configuring any of those settings manually.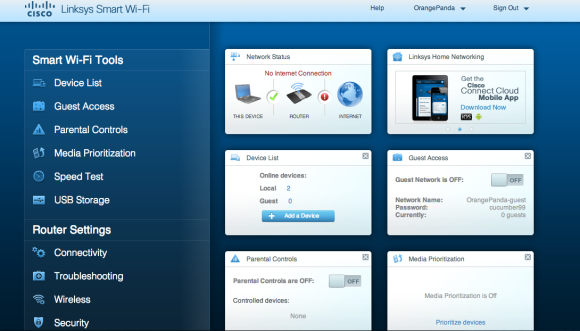 The dual-band router arrives from the factory with easy-to-remember, preassigned network names for its 2.4GHz and 5GHz networks: Ours were named OrangePanda and OrangePanda5, respectively. Wireless security is disabled by default, but you're warned of this at the outset, and establishing security is one of the first steps in both of the assisted setups. If you're installing the router on your own, you'll have to hunt for the security settings, because they don't reside under the Security tab where you would expect to find them (you must click the Wireless tab, instead).
The Linksys EA6500's 802.11ac performance was fairly comparable to that of our current favorite router, the Asus RT-AC66U; in fact, it was slightly faster when the router and client were at close range (9 feet apart and in the same room). At this location, the EA6500 delivered TCP throughput of 460 megabits per second, compared with the RT-AC66U's 449 mbps. The Linksys was slightly slower—171 mbps versus 190 mbps—when the client was in a home theater, 35 feet from the router and with several walls in between, but both routers delivered 232 mbps when the client sat in a home office that was 65 feet from the router with several walls in between.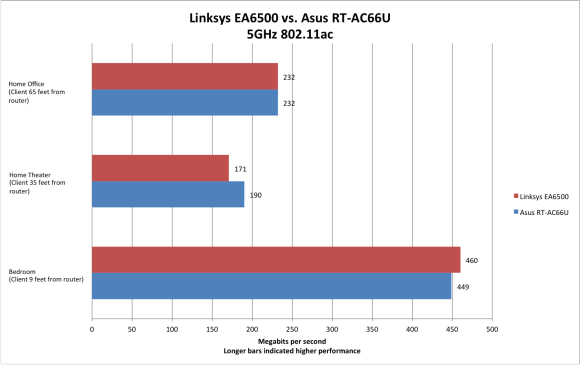 With the client operating on the 2.4GHz network, however, the Linksys router was more than 30 percent slower on average than the Asus product when we benchmarked the two devices at the same three locations.
In terms of reading and writing to a USB hard drive attached to the router (we used a 500GB Western Digital My Passport drive), the Linksys held its own against the Asus when reading both a single large file and a collection of small files, but the Asus clobbered the Linksys when writing those files to the attached hard drive.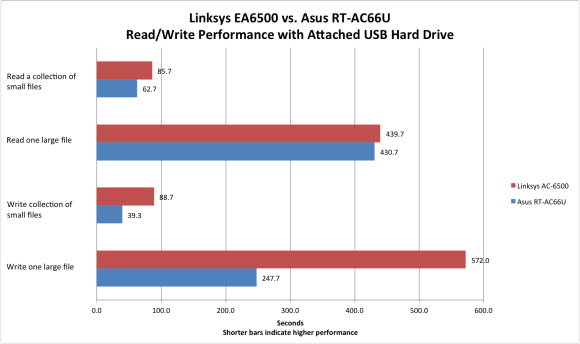 If you intend to use a USB hard drive for backing up networked client PCs, you'll be much happier with the Asus. If you're looking to stream media from a drive attached to the router, either model will do (unless you're looking for an iTunes server, as I'll discuss next).
Cisco delivers far fewer features with the EA6500 than Asus does with its RT-AC66U. Both routers support UPnP and provide a DLNA-certified media server and an FTP server, for instance, but Asus also provides an iTunes server, a SAMBA server, an onboard download manager for automated BitTorrent downloads, and VPN pass-through for secure remote network access.
And whereas the Cisco model provides a guest network on only its 2.4GHz band, Asus's model allows you to run guest networks on both frequencies simultaneously. With the possible exception of the iTunes server, however, most mainstream consumers won't miss those advanced features, and might favor the EA6500's relative simplicity and ease of use.