It was just a few weeks ago that Firefox got a fresh security boost on the eve of its eighth birthday, but this week Mozilla gave users of its popular browser a better way to protect their privacy as well.
"One of the most often-requested features in the private browsing support for Firefox has been the ability to open a private window without closing the entire session," wrote Firefox product manager Asa Dotzler in a Tuesday post on the Future of Firefox blog.
"Over the past 19 months, we have been working on a plan to rewrite the private browsing code to do just that," Dotzler added. "I'm happy to announce that the first experimental builds will soon be landing on the Firefox Nightly channel."
'A huge project'
Essentially, the new feature allows Firefox users to keep their existing window open when they launch a new private window. Previously, users have had to exit the browser altogether and restart it in private mode.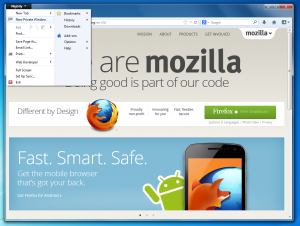 Not only that, but "we have also added a frequently requested feature to allow opening a link in a private window," Dotzler explained. "In order to do this, just right click on any link and choose Open Link in a New Private Window."
To make those changes possible, Mozilla has redesigned the existing private browsing mode from scratch in what was "a huge project," he noted.
Beta testing in February
It's Firefox 20 that's currently making its way through the Nightly channel; according to Mozilla's planned schedule, that version will enter the Aurora channel in early January and the Beta channel on Feb. 19. A final release is planned for early April 2013.
Want to check out these latest changes for yourself? Though they're far from ready for production purposes, Nightly builds can be downloaded for free from the Mozilla site.