Google hasn't forgotten about Google+, its fledgling social network. In a big year-end update, the search giant has added several new features, including a way to automatically upload full-size photos from an Android phone.
Users can enable full-size photo uploads in Google+ settings, by tapping on "Instant Upload," then tapping "Set upload size." The first 5 GB of full-size photo uploads are free. After that, users will have to buy more storage, starting at $2.49 per month for 25 GB of total storage.
As with before, users can auto-upload an unlimited number of photos at standard-size, with a resolution of 2048 pixels wide. Instant uploads appear in a private album on Google+, so they can be shared or just stored away for safekeeping.
Google has also added some features to Events. To make invitations easier, users can copy and paste their event URL into an e-mail or IM, and after the initial invitation goes out, they can send follow-up messages and see who's viewed the invitation. Guests may now specify how many other people they're planning to bring.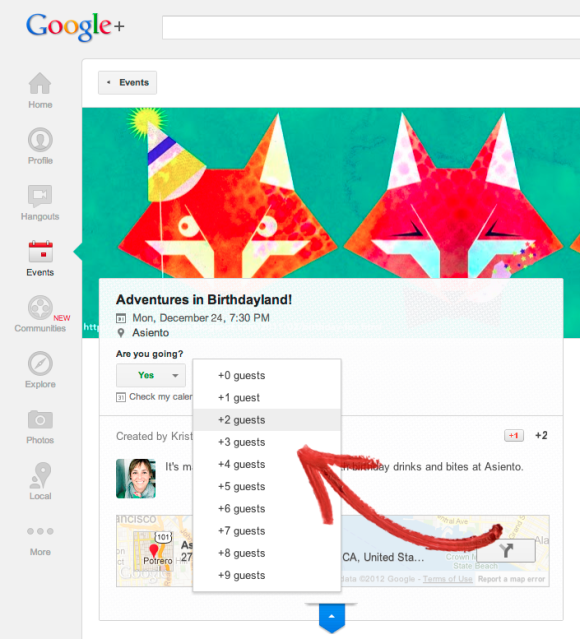 The Google+ Hangouts group chat service is getting a couple small tweaks as well. The minimum bandwidth required is now 150 KB, which should help in areas with slow service, and for Hangouts on Air, broadcasters can hide the strip of video feeds on the bottom of the screen when there are no other participants.
For its iOS app, Google has tweaked the look and feel of the app and added some basic profile editing. For Android, the app now supports animated GIFs and birthday reminds in Google Now. Both apps can now provide notifications for updates from users' favorite circles.
Finally, Google is adding a couple of features related to Android 4.2. The 3D panoramas known as Photo Spheres will now appear in users timelines if they're using Android 2.2 or higher, and Android 4.2 users can now add a Google+ widget to their lock screens.
Although Google+ has a reputation for being a ghost town, Google said this month that the service has 235 million active users, including people who are doing things like +1'ing apps in Google Play or participating in Hangouts through Gmail. When counting only users who are using their Google+ news feeds, the number of active users is 135 million.