Facebook is working on a messaging app that will allow users to send each other "self-destructing" messages and photos, according to reports. The app could expand Facebook's growing portfolio of mobile apps within weeks.
The app would be very similar to Snapchat, which enables iPhone and Android users to swap photos privately and set a time frame limiting access to the content. The files are then deleted from the users' phones and Snapchat's servers. Among other uses, Snapchat app seems to be very popular with sexters swapping photos.
A report from AllThingsD expects a similar Facebook app to surface within weeks.
The unnamed Facebook app would reportedly work much like Snapchat. You select one or more friends you want to share a photo with, and chose the amount of time the photo will be available for viewing (ten seconds or more). You could also see a list of current messages that weren't set to self-destruct.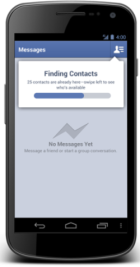 So how does such an app fit in Facebook's portfolio? The social network has vastly expanded its mobile offering this year already, with a new Messenger app similar to What'sApp and Instagram-like Camera app (after it bought Instagram for $1 billion). In addition to a reworked and faster mobile app, Facebook also has a separate app to manage brand pages.
An app that allows users to set messages to self-destruct could improve Facebook's image as a privacy-challenged social network, since it gives users some additional control about how they share. However, it's unclear whether the app would allow actual anonymity, or the degree of privacy.
If you would want to swap inappropriate images with strangers, you wouldn't use your Facebook identity and profile; for actual anonymity, an app should let you create a separate, private identity. If this isn't the case, and a Snapchat-like app for Facebook requires use of a Facebook ID, then perhaps the self-destructing messages would be more useful implemented simply as a feature within Facebook's current Messenger app.