Twitter recently introduced the option to download your entire archive of tweets and save them to your local hard drive, a feature similar to one that Facebook introduced in late 2010. The new Twitter feature will be welcomed by longtime and prolific Twitter users who, due to Twitter's restrictions, could only access their last 3,200 messages on the micro-blogging site turned self-styled "information network."
Twitter chief executive Dick Costolo said in September that Twitter users would be able to access their personal archives before the end of the year.
If you've always wanted to have your entire tweeting life available anytime anywhere, here's how to get started.
Getting ready
To access your tweet archive, you have to request it by signing in to Twitter.com and then click on the settings cog in the upper right-hand corner and select "Settings." Toward the bottom of the next page you will see a section called "Your Twitter archive." Click the "Request your archive" link. You will then see a message telling you that a link will be e-mailed once your archive is ready for download.
In my tests, I received my e-mail almost right away, but your results may vary depending on the size of your tweet archive (after four years, I still haven't cracked the 3,200 limit).
Downloading the archive
Twitter will not let you download your tweet archive from within your account's settings. Instead, you need a unique link that is sent to you via e-mail. The message will contain a link you can paste into your browser or you can just select the "Go now" button inside the e-mail.

Next, you'll be taken to a unique Twitter page that lets you download your archive. Your tweets will arrive inside a ZIP file containing a number of individual files and folders used to display your archive. Twitter's ZIP file does not include a containing folder so you may want to save your archive into a specific folder labeled "Tweet archive" or something similar.
Viewing the archive
Your tweets are organized using two formats: JSON and CSV. The latter is a standard way to export data and move it around to other applications. Contact databases, for example, are commonly available as a CSV export and then viewable in a spreadsheet.
The more interesting way to view your tweets is using the JSON format, which includes a browser-based interface to check out your tweet archive in the default browser on your PC.
To get started with the JSON version double-click the index.html file that came with your Twitter archive. Your default browser should open automatically, displaying your tweet archive in a two-column format that mimics the Twitter.com interface.
The upper right corner includes a box for composing a new tweet and a search box if you're looking for a specific tweet. On the left is a Twitter icon and your @username that takes you back to your most recent month in the archive.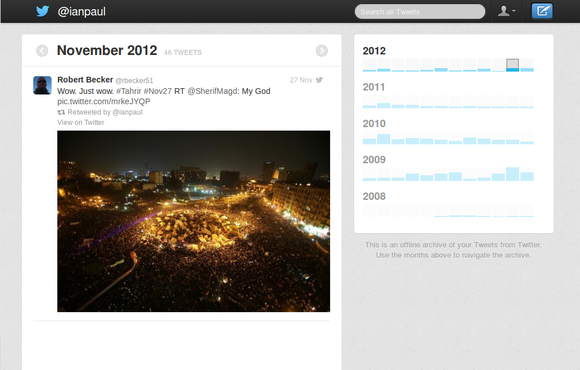 The main viewing area is organized by month and year with a header at the top showing the current month you're looking at and the number of tweets you sent out during that time. You can either move between months by clicking the arrows at the top of the page, or you can navigate to a specific month and year using the timeline column on the right.
Overall, Twitter's archival feature is nicely laid out and even includes support for Twitter cards, the new feature that lets you view photos and other media inside your tweet stream. The downside, however, is that you can only view photos if you have an Internet connection. Images were not included in the archive download in my tests. Your archive also includes any tweets by others that you have retweeted. To view conversations, however, you'll have to use the online version of Twitter by selecting the "View on Twitter" link at the bottom of each tweet since your archive includes only your tweets and retweets.
Twitter says it is rolling its archive retrieval feature out slowly. It is currently available for users with English language Twitter accounts. Twitter says the new feature will roll out to all users in the coming weeks and months.