Google has lost its traditional Santa Claus tracking partnership with NORAD – the North American Aerospace Defense Command – to Bing, but the search giant hasn't lost its Christmas spirit.
Google has revamped its Santa Tracker site, loading it with all sorts of goodies.
At the center of the site, is a countdown clock that ticks off the seconds to St. Nick's scheduled departure from the North Pole as he begins his annual journey to deliver gifts around the world.
At the left corner of the tracker page is a pulldown menu with links to all the ways offered by Google to track Santa – Google+, an Android app, Chrome browser extension and Google Earth app.
There's another menu at the bottom of the page with links to several games involving elves, sleighs and gifts, as well as online chat with Kris Kringle himself.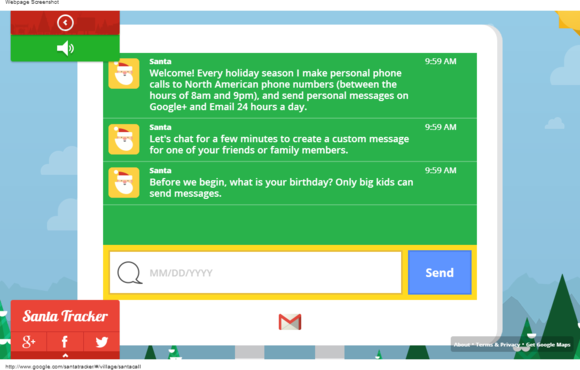 The tracker page is interactive. By hovering your cursor on the left and right arrows on the page, you can slide the page in either of those directions. Google placed "Easter Eggs" throughout the scenery that provide a surprise once you click on them.
For years , Google had teamed up with NORAD to track Santa on Christmas Eve, but this year the U.S. military agency and Google parted ways. Details behind the change haven't been made public.
When asked by Search Engine Land about the move, NORAD said that the former partners "mutually agreed to go in new directions."
That new direction is toward Google rival Microsoft. NORAD's Track Santapage will use Bing Maps to track St. Nick in 2D and another new partner, Cesium, for a 3D experience similar to Google Earth.
Another change for NORAD this year is that it will be offering its own Santa tracking apps for Windows Phone,Android,iOS and Windows 8.
How did a military defense agency get into the Santa tracking business in the first place? Back in the bad old days of the Cold War, a newspaper published the wrong phone number for Santa Claus. Instead, it published the direct dial number for the commander-in-chief of NORAD's predecessor, the Continental Air Defense Command (CONAD).
In the spirit of the holidays, CONAD's director of operations, Harry Shloup, rolled with the snafu and had his staff field the calls from kids flooding into his agency asking for status reports on Santa. That night, a tradition was born.