Some of the technology used for Google's Android-based virtual assistant technology called Google Now is making its way to the Web. Google will now unearth relevant information from your inbox on flights, restaurant bookings, or purchases directly into search results, as long as you're logged in.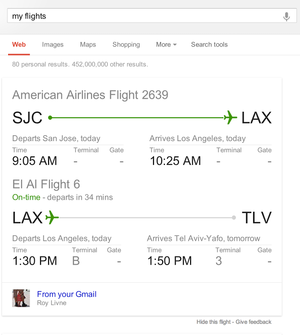 The new features are part of Google's search "field trials" that began earlier this year, and are limited to @gmail.com users in the U.S. You can sign up for it here, and you should be able to use the new features after you receive a confirmation email.
So how does it work? When you are logged in to your Google account, from the main Google Search page you can perform some specific search queries that will look through your emails and display the information in a card-like interface, similar to the Google Now service that debuted on Android.
For example, a search for [my flights] will bring up a card with your upcoming flight reservation information, pulled from your emails, along with the latest flight information on gates and departure times. You can also see relevant emails from your inbox depending on your Web search, or look for files from your Google Drive with queries such as [Summer holiday docs].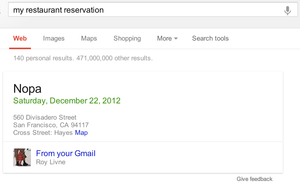 Several special search queries have recently been added to the trial. You can search for receipts from online merchants with [my purchases] and you can track the delivery status of a package. To check on event bookings through Ticketmaster or Eventbrite, you use [my events]; to confirm your stay at a hotel, search for [my hotel reservation]; or use [my restaurant reservations] to check the address and time of a dinner reservation booked through OpenTable.
The results will also be available on mobile devices, as long as you have the SSL option on by default. Google says it works on iOS 6 devices and from the search box on the home screen of Android JellyBean devices.