Children across the world are anxiously awaiting the arrival of Santa Claus Monday evening; luckily, in 2013 we have numerous ways to track the Jolly Old Elf during Christmas Eve.
As usual, the North American Aerospace Defense Command is tracking Santa via radar this season and displaying Saint Nick's location online.
But this year, NORAD has partnered with Microsoft and Bing to show Santa's every moment instead of Google, the Can-American organization's online partner since 2004.
Not to be outdone by its search rival, Google is also tracking Santa's midnight ride on its own.
If you've got little ones focused on tracking Santa Monday morning into the evening, here's a basic guide to all the ways you can track Santa tonight.
Santa on the Web
Norad may have a new online partner, but the military-grade Santa Tracker is still available at NoradSanta.org. Here you will be greeted with a Bing Map similar to Google's version in previous years. You can see where Santa has been, thanks to the gift icons that dot the map, and the Tracker offers a breakdown of where Saint Nick was last spotted and his next scheduled location.
A running counter shows how many gifts Santa has delivered this year. If you click on a present on the map, a pop-up window will show a YouTube video, if available, about Santa's journey in that region and some facts about the location from Wikipedia.
Clicking on the "Watch Santa!" button will take you to the latest videos showing Santa's journey, posted to Google's YouTube—proving that even the military can't completely escape Google's online power. Norad's site also features a map of Santa's North Pole village that contains games, music, and other activities.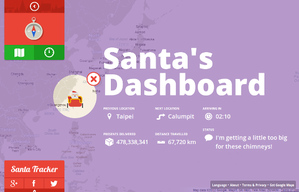 Google may have been discharged from Norad, but the search giant is still tracking Santa at Google.com/santatracker. When you first land on the site, in true Google style, you are treated to a data dashboard showing Santa's previous location, next scheduled stop, time until arrival, total number of presents delivered, distance traveled, and his latest status update.
You can also click on the Santa icon to see his journey on the map without the dashboard cluttering up the display.
Google also offers on the site three Christmas themed video games called Jetpack, Present Drop, and Racer. And, as Google has offered in previous years, you can create a personalized phone call from Santa to any North American phone number between 8 a.m. and 9 p.m. local time. All of these features are available by clicking the "Santa Tracker" box in the bottom left corner of the site.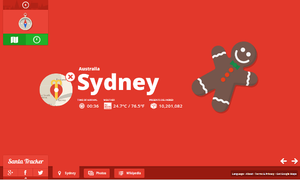 Santa's major stops are signified with a gift-themed Google Maps marker. Clicking on a location shows you its name, Santa's time of arrival at that location, the current weather (courtesy of the Weather Channel), and the number of presents delivered there.
You can also access photos of the place pulled from Google Maps' partnership with Panoramio, and data from Wikipedia. Unfortunately, you can't enter your own location into the map to see when Santa is scheduled to arrive in your neck of the woods. But maybe Google will include that feature in next year's map.
Mobile Trackers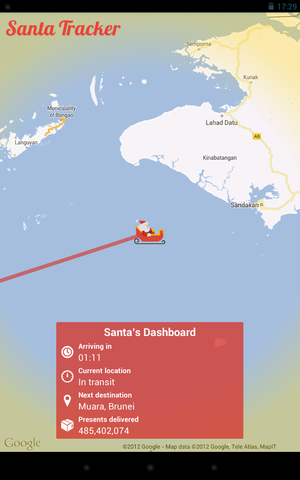 If you want to track Santa while you're on the go, you can choose from Norad's app for Android and iOS by Visionbox or Google's Santa Tracker for Android.
Norad's app hasn't changed much and, similar to previous years, features a tracking map as well as a game. This year the game is called Thin Ice.
Google's Santa Tracker app for Android isn't really an app at all and only features links to opening Google Maps or Google Earth on your Android device to track Santa. Google offers no accessory games or other features.
For iOS users who prefer Google's Santa, you can still use Google.com/santatracker on your iPad or iPhone and it will work just fine. You can also place an icon for the site on your homescreen by tapping the 'Action' key in Safari and selecting "Add to Home Screen."
Desktop Chrome browser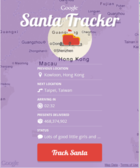 Google has also created a Chrome extension you can add to your browser.
The Santa Tracker extension gives you a summary of how many miles Santa has traveled and clicking on the browser icon shows you the tracker dashboard with vital Santa stats.
Social network trackers
Getting social with Santa this year is pretty similar to other years. You can get updates on Santa's location via Twitter with @NoradSanta. Norad's Santa is also on Facebook. Google+ users can get Santa-centric updates all day Monday from the Google Maps G+ page.
Google Earth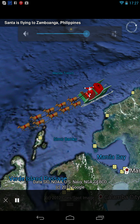 You can track Santa using Google Earth on both PCs and mobile devices. This will show you an animated version of Santa flying across specific locations. You can find a link to the Santa Tracker in Google Earth's Tour Guide feature.
Android users can get a direct link to Santa's journey on Google Earth mobile using the Santa Tracker app for Android.
Technology offers many ways to follow Santa's journey around the globe Monday night, but here's a word of warning for parents with particularly observant children. The Microsoft/Norad Santa and Google's Santa are not flying on the same itinerary, so you may want to stick with one Santa in order to avoid any repeat Santa landings.