At a Glance
Expert's Rating
Pros
Very good output quality
Full connectivity (USB, Wi-Fi, and Ethernet)
Cons
Ink is expensive
Slow scan speeds and higher-quality print speeds
Our Verdict
The WorkForce WF-2540 color inkjet multifunction has some nice features and good output quality, but ink costs are high, and it slows considerably when scanning, or when printing at higher-quality settings.
The $130 (as of 12/24/2012) Epson Workforce WF-2540 All-in-One Printer (copy/fax/print/scan) has a 30-page automatic document feeder, it outputs nice text and graphics, and it has triple-threat USB, Ethernet, and Wi-Fi connectivity. Those are attractive features on any color inkjet multifunction, but there's bad news: Ink costs are high, and glossy photos print at some of the slowest times we've ever seen. Scan speed is nothing to write home about, either.
Setting up the WF-2540 is a breeze. With USB, Ethernet, and Wi-Fi all on board, you're free to attach it to a PC or network in any location you wish. The WF-2540's smallish non-operational footprint: 15.4 inches wide, by 14.8 inches deep, by 8.7-inch high also aids in the versatile placement. However, those numbers (shown in a photo on Epson's Web site), are a tad misleading. When you extend the guide for the 100-sheet rear vertical feed (there is no flat input tray), the height climbs to 11 or so inches. With both the guide and control panel in operating position, the depth is more like 17 inches. That's still relatively compact, but not as small as it would be with a bottom-mounted tray.
The WF-2540's software bundle is basic, but capable. The Epson Scan program is intuitive and mature, and it will handle any scanning task you throw at it. That would be everything except automatic two-sided scanning, which the WF-2540 does not support. Abbyy FineReader Sprint 9.5 is on hand to take care of OCR chores and there's also the full gamut of Web and local wireless printing options.
I didn't find using the WF-2540 quite as intuitive as many printers. The 2.5-inch LCD display, buttons, and keypad are fine; there's just something a little off in the implementation. You're forced to hit the OK button at times when the menu/home button would normally function, and there are just enough other little oddities to make the experience less than top-shelf. You'll get used to it, but it could be done better.
Manual duplexing is never intuitive. For the WorkForce WF-2540, onscreen prompts help–for PC users. Unfortunately you'll get no such assistance if you're using a Mac.
I also had some issues replacing the ink cartridges. Perhaps it was my ham-handedness, but several times I received "invalid" cartridge messages. Re-seating (several times) cured this, but the unit can be finicky about the replacement operation. Talk to it nicer than I did, and you might do better with it.
While the WF-2540 gets you into an inkjet multifunction for a relatively small initial investment, ongoing costs will hit you hard if you print in any sort of volume. That's a roundabout way of saying that per-page ink costs are very high. The standard $17/175-page black is a whopping 7.4 cents per page (cpp) and the $9/165-page cyan, magenta, and yellow cartridges are 5.45 cpp apiece. A 23.75 cent four-color page is not a bargain. The $30/500-page XL black, and $13/450-page color cartridges reduce that to 6 cents per black page and 17.3 per four-color page–still well above average.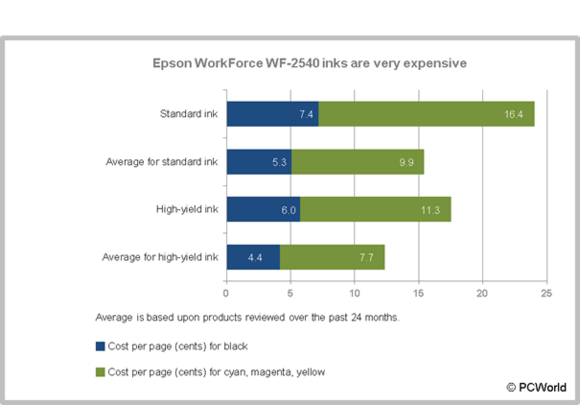 Performance-wise, the Workforce WF-2540 also proved a disappointment. Normal documents and copies exit quickly enough for home use, but scans are pokey, and the unit is very slow with glossy photos. Monochrome pages output on the PC at 6.7 pages per minute (ppm) and 6.5 ppm on the Mac. Snapshot-sized (4-inch by 6-inch) photos print at almost 4 ppm to plain paper.
The problem with glossy prints varies by settings. When using photo paper we normally test in the highest-quality mode, but this slowed the pace of the WF-2540's output drastically. Snapshot photos printed in the mode to glossy paper took over 2 minutes, and full-page photos printed on the Mac an incredible 10 minutes. The full-page photo's print time improved to approximately 6 minutes by stepping down one grade to High-Quality mode, and to about 3 minutes going down yet one more grade to Quality mode. There was no perceptible loss of fidelity in High-Quality mode compared to Best mode, and only a modest one when we used Quality mode, so stick with those on the WF-2540 unless you're looking to kill time.
On the plus side, though you'll have plenty of time to go to the store for more expensive ink during some of its operations, the WF-2540 produces very nice output. Virtually everything that comes out of it is top-notch. Text is sharp and black, and color prints are nice. Shadows are a bit dark, and the colors colder than originals, but overall the output sports a classy feel for a four-color (cyan, magenta, yellow, black) system.
The Epson WorkForce WF-2540 All-in-One Printer is attractively priced, and the triple USB/Ethernet/Wi-Fi connectivity is appealing, but taken as a whole–Epson missed the mark with this one. Ink costs are high, and photo output is slothful and then some. Look instead to the Dell V525w or HP Officejet 6600 e-All-in-One Printer . Both units have cheaper ink and comparable features at roughly the same price. Better yet, spend another $50 and get something more feature-complete.