With less than a week to go before this year's International CES Show in Las Vegas commences, it's unclear which new products will generate the most buzz among attendees of the massive trade show. However, Ultra HDTVs, Windows 8 tablets, smart appliances, and smartphone apps figure to fight for center stage.
Tech companies tend to be tight-lipped about specific product details in the run-up to the biggest tech trade show of the year, but we expect the march toward total connectivity to continue on the CES showfloor. Camera-equipped smart vacuum cleaners, Internet-connected TVs, mobile apps for controlling your home's heat, and Wi-Fi cameras that can upload your photos to Facebook will dot the large landscape of the Las Vegas Convention Center.
Though gadgets remain the stars of CES, manufacturers are building on a foundation of hardware innovation with incremental updates, accessories, and apps that connect the gadgets. "We're seeing not only the broad adoption of technology, but also density is increasing," says Shawn Dubravac, research director for the Consumer Electronics Association.
Dubravac points to tablet ownership, which has increased from one in ten households less than two years ago to one in three today. Dubravac says that he expects CES 2013 to be "the largest apps show in the world," a prediction driven by wider adoption of tablets and smartphones.
"You're going to see apps influence every aspect of the show," Dubravac says.
Apple, one of the major drivers behind the growth of smartphones and tablets in recent years, has no official presence at CES; but mobile apps and accessories designed for iPhones, iPads, and Macs will have a strong presence the showfloor. Microsoft won't be there, either, after ending its CES run last year, but the company and its products will cast a long a shadow as Redmond's partners in hardware, accessories, and apps display their Windows 8 wares.
Windows 8 dominates
The 2013 edition of CES comes at an awkward for the PC industry. The big Microsoft news, the release of Windows 8, occurred in October. Intel's upcoming Haswell processor is still a few months away. Graphics chipmakers AMD and Nvidia have new products impending, but are unlikely to launch them at CES.
The Windows 8 launch, however, positions most PC makers to roll out the bulk of their Windows 8 products at CES. Windows 8 tablets, based on Intel's latest Atom Z2760 processor, have rarities until now, but we'll probably see lots of them on display in Las Vegas. Additional hybrid designs are on the way, too, as are more budget-friendly clamshell laptops, with and without touch interfaces.
LG has a number of Windows 8 PCs planned for CES 2013, including its LG Tab-Book H160 hybrid notebook featuring an 11.6-inch display, a slide-out QWERTY keyboard, Wi-Fi, Bluetooth 4.0, HDMI, USB, and a MicroSD slot. At CES, LG also plans to display an Ultrabook version of the Tab-Book, another Ultrabook called the Z360, and a 23-inch touchscreen all-in-one PC, the V325. The H160 is already available in South Korea and is importable via an Amazon third-party seller for $1400. Presumably, LG will announce a U.S. ship date for the H160 during CES.
Aside from the Windows 8 tablets on display next week, we expect to see scores of cheaper, generic alternatives from Asian manufacturers, some with Android Jelly Bean operating systems. Specialized Android tablets are on the horizon, too. Already, as CES approaches, we're hearing talk of tablets aimed at kids, gamers, and seniors.
Smartphone sightings
Windows Phone 8 fans will be excited to see Samsung at Pepcom's Digital Experience event, which coincides with CES. The electronics giant will show off its ATIV S smartphone at the Monday night showcase. Included in October's Windows Phone 8 launch event but still awaiting its U.S. debut, the ATIV S is the only Windows 8-powered handset to feature a metallic hairline design, as opposed to the candy-colored looks we've seen from HTC and Nokia.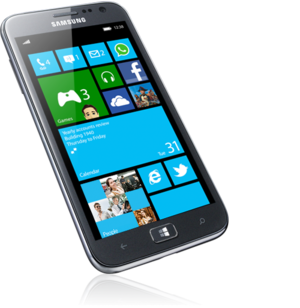 Bearing a strong resemblance to such Android handsets such as Samsung's Galaxy S III, the ATIV S has a slim design with curved edges and is the only Windows Phone 8 handset to include a physical Home button. The ATIV S also has a 4.8-inch Super AMOLED display, an 8-megapixel camera with LED flash, and near-field communication (NFC) sharing.
Speaking of NFC, the wireless connectivity technology is becoming an increasingly common—and expected—feature in smartphones. As more consumers embrace mobile payment apps on their handsets, companies are providing digital coupons or loyalty passes to encourage their use.
Screen sizes continue to get bigger, blurring the line between large smartphone and small tablet. Huawei reportedly plans to promote a super-size 6.1-inch Ascend Mate "phablet" with either 720p or 1080p resolution at this year's CES. The smartphone was spotted in late December at a Huawei retail store in China, according to Engadget. The massive Ascend Mate will likely feature a 1.8GHz quad-core processor. Observers also expect Huawei to unveil a Windows Phone and several Android-based handsets during the show.
Chinese manufacturer ZTE plans to introduce a new flagship Android phone, the Grand S, at CES. The electronics maker claims that the Grand S will be the world's thinnest 5-inch phone. The ceramic smartphone will reportedly offer 1080p resolution.
Still, CES may not be the year's best trade show for new smartphone sightings. We expect the lion's share of 2013 phone announcements to happen at Mobile World Congress, which kicks off on February 25 in Barcelona, Spain.
Apps and accessories
Though Apple doesn't participate in CES—or any trade show, for that matter—many iOS app developers do make the trek to Las Vegas, touting their latest mobile apps and services at the show. Apps for iOS devices will be everywhere at CES this year, but especially in the form of connected apps that enable iPhones, iPads, and iPod touches to control other devices remotely.
One of the biggest categories for connected apps will be mobile entertainment. The Mobile TV Tech Zone in the Central Hall will showcase a slew of entertainment apps, especially ones that let you stream live TV straight to your iOS device.
We expect Elgato, the company behind the EyeTV tuner that debuted at CES in 2012, to make a new announcement at this year's show. The EyeTV is a small tuner that connects to an iPhone or iPad and receives a TV signal through Dyle's mobile TV network, which then allows the user to watch live TV through the EyeTV Mobile app. Similar iOS apps designed to turn devices into "second screens" for watching televised content will have a heavy presence on the show floor as well.
Innumerable accessory makers will set up shop at CES, hoping to garner some attention for the add-ons they make for Apple's smartphone and tablet offerings. Early indications from exhibitors suggest an avalanche of cases designed to protect the high-resolution screens of the iPhone 5 and fourth-generation iPad, along with the recently unveiled iPad mini.
Accessory manufacturers have been particularly enthusiastic about fitness tech. From digital pedometers and heart monitors to scales, apps, Web services, and sport watches, fitness technology should hit its stride at this year's show.
Your future home
Of course, apps don't simply monitor your health; they can also keep tabs on your home. And those figure to be in abundance at CES, too.
The concept of a smart home that responds to the occupant's every whim has long been the stuff of science fiction; but at recent CES gatherings, the world's largest consumer electronics manufacturers have demoed connected appliances that move us closer to that future. And now many of those appliances can be controlled with a swipe on your smartphone: Look for dozens of examples at next week's show.
From Bluetooth refrigerator magnets to smart stovetops, home technology is getting more sophisticated—and more affordable. Samsung and LG are expected to showcase advanced appliances, and other companies (including Belkin) plan to display smaller gadgets for the home. Belkin has already picked up a 2013 CES Innovations award for home appliances for its WeMo Baby, an audio baby monitor that uses a smartphone as a receiver.
"You can go back to the '70s and see magazine covers that talk about the future home and home automation and how our lives will change. For us regular people, it really hasn't materialized," says Ohad Zeira, Belkin's director of product management. "Home automation should be bite-size pieces of very approachable technology that are affordable and easy for everyday consumers to adopt and get them on the first steps on the road to that automation."
Most consumers still can't afford smart refrigerators, but smaller home devices are now well within reach of many prospective buyers. Both LG and Samsung are exhibiting Roomba-style robotic vacuum cleaners during CES.
Samsung's Smart Tango Corner Clean features a pop-out brush and the ability to get into hard-to-reach corners. LG's Hom-Bot Square features improved sensors and longer brushes, plus two cameras that can scan and map the rooms in your house.
Auto innovations
Most trends in car technology have been years in the making. But a few are finally coming to fruition at this year's CES.
Car makers and third-party manufacturers alike are working on fully integrating technology into vehicles. The automotive portion of CES figures to be heavy on high-resolution displays, touchscreens, voice activation and dictation, and Internet connectivity. Updating your Facebook status from the road will no longer be exclusively a Mercedes Mbrace2 feature.
And processors are not just for PCs anymore. Chips figure prominently in cars these days, and chip makers will showcase electric vehicles that have processors powering their infotainment system, digital instrument clusters, rear-seat entertainment, and driver assistance tech.
Plenty of automakers and third-party manufacturers are focusing on safety. From self-driving car technology to driver assistance tech—including "third eye" cameras and a seat-back driver fatigue monitor—companies are making a serious effort to keep drivers safe (and awake) behind the wheel.
We probably won't see a new car at CES 2013, however. Audi has been teasing a high-tech interface for its A3 since last year's CES, but the company will likely postpone the debut for the Detroit Auto Show. Of course, we'll be at that event later this month, so we'll keep you updated.
Connected cameras
Wi-Fi cameras will become the norm in 2013; in fact, we may see more connected cameras than non-Wi-Fi cameras in the next 12 months. The tipping point for Wi-Fi-enabled models will mean that many more (if not most) DSLRs, mirrorless interchangeable-lens cameras, and compact cameras will be able to upload photos and video to social media sites, offload images wirelessly to phones and tablets, and stream high-definition video as you record it.
We'll also see more and more devices like Samsung's Galaxy Camera and Nikon's Coolpix S800c, two cameras that run the Android operating system and come loaded with mobile apps such as Instagram.
After introducing the SC1630 Smart Camera last January, Polaroid plans to roll out its next Android-based camera during CES 2013, according to Imaging Resource. The new device will feature interchangeable lenses, but little else is known about the upcoming camera—including which version of Android it will run. Current rumors suggest that the camera will have an 18.5-inch megapixel sensor and a 3.5-inch touchscreen. Allegedly leaked images of the camera dubbed it the IM1386.
TV time
This year's highest-end television sets are likely to offer amazing image quality, but will you be able to afford the best of the best? Ultra HD (or "4K," as it's also known) and OLED sets will be more readily available in stores this year—and from what we've seen out of both technologies, they'll put your average 1080p LED or plasma set to shame.
But even though you will theoretically be able to buy these future-of-TV sets in the coming year, they'll be far too expensive for most consumers to afford, on the order of $8000 to $10,000 a pop.
OLED displays were a major attraction at last year's CES; and the first OLED sets were supposed to be in stores by the end of 2012. That didn't happen, though, as the 55-inch LG and Samsung OLED prototype displays that we saw on the show floor last year were delayed. Now the first OLED wave is set to hit U.S. shores this year. LG's first-generation OLED TV is available for preordering, and next week's CES will surely provide plentiful details about Samsung's first OLED offering.
LG has announced an 84-inch 4K set that it will display at CES, and in late 2012 Sony announced its first 4K set—another 84-incher with a hard drive preloaded with a few 4K movies. We're likely to witness big-screen 4K HDTV announcements from Sharp and Samsung at the show.
At those steep prices, most show attendees will limit themselves to window shopping when it comes to top-of-the-line televisions. However, the rise of 4K and OLED may make excellent plasmas, edge-lit LED sets, and even full-array LED HDTVs more affordable, too.
Sounding off
Thanks to their compatibility with computers, smartphones, and tablets, Bluetooth speakers continue to gain popularity despite their indifferent quality when compared to Wi-Fi, AirPlay, and direct-connect speakers. We expect to see many Bluetooth speakers at CES, and indeed some new models have appeared in advance of the show.
In home theater, look for more soundbars and fewer surround-sound A/V receivers to appear at CES. In addition, simple improvements to the built-in speakers on HDTVs seem to be gaining steam. Definitive Technology, GoldenEar Technology, and Philips have all received CES Innovation awards this year for soundbar-type home theater audio systems, and we've seen previews of similar products that will debut in Vegas.
Amber Bouman, Loyd Case, Sarah Jacobsson Purewal, Caitlin McGarry, Tim Moynihan, Ian Paul, Melissa Perenson, Armando Rodriguez, Jonathan Seff, and Leah Yamshon of the TechHive.com/PCWorld.com CES 2013 team contributed to this report.
iPad mini with Wi-Fi
Price When Reviewed:
$329