Looks can be deceiving, and that's definitely the case with Microsoft's upcoming Surface Pro tablet. At first glance, the Surface Pro seems barely different than the Surface RT. Thicker, sure, but a casual once-over could miss that detail, and it otherwise mimics the size and aesthetic of its ARM-powered predecessor.
Scratching that VaporMg surface reveals a whole different story, however. The Surface Pro might appear to be a simple tablet on the outside, but its insides are pure Ultrabook, sporting notebook-grade internals and connection options. The tablet also sports an Ultrabook-esque price tag, starting at $899—and that's before you spend another $120 or $130 for a must-have Touch or Type Cover.
All in all, you're likely to drop at least $1020 on Microsoft's flagship tablet.
Comparing the Surface Pro against mainstream tablets seems a bit like comparing apples to oranges when you take all that into consideration. So how does Microsoft's slate stack up to its true competition? We decided to pit the Surface Pro's specs against five of the best laptops you can pick up for around $1000 to find out.
The baseline: Microsoft's Surface Pro
The more you examine the Surface Pro, the more Ultrabook-like it becomes. In addition to running the full-fledged version of Windows 8 on a full-fledged, dual-core Core i5 processor, the tablet rocks 64GB of storage (or 128GB for an extra $100), 4GB of RAM, and a 10.6-inch, full 1080p (1920 by 1080) display that puts the 1366 by 768 resolution of the Surface RT to shame. You'll also find a solitary mini-DisplayPort and USB 3.0 ports gracing the slate's side, along with a micro-SDXC slot. (Although the Surface Pro's storage is small for an Ultrabook, that issue has become less important in the age of the cloud, and its specs otherwise make it comparable to an Ultrabook.)
Perhaps more crucially, the Surface Pro is smaller in volume than even a netbook and, at 0.53 inch thick, only slightly larger than many ARM-powered tablets. The Pro's 2-pound weight is a wee bit heavy for a tablet—the iPad's weight is just shy of 1.5 pounds—but tremendously light for a laptop of any breed. The same holds true for the Pro's 0.55-inch thickness, which is far, far slimmer than any laptop on the market. That portability could be major selling point for mobility-minded business users.
If the Surface Pro's lightness is a blessing, its battery life may just be a curse. Microsoft has said that the Surface Pro will last about half as long as the Surface RT on a charge, which means the Surface Pro should have a battery life of roughly 4 to 5 hours. That's comparable to many Windows 8 hybrids, short for a standard Ultrabook, and downright skimpy for a tablet.
Lenovo IdeaPad Yoga 13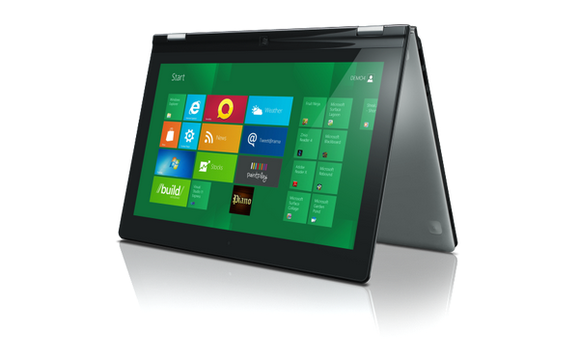 We've already established that the Surface Pro is best considered more of a hybrid-style Windows 8 device than a proper tablet, and Lenovo's touch-friendly IdeaPad Yoga 13 is arguably a truly unique hybrid. Its 360-degree flip-back hinge can convert the device from tablet to laptop and back again in seconds, and the hinge is durable enough to act as a stand for the device during tablet use.
Underneath the flashy exterior, however, the Yoga is a fairly conventional Ultrabook. The base $999 version fails to meet many of the the Surface Pro's base specs, offering "just" a Core i3 processor and a 1600 x 900 screen resolution. Only about half of the advertised 128GB of storage on the Yoga's SSD is available for users, but, hey, the Surface Pro won't make its full 64GB drive available, either. Remember that the 64GB version of the Surface RT has only about 45GB of storage available, and the full-fledged Windows 8 OS found on the Surface Pro will likely consume even more space.
How it compares to the Pro: The Surface Pro and the IdeaPad Yoga 13 have a lot in common on paper, especially if you can get by with the Yoga's Core i3 processor. The choice basically boils down to a matter of preference. Would you like a tablet that can be a laptop (the Surface Pro) or a laptop that can be a tablet (the Yoga)? The IdeaPad Yoga's superb keyboard and touchpad may be the decision maker for people who spend the day banging away at productivity-focused tasks.
Alienware M14x
The M14x is Alienware's smallest and least expensive gaming laptop. The $999 baseline model features a dual-core Core i5 processor paired with Nvidia's discrete GT 650M graphics processor. The Alienware M14x's 6GB of RAM trumps the Surface Pro's 4GB, but its 500GB (or larger) hard drive is of the mechanical variety. Those spinning platters offer plenty of space for games, but aren't nearly as speedy as an SSD in terms of pure access times. You can rectify the situation if you have a bit more cash on hand, though, as Alienware offers a cornucopia of configuration options for the M14x.
This monster isn't made for traveling, however—it weighs 6.45 pounds and measures 1.5 inches thick. On the other hand, it puts its extra inches to good use by working in a disc drive and a top-notch keyboard and touchpad. Plus, the M14x is veritably bristling with ports. Too bad about the ho-hum, 1366 by 768 default display, though.
How it compares to the Pro: C'mon now—these are two different beasts entirely. One is for gamers, while the other is targeted towards suit-and-tie types. The Alienware M14x is faster than the Pro in every area besides the hard drive and can easily handle games that the Surface Pro would choke on. A lot of sacrifices have to be made at the altar of speed, however, not the least of which is the Alienware's brutal bulk. The Surface Pro will be useful in situations where the M14x is a literal pain in the neck.
Apple MacBook Air (11.6 inches)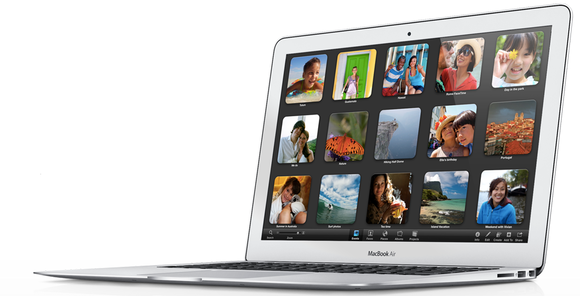 Apple's $999 MacBook has a lot in common with the Surface Pro tablet under the hood, rocking a similar dual-core Intel Core i5 CPU, 4GB of RAM, and a 64GB SSD. Sound familiar? Apple's baby MacBook also weighs in at a feather-light 2.3 pounds, which actually makes it a hair lighter than a Type Cover-equipped Surface Pro. The 1366 by 768 resolution isn't as high as the Surface Pro's, but the pixel count holds up well on such a small screen, and the display is nice and vibrant.
How it compares to the Pro: These two titans stack up remarkably well, going toe-to-toe in virtually every area. Sure, the Surface Pro holds an edge on the display resolution front, but the MacBook Air offers a virtually flawless keyboard and glass-covered touchpad. The important questions to ask: Do you need the touchscreen tablet-first functionality of the Surface Pro, and more crucially, do you want Windows 8 or OS X?
Also, you have to appreciate the delicious irony of Microsoft's tablet most closely mirroring Apple's flagship ultraportable—especially since the Surface Pro (with a Type or Touch Cover) costs more than the MacBook Air.
Lenovo IdeaPad U410
Okay, we've already compared the Surface Pro against a gaming machine, a hybrid, and a Mac—but how does it stack up against a straightforward Ultrabook? Finding a suitable comparison model was a bit of a challenge, since many of the more enticing slim-and-trim Ultrabooks retail for much more than $1000. Instead, we settled on the Lenovo IdeaPad U410, a capable Ultrabook that actually costs significantly less than the Type Cover-equipped Microsoft tablet.
Spec-wise, the $879 Lenovo IdeaPad U410 actually holds up pretty well, offering a low voltage Core i5 processor, discrete (and lightweight) Nvidia GeForce 610M graphics, and a hefty 8GB of RAM, along with a 750GB hard drive augmented by a 24GB SSD cache. The 14-inch display's 1366 by 768 resolution lags far behind the Surface Pro's pixel count despite the IdeaPad U410's larger screen surface area, however.
How it compares to the Pro: The Lenovo IdeaPad U410 delivers a pretty potent bang for its bucks, but a couple of key points differentiate it from Microsoft's top-end tablet—notably, the Lenovo machine's lack of a touchscreen, its clamshell form factor, and its 4-pound, 0.8-inch heft, which strains the Ultrabook definition and makes it far more bulky than Microsoft's slate. You'll find other Ultrabooks with slimmer builds and sharper screens if you shop around, but they cost well north of $1000.
Lenovo ThinkPad Twist
The Surface Pro's biggest potential audience will be business-traveling professionals, who already have a touch-friendly travel option in the Lenovo ThinkPad Twist hybrid. As part of Lenovo's business line, this tablet-slash-Ultrabook packs a bevy of useful business-focused features paired with the beloved keyboard and pointing stick that the ThinkPad line is known for.
Like the Surface Pro, the $899 ThinkPad Twist packs a dual-core Core i5 processor and 4GB of RAM, though it opts for a 500GB traditional hard drive paired with a 24GB mSATA SSD companion drive rather than Microsoft's pure SSD solution. As is the case with all of the $1000-ish laptops examined here, the 1366 by 768 touchscreen display isn't nearly as pixel-packed as the Surface Pro's.
While we found the ThinkPad Twist to be a solid package overall, its battery life was absolutely atrocious, giving up the ghost in just 3 hours, 15 minutes in our admittedly stressful battery test. (Anecdotally, the charge lasted about 5 hours during normal use.) That isn't a big advantage for the Surface Pro, however. As we mentioned earlier, Microsoft doesn't expect its tablet to last much longer on a charge.
How it compares to the Pro: The Surface Pro offers a much better display and speedier (albeit smaller) solid state storage, and it does so despite being 1.5 pounds lighter than, and nearly half as thick as, the ThinkPad Twist. Lenovo's laptop counters that with an amazing keyboard, discrete graphics, and a cornucopia of business-specific features, including a full-sized ethernet connection, a SIM card slot, a 4-in-1 card reader, and a pair of USB 3.0 ports. Plus, it's more than $100 cheaper than the Surface Pro.
In a nutshell, the Surface Pro holds the edge in portability and prettiness, but the ThinkPad Twist is pretty portable in its own right and offers better business-focused productivity chops. (Just watch out for that battery life.)
Surface Pro or Surface Amateur?
The Surface Pro's utility all depends on how you look at it. As you've seen, Microsoft's tablet holds its own against similarly priced laptops, stacking up competitively if you're looking for a Windows 8-equipped travel companion that's even more portable than an Ultrabook. Simply put, there is no other PC that crams as much power in so little space.
That alone would be meaningful, but the Pro also stands out by being among the least expensive Windows laptops with a 1080p display. Only a handful of bulky competitors offer as many pixels for less.
As we've said before, however, calling the Pro a Surface product may limit its adoption. It's easy for the layperson to see the Pro as an expensive tablet rather than as the affordable and unique Windows 8 convertible that it really is, and Microsoft will have a challenge convincing consumers that a Windows tablet is worth a significant premium over an iPad or Android alternative. The Surface Pro may be an Ultrabook in tablet's clothing, but the marketing department in Redmond will likely have to find a simple way to convey that difference before the genre-busting device starts flying off store shelves.