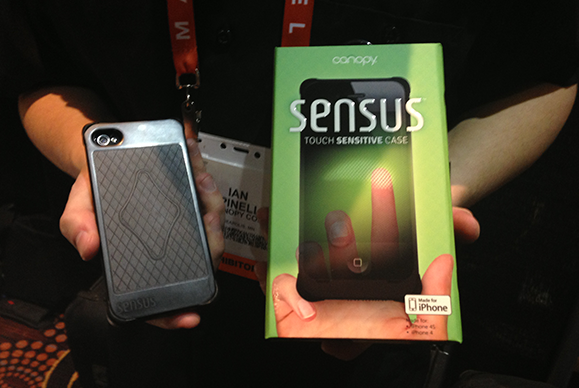 LAS VEGAS — Perhaps one of the most interesting iPhone cases we've seen in a while, the Canopy Sensus adds touch sensitivity to the back and right edge of your iPhone.
The case, which should be available this summer, and it will come in black, white, and red. It's made of a polycarbonate plastic blend and has rubber gaskets on the corners to protect your phone from scratches or falls. The Sensus has its own built-in processor that it uses to register touch input, and it draws power from your phone's charging port (there's a model available for the iPhone 5, as well as one for the iPhone 4S).
So why would you want a touch-sensitive case? Why not? You'd be able to play games on your phone without your fingers blocking half the screen, for one thing. Another demonstration featured a camera app that you could control entirely by tapping on the side of the phone.
Apps have to be specifically written to take advantage of the Sensus case, so you won't be able to use the case in any of the built-in iOS apps like Maps or Safari. Other apps, such as Angry Birds, might not work with the case, but Canopy plans to release a companion app to highlight other apps that will work with the Sensus's unusual form of input. (An app about apps? There's an app for that!)
Canopy has yet to announce pricing, and it might be tough to get developers to re-write their apps to support the case, but the Sensus is a refreshing idea in an endless sea of same-y iPhone enclosures.
For more blogs, stories, photos, and video from the nation's largest consumer electronics show, check out our complete coverage of CES 2013.