The official Dropbox app has arrived for Windows 8. It's been close to two months since Microsoft announced at the Build developer conference that the online file storage and sharing app was coming.
Dropbox for the Windows UI is almost what you'd expect from a Dropbox mobile-style application. You can use Dropbox for Windows 8 to browse and view your files; open, edit, and save files from other Windows 8 apps; and search for files and folders using the Windows 8 search charm.
However, you can't upload new files using the Dropbox app or the Share charm inside other Windows 8 apps. Dropbox for Windows 8 runs on both Windows 8 and Windows RT devices. The app also supports Dropbox's two-factor authentication.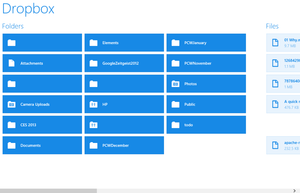 The new Dropbox app adheres to the style of Microsoft's Windows 8 UI and lets you scroll horizontally to view your files and folders. Folders are indicated by a bold blue tile with a folder icon and the folder name; files use a thumbnail icon, the file name, and appear in a lighter blue. Clicking on a file will allow you to open it in the app of your choice, although photo previews open automatically inside the Dropbox app.
Once you've clicked on a file it is saved locally on your device, but you'll have to use Dropbox's app to access the file and not Windows Explorer. Since this is a Windows 8 app and not a desktop PC app, the location of Dropbox saved files is obscured in the AppData hidden folder. If you want file system access to your saved files, and you're not on Windows RT, download and use Dropbox for the traditional Windows desktop.
Charmed sharing
If you want to share files such as a photo or PDF using Dropbox for Windows 8, you can use the Share charm for email, or Facebook through the People app.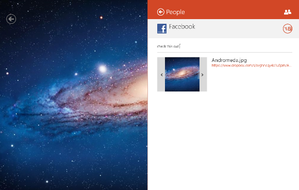 Say, for example, you wanted to share a photo on Facebook. Right-click on the file thumbnail and then select the Share charm from the pop-out sidebar on the right side of the screen (for navigation tips check out PCWorld's "Maximize your first 30 minutes with Windows 8"). Next, choose the People app (or Facebook if the option is presented to you) and you will be able to share directly to Facebook.
You won't actually share the photo as a post or attachment, but as a thumbnail and a link to the photo on your Dropbox account where other people can view and download the image.
Seeing double
An official Dropbox app for Windows 8 is a great addition and will be handy for tablet users, but the app also highlights some of the problems with Windows 8's dual nature. If you have a Windows 8 laptop or desktop PC, or even an x86/x64-based tablet with a keyboard dock, you will probably find Dropbox's desktop functionality to be more useful and may not need the Windows 8 UI version.
Using the desktop version of Dropbox, you can save locally as many of your Dropbox files as you want and, more importantly for PC users, keep them in easy reach using Windows Explorer. You can also share your photos and files as attachments via email or uploads on Facebook using a standard Web browser. Finally, you can upload files directly to your online Dropbox cache with a simple drag-and-drop operation.