LAS VEGAS—Are you desperately craving Siri-integration in your vehicle, but you don't want to go out and buy a new Chevy Spark or Sonic?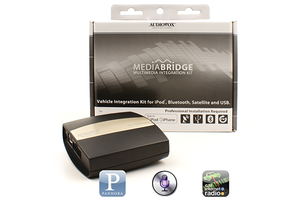 Never fear! Audiovox has you covered with its 2013 line of Audiovox 'Driven by DICE' MediaBridge connectivity devices. MediaBridge is an aftermarket vehicle integration kit—a Bluetooth-enabled plug-and-play device that lets you control your car's existing radio and head unit by talking to your iPhone, iPod, or iPod Touch.
The new line of MediaBridge kits are fully compatible with iOS 6, and will let iPhone users use Siri to perform basic voice-activated tasks through the car's voice-activation system. For example, a driver will be able to press a button and ask Siri to make phone calls, change the radio station, or send text messages.
MediaBridge works with a vehicle's built-in buttons to bring users easy Siri activation. If your car has steering wheel voice buttons, these buttons can be used to control Siri. Otherwise, MediaBridge turnes your car's radio scan button into a one-touch Siri activation button.
The rest of Audiovox's line of vehicle integration products will also now support connectivity for iPhone 5 users. According to the company, these products will allow for seamless integration of iPhone 5s, new iPod Touches, and new iPod Nanos, without the need for an extra Lightning-to-30-pin adapter.
Wireless charging
Audiovox also had a couple of non-Siri-related announcements at its Monday press conference, including a new wireless charging cradle (the first of its kind) and an update to its popular Car Connection vehicle-monitoring device.

The company showed off a wireless charging cradle that uses Qi wireless charging technology. The cradle, which features quick-release locking arms that fit around most smartphones, can be mounted in your car via a suction cup on the windshield, or in your cup holder. It plugs into any 12-volt cigarette lighter and, according to Audiovox, charges most devices as quickly as a regular power cable. The charger will be available this summer for about $70.
Car diagnostics
Audiovox has also updated its Car Connection device, a small vehicle-monitoring device that plugs into a car's on-board diagnostics (OBD) port. This port, which is typically located within two feet of your car's steering wheel, feeds information about your vehicle—things like the reason for a lit-up service engine light. Dealers and mechanics use this port to diagnose your vehicle when you take it in for repairs, but Audiovox's device lets you diagnose (to a certain extent) your car's problems by yourself.
The company is adding a couple of new features to its Car Connection device, including remote start, remote lock/unlock, and the ability to automatically determine if the vehicle is in an accident. If the vehicle is in an accident, the Audiovox device uses the Sprint wireless network to automatically notify someone (the driver can choose who will be notified), and to call for roadside assistance.
Car Connection Pro already contained features that help you find where you've parked your car, keep you from text messaging while you're driving, and score you on how well you're driving.
For more blogs, stories, photos, and video from the nation's largest consumer electronics show, check out complete coverage of CES 2013 from PCWorld and TechHive.