LAS VEGAS—Fisher-Price is showing off their new Apptivity line of toys, which pair a physical playset with its own iPad app. The toys are technically designed for toddlers and young children, but we got some time hands-on time with them at CES' Digital Experience on Monday and were treated to a play experience that's potentially unlike any other.
First up is the Imaginext Fortress, which is equal parts board game and interactive storybook. To start, your iPad clips into the Fortress playset inside a heavy-duty case. A screen protector keeps your iPad's display safe from scratches and smudges, and that comes in handy—a major part of playing with the Fortress includes using a knight figurine directly on the iPad's surface.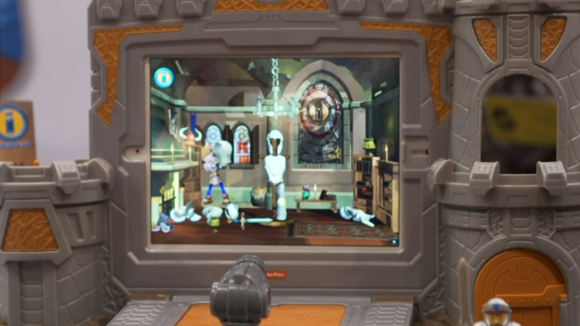 The aim is to help the knight navigate through the fortress, while completing challenges and playing different games along the way. You can even fire virtual cannon balls from the Fortress' cannon at targets on the iPad's screen.
If parents would prefer something a bit more on the educational side, the Create & Learn Case for iPad is the way to go. This toy is designed to help preschoolers practice reading, writing and recognizing letters of the alphabet through games and activities. A standout feature is the app's Alphabet Animation cards, which children can interact with using the Case's built-in stylus. The Case also includes a heavy-duty screen protector that doesn't take away from the touchscreen experience, and the case and stylus can be used to play any other game or app on the iPad.
The Imaginext Apptivity Fortress will retail for $50 and the Create & Learn Apptivity Case will retail for $40, and their complementary iOS apps will be free. The playsets are compatible with all models of the full-sized iPad (including the original iPad) and will be available later this year.
For more blogs, stories, photos, and video from the nation's largest consumer electronics show, check out complete coverage of CES 2013 from PCWorld and TechHive.