Microsoft plans to shut down Messenger (formerly Windows Live Messenger) on March 15, according to numerous reports. The concrete date comes after the company in late 2012 said the longstanding instant messaging client would merge with Skype during the first three months of 2013. The software giant is reportedly notifying Messenger users via e-mail but it has yet to announce the Messenger deadline on its blogs or social media accounts.
News of the Messenger official shut down date was first reported by The Next Web and widely reported by others.
Until March 15, Messenger users will see a notification on their desktop client asking them to "upgrade" to Skype and merge their Messenger contacts with the popular video chat and IM app. The desktop program will continue to work until March 15, after which you won't be able to use Messenger at all and must move over to Skype to continue chatting with friends.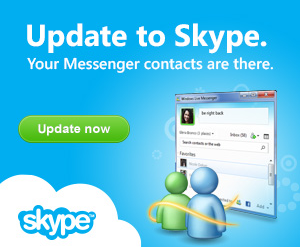 Merging two accounts is fairly straightforward. At the Skype launch screen you just choose to sign in with a Microsoft account. Then Skype will ask you if you already have an existing Skype account. If you do, you enter your Skype login credentials, agree to merge your accounts, and then all your Skype and Messenger contacts will be available in one interface.
When Microsoft acquired Skype in 2011, the Windows maker didn't have much to say about whether Messenger would be replaced by the VoIP client. But it was pretty clear right from the start that Microsoft had big plans for Skype. At the time, the company said Skype would support a variety of devices including Xbox and Kinect, Xbox Live, Windows Phone, Lync, Outlook, and non-Microsoft platforms.
Microsoft in late 2012 brought a modern UI Skype client to Windows 8 and a preview version for Windows Phone 8. Leaked shots and videos of a Skype client for Xbox 360 surfaced in mid-2012 but it has yet to land on the gaming console.
Even though Messenger is shutting down, the service won't be completely dead after March 15. Microsoft plans to keep the service running for users in mainland China.