This is it: 2013 is the year that tablets surpass notebooks in sales and assume their rightful place atop the mobile computing gadget throne. Don't start playing "Taps" for the notebooks just yet, though—they're not really going anywhere.
NPD DisplaySearch released new data this week projecting that more tablets will ship in 2013 than notebook PCs. "Tablet PC shipments are expected to reach more than 240 million units worldwide in 2013, easily exceeding the 207 million notebook PCs that are projected to ship," said a DisplaySearch blog post.
Numbers are a funny thing, though. There are so many ways to look at them, and it's easy to lose the details in the big picture, or to lose the big picture by cherry-picking specific details. If you look more closely, you can see that tablets are, in fact, a threat to notebook PCs…but that's not the whole picture
Why tablets are a threat to notebooks
First, consider what is a "tablet" and what is a "notebook"? The NPD DisplaySearch data includes tablets ranging in size from 5.6 inches to 13.3 inches. The lion's share of projected shipments fall into the "traditional" size established by the original iPad of around 10 inches, but smaller tablets skew the data.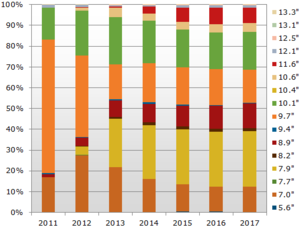 NPD claims that tablets with 7 to 8 inch displays will make up 45 percent of the tablet shipments this year, compared with only 17 percent for the 9.7-inch models (which, I believe may be only the iPad). If you lump the 9 and 10 inch models together it's a more even comparison, but the smaller tablets still win.
The bottom line is that the success of tablets like the original Amazon Kindle Fire, the Samsung Galaxy Tab 7.0, the Google Nexus 7, and the recently introduced Apple iPad Mini will drive a surge in tablet sales this year. These are all quality tablets available at bargain prices (with the possible exception of the iPad Mini).
An average consumer doesn't have unlimited discretionary income. They're walking in to Best Buy trying to find the best gadget they can get for the money. They're comparing an Amazon Kindle Fire, or a Samsung Galaxy Tab 7.0 for $200 against a netbook that starts at $250.
A $250 netbook has a weak single core processor, and too little RAM to effectively run the Windows 7 operating system that it comes with. The netbook is bigger and heavier to carry around, and the battery life of an economy netbook may only be two or three hours.
For $200, that same consumer can get a tablet with a sharper display and higher pixel density. The processor and RAM may seem similar on paper, but the ARM architecture, and a mobile OS like Android or iOS will deliver blazing performance instead of lagging and frustration. The $200 tablet is lighter, thinner, and can run all day on a single charge.
Granted, it's not entirely an apples-to-apples comparison. The netbook probably has a larger storage capacity, and it's capable of running standard Windows software. But, the tablet can do email, instant messaging, Web, social networking, and play games—which sums up about 90-plus percent of what most people need to do from a mobile device.
It's easy to see why (cheap) tablets will beat netbooks.
Why tablets are not a threat to notebooks
Look closely at the last sentence. I didn't say tablets will beat notebooks. I said cheap tablets will beat netbooks. That is really the crux of the data.
Overall, the data lumps cheap, economy netbooks in with real notebooks that provide the power of a full desktop PC on the go. It also mashes together bargain basement tablets with larger, more capable tablets that cost more.
There is some cannibalization of laptop sales. The simple reality is that many of the things people need to do can be done just as well or better from a tablet. And, even if we're talking about the 9 and 10 inch tablets that average in the $500 and $600 range, it's a more versatile, less expensive alternative to $1,000-plus notebooks.
That said, a tablet can't do everything a "real" computer can do. Businesses rely on tools and applications built for Windows—software that can only be run on most tablets through some sort of remote desktop solution that links back to a "real" PC. Notebooks have more internal storage, and more ports like USB, SD memory, and HDMI that are lacking on some tablets, and they're generally easier to upgrade or repair.
As Paul Thurrott recently pointed out, netbooks are the real threat to notebooks. The ridiculously low pricing for underpowered, plastic, disposable junk has created a false expectation and sense of entitlement in the market. Businesses and consumers balk at spending $1000 or $2000 on capable, quality notebook PCs.
When push comes to shove, cheap tablets are a threat to cheap netbooks, and tablets in general may chip away at overall notebook sales, but businesses still need powerful, capable laptops. It would be interesting to see a drill down that separates small tablets from large ones, and netbooks from notebooks to get a more accurate picture of how tablets are impacting real notebooks.
Why the argument is pointless
A tablet is a PC, so it's silly to talk about how it's going to kill the PC. It's like suggesting that dolphins are going to eliminate the whale population. Dolphins are technically whales, so it's not possible.
Although Microsoft has been taking some heat for the allegedly slow launch of Windows 8, Microsoft actually seems to understand the tablet-PC relationship as well or better than anyone.
Windows 8 is a bridge OS. It attempts to straddle the line between the traditional Windows-based PC we're used to, and the next-generation, touch-based, mobile-oriented devices we're moving toward. Windows 8 itself may struggle for a wide variety of reasons, but ultimately it's a step in the right direction, and indicates that Microsoft has a vision for the future.
Intel announced this week at CES 2013 that touchscreen displays will be a core requirement of the next generation of ultrabooks. Hardware vendors have inundated the market with crossover hybrid hardware like the Dell XPS 12 Convertible or the Lenovo IdeaPad Yoga that attempt to be both a PC and a notebook. Microsoft's Surface is a tablet that looks and acts like an ultrabook with the addition of one of the keyboard covers.
The line is blurred because we're talking about an evolution of the PC market, not the execution of it. The NPD tablets vs. notebooks data projects through 2017, but I predict by 2015 we'll stop considering them as separate markets.