LAS VEGAS—CES usually doesn't yield much in the way of new and exciting gaming technology. This year is different: while big publishers like Nintendo, Microsoft and Sony are still saving their announcements for the E3 gaming convention in June. We've seen a ton of intriguing new gaming technology here at CES from companies like Nvidia, Razer and Valve. As the show continues its clear that PC games are only going to become better, more accessible and easier to play whenever and wherever you want. Whether you want to run through a few rounds of Call of Duty on your Windows 8 tablet, sit down to some SimCity on your HDTV or simply stream XCOM: Enemy Unknown to a handheld the size of your smartphone, 2013 will have the tech you need to make it work.
PC gaming goes mobile
The big trend in gaming technology this year is making PC gaming more mobile, either by streaming games from a PC to a mobile device or simply packing decent performance into a portable tablet.
We've seen similar technology before: defunct game streaming service OnLive was developing a client for streaming PC games directly to your iPad. But this year, companies like Nvidia are banking on expansive broadband internet access to make the business of streaming games viable. Nvidia's GRID aims to make PC gaming accessible to users who don't have the time or funds to build a performance PC. A GRID sever combines stacks of high-powered Nvidia GPUs with custom algorithms built specifically to service players streaming games remotely. The system should allow Nvidia to dynamically allocate processing power to users as they play games on their mobile devices, PCs or HDTVs, eliminating the hassle of driver updates and system requirements which keep many people from enjoying the best PC games on the market.
Those of us who actually enjoy owning a ridiculously expensive performance PC but hate having to play games at our desk might get a bit more rest and relaxation in 2013, as playing PC games on a mobile device have suddenly become an appealing proposition. Throughout 2012 I was itching to pick up a Microsoft Surface Pro so I could have access to my favorite PC games without having to lug around a bulky laptop, but now that I've seen the Razer Edge in action at CES I don't know if I want a Windows 8 tablet that's not optimized for gaming.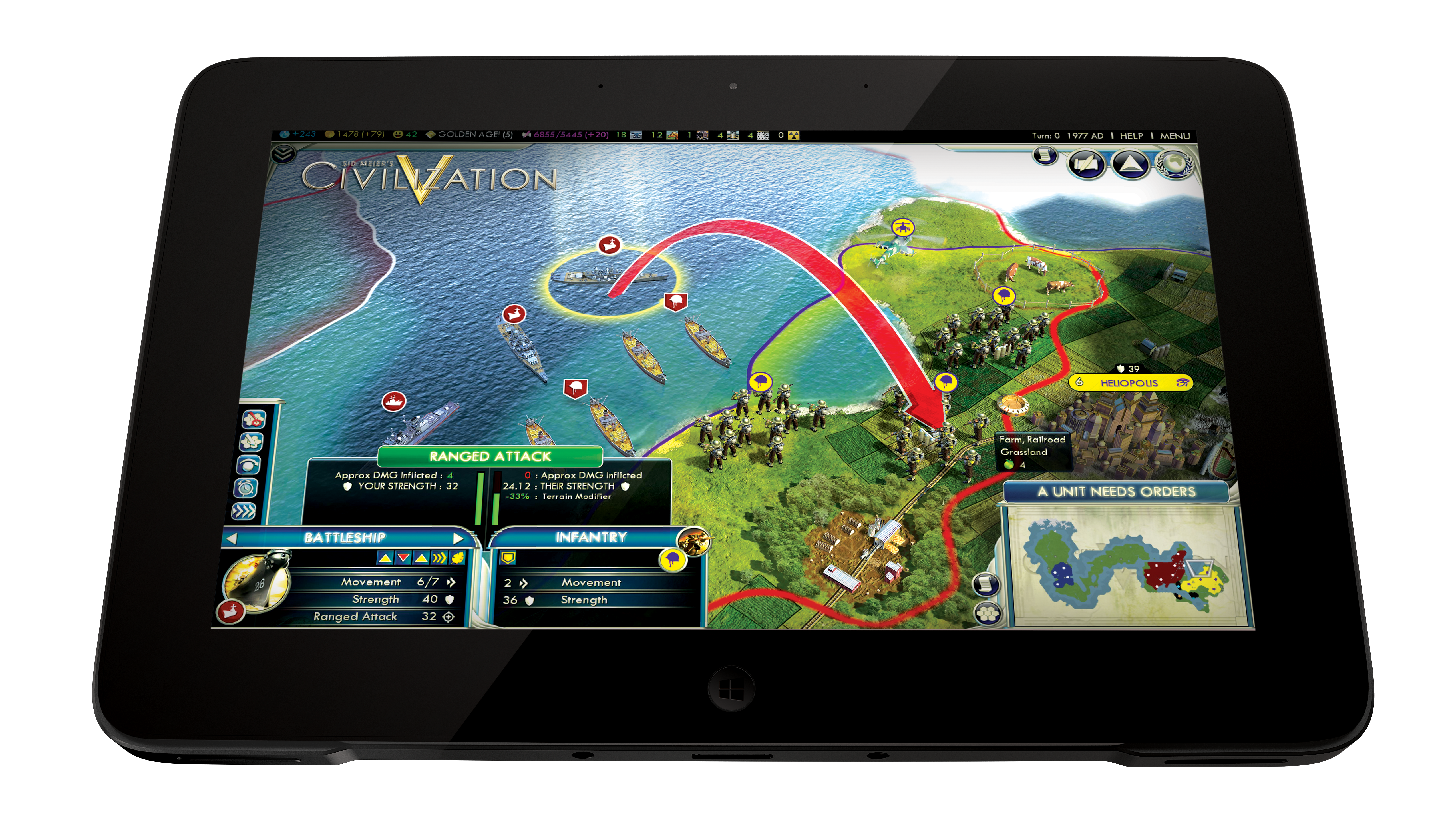 The Edge is an expensive proposition, but it works as well as a decent gaming laptop and weighs quite a bit less. It's also awfully versatile; if you pick up an Edge in 2013 you'll be able to play PC games like Bioshock Infinite or the new SimCity whether you're lying in bed, or riding to work. The various docking accessories are a little expensive for my tastes, but it's nice to have the option of using a keyboard dock or analog sticks if that's how you prefer to play. The docking station also makes it easy to play PC games on your HDTV, another popular trend that's only going to get bigger in 2013.
PC gaming on the big screen
We're all waiting for news about the next generation of home consoles, but the truth is that the next generation of gaming console has been sitting in your home office for ages. It's your gaming PC, and this year we have the technology to make playing PC games on your big, beautiful HDTV easy.
Nvidia doubled down on PC gaming at CES this year by announcing the Shield alongside the afore-mentioned GRID, and while the Shield looks like a handheld gaming device it's also shaping up to be an excellent way to play your favorite PC games on your television. While the Shield should allow you to stream games directly from your PC via Wi-Fi, trying to play Dishonored or XCOM on that tiny 5-inch screen is going to result in a subpar gaming experience. But if you do own a Shield and you're streaming games while you're on the couch, it's incredibly simple to run an HDMI cable from the device to your HDTV and play your games on a glorious high-resolution display.
Valve led the charge in bringing PC gaming to the living room last year by updating their Steam gaming client with a "Big Picture Mode" that can be navigated with a gamepad instead of a mouse and keyboard. Big Picture Mode is already optimized to run on a large screen that's at least ten feet away from the player, it works surprisingly well, and now that Steam is highlighting PC games that support gamepad controllers we can expect to see a bumper crop of PC games being released or updated with full gamepad support in 2013.
Valve is investing a lot of effort in making the PC a viable living room gaming device with Big Picture Mode, and they're also making literal investments in PC hardware manufacturers like Xi3 to develop compact PCs specifically for playing games. It makes sense: gaming console are ostensibly just a custom PC built into a flashy case. In 2013 you can expect to see PC gamers and game developers scorning the next generation of home consoles in favor of incorporating dedicated gaming PCs into their living room entertainment center.
If you have a gaming PC at home and haven't tried hooking it up to your HDTV, give it a shot; if you can, try switching back and forth between playing the Xbox 360 version and the PC version of a multiplatform game like Far Cry 3 on the same TV. I think you'll be pleasantly surprised to see what a difference a serious discrete GPU and a stack of RAM makes while playing the latest games. Of course, being able to play PC games from the comfort of your couch is nice too.
For more blogs, stories, photos, and video from the nation's largest consumer electronics show, check out complete coverage of CES 2013 from PCWorld and TechHive.