Amazon wants to breathe life back into CD sales by offering free MP3 versions of your Amazon CD purchases including any discs you've bought since 1998 with a new program called AutoRip. Your free MP3s are automatically stored in Amazon Cloud Player after you purchase a new CD and are available for playback or immediate download. Past purchases that are eligible should automatically show up in Cloud Player. The free digital tracks do not count against your Cloud Player storage limits as with purchases from Amazon's MP3 store.
More than 50,000 CDs are AutoRip eligible including albums from every major label with titles such as "Babel" by Mumford & Sons, "Red" by Taylor Swift, "21" by Adele, "Some Nights" by Fun, and "Girl On Fire" by Alicia Keys. You can browse a list of AutoRip albums on Amazon .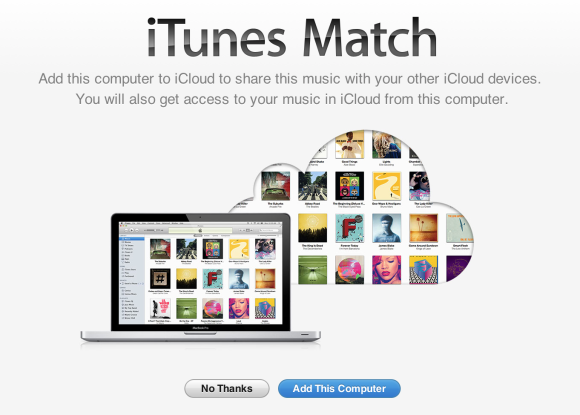 All AutoRip MP3s have a bit rate of 256 Kbps, making them equivalent to the high-quality tracks Apple offers with iTunes Match and that Google offers with the new scan-and-match feature on Google Music. Amazon also offers a scan and match service for Cloud Player that puts 256 kbps versions of your personal library in the cloud.
"I'm excited to see Amazon…embrace models that acknowledge the importance of both [physical CD and music downloads] to music fans," said Preston Austin, cofounder of Murfie, an online marketplace that lets you buy, sell, and trade physical CDs online. "Liberating the music fan to get the most out of online and offline technology is where Murfie competes and where we want the industry to be." Amazon's new service puts the online retailer in competition with Murfie's service that also includes ripping physical CDs and creating digital copies of your CD collection.
Here's a quick look at Amazon AutoRip.

When you shop for CDs on Amazon, eligible albums will have the AutoRip logo on the cover art, as well as under the "Add to Cart" and "Buy Now" buttons on the right side of the screen.
Once you purchase a CD, you will be prompted to go to Cloud Player to listen or download your new music. You may also receive an e-mail notifying you that your purchase was added to Cloud Player.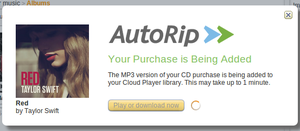 In my first test, when I went to my Cloud Player it took Amazon a few minutes to import my new album into my online account. During my second purchase, when I used 1-click purchasing instead of a cart checkout, the album was added instantly.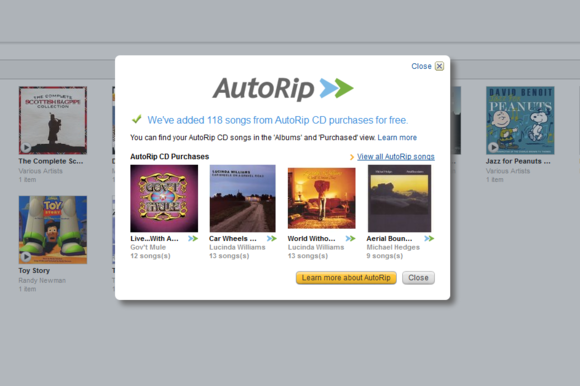 Any of your past purchases should be automatically added to your online music account, and you may see a notification alerting you to the imported tracks the next time you open Cloud Player.
Cheaper than iTunes

Amazon claims that purchasing AutoRip CDs tends to be cheaper than buying digital-only versions from iTunes. That seems to be the case based on a quick survey of the top albums on Amazon's AutoRip page and the iTunes top albums charts. In every case, an AutoRip CD was available for a few dollars less or the equivalent price of the iTunes downloads. There were, however, several CDs on the iTunes charts unavailable for AutoRip including soundtrack highlights from the new movie "Les Misérables," "Burning Lights" by Chris Tomlin, and "Wretched and Divine" by Black Veil Brides.
Amazon and Apple are longtime competitors in the digital music space and pricing has long been a bone of contention between the two rivals. When variable pricing came to iTunes and other online retailers including Amazon in 2009, unnamed sources said record companies were favoring Amazon, allowing the online retailer to offer lower prices, presumably to increase competition in a market dominated by iTunes.
Amazon's new plan to bundle instant digital versions with CDs could help buoy physical disc sales that have been struggling for years. Since the introduction of the iTunes Music Store in 2003 and online music piracy before that, CD sales have been on a steady decline. Most recently during 2012, physical disc sales fell by 13 percent while digital album sales rose by 14 percent, according to a recent report by Nielsen SoundScan and Nielsen BDS, divisions of the metrics firm Nielsen.