This year's Consumer Electronics Show is drawing to a close and most tech sites are handing out opinions and awards about which gadgets were the best in show for 2013.
Among the big hits were Panasonic's 4K tablet, the massive Samsung 110-inch Ultra HD TV, Kingston's 1TB thumb drive, and the Fitbit Flex wearable fitness band.
Based on the raves on CNET, CNN, Digital Trends, Gizmodo, IGN, Laptop Mag, and other sites tracking the CES action, here's a look at the top five gadgets that stood out from the pack for many tech gear critics.
Tablet for gamers: Razer Edge
Game gear maker Razer wowed the crowds at CES with the Edge, a 10-inch Windows 8 tablet geared for gamers packed with 4GB of RAM, an Intel Core i5 processor, a 65GB SSD, and an Nvidia GT640M LE GPU.
Razer also offers a Pro version that doubles the RAM to 8GB, has a Core i7, the same GPU, and up to a 256GB SSD. Both tablets come with 1 x USB 3.0, front-facing 2 megapixel Webcam, and a 10-inch display with 1366-by-768 resolution. You can also purchase a variety of accessories including a docking station, a keyboard dock, as well as a gamepad controller that gives you two handles on the side of the device with console gaming controls.
Both Edge models are on Razer's site priced at $1000 and $1300 respectively, but are not yet available for purchase or shipping.
Future of Ultrabooks: Lenovo Helix
Don't be fooled by its stodgy ThinkPad exterior. Many gadget fans were impressed with the 11.6-inch ThinkPad Helix and what Lenovo calls the device's "rip and flip" features.
This tablet-laptop detaches from its keyboard base like most hybrids, but attached to the keyboard it can spin around at 180 degrees or you can fold the Helix over into a convertible tablet. The device features 1920-by-1080 resolution, 10-point multitouch, 8GB RAM, and a Core i5 or i7 processor. Both the tablet and keyboard have separate batteries offering up to ten hours of battery life when connected. Connectivity options include Wi-Fi, Bluetooth, and an LTE option. Storage options were not announced.
The Helix is scheduled to start shipping in late February with prices starting around $1500.
Submerged smartphone: Xperia Z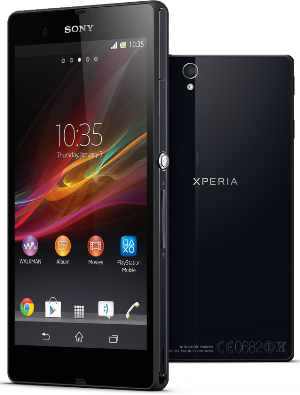 Android phones tend to dominate at CES and 2013 was no exception with Sony's Xperia Z gaining a lot of attention from smartphone watchers.
Sony's latest flagship Xperia phone features a 5-inch display with 1920-by-1080 resolution, quad-core 1.5 GHz Qualcomm Snapdragon processor, 2GB RAM, and an impressive 13-megapixel camera. The Sony handset runs Android 4.1, Jelly Bean (word on the Web is it should get an upgrade to Android 4.2) and is also water-resistant up to about 3.3 feet of water for 30 minutes. Available colors for the device include black, white and purple. Pricing was not announced, but Sony says it hopes to roll out the device to stores before the end of March.
Tablet-top computing: Lenovo IdeaCentre Horizon
You've seen computers that can sit on a tablet and even computers that are tables, but only Lenovo's IdeaCentre Horizon can do both.
This 27-inch all-in-one Windows 8 PC can be laid flat on a table or can be inserted into several of Lenovo's tabletop accessories to become its own table. The Horizon's most interesting feature is its multiuser gaming functions for entertainment such as one-on-one air hockey and Monopoly. Lenovo has even added four controllers for air hockey and other games as well as an e-die for board games such as Monopoly.
The Horizon features 1920-by-1080 resolution, Core i7 processor, Nvidia GeForce GT 620M GPU, up to 8GB RAM, up to 1TB HDD and an optional 64GB SSD. You also get a webcam, USB 3.0, HDMI, and a six-in-one card reader. The Horizon is slated for an early summer introduction staring around $1700.
HDTV on steroids: 4K sets
[RELATED: Biggest, brightest, and best HDTVs at CES 2013]
Opinions were split on which manufacturer offered the best high-definition television at CES, but everyone was impressed with the promise of 4K or Ultra HD resolution televisions.
4K sets offer 3840-by-2160 resolution and 8 million pixels to delight your eyeballs with vivid colors and sharper images. Manufacturers including LG, Sony, Samsung, Sharp, Westinghouse, and Vizio are lining up 4K offerings. Panasonic and Sony are even showing off 4K OLED sets merging the hottest display resolution and the hottest display technology at CES into what can only be called TV set porn.
But while 4K sets may be dazzling, they face major economic and technological hurdles before seeing mass adoption including a lack of content and infrastructure issues. Check out Jason Snell's take on 4K's road to the mainstream for more information.
So that was what the Web thought of CES. For more highs and lows from this year's tradeshow check out PCWorld's best and worst of CES 2013.
For more blogs, stories, photos, and video from the nation's largest consumer electronics show, check out complete coverage of CES 2013 from PCWorld and TechHive.