Ah, Vegas. It's the place where dreams are realized, and hearts are shattered. As such, probably no more appropriate venue exists to showcase the massive gamble that is Windows RT, Microsoft's first tablet-focused operating system, and the first Windows version created expressly for ARM processors.
The bet didn't pay off. Microsoft and ARM rolled snake eyes at CES 2013. Windows RT was not out in full force at the show, and for all intents and purposes, Windows RT died in the desert last week.
A no-confidence vote
Windows RT actually started CES with a bang: When Microsoft CEO Steve Ballmer bounded onstage during Qualcomm's opening night keynote, he showed off two Windows RT tablets. One was the Samsung ATIV Tab, and Ballmer lauded Samsung as one of Microsoft's key hardware partners.
But just three days later, Samsung told CNET that it won't be bringing the ATIV Tab stateside, citing poor demand for Windows RT tablets in general. Samsung SVP Mike Abrary also said that consumers don't understand the difference between Windows RT and Windows 8.
"There wasn't really a very clear positioning of what Windows RT meant in the marketplace, what it stood for relative to Windows 8," Abrary told CNET. "When we did some tests and studies on how we could go to market with a Windows RT device, we determined there was a lot of heavy lifting we still needed to do to educate the customer on what Windows RT was."
Ouch.
To be fair, Samsung isn't exactly a dowsing rod for the PC industry. While the company does ship some intriguing Windows hardware, it's far from a major player in the traditional computing ecosystem, as Samsung's prime attention is devoted to Android.
But Samsung isn't the only OEM to retreat from Windows RT. Both HP and Toshiba squashed plans for a Windows RT tablet before the operating system even hit the streets, while Acer announced that its own Windows RT tablet won't appear before the second quarter of this year, if it comes out at all.
At this point the Dell XPS 10, Asus VivoTab, and Lenovo Yoga 11 are the only Windows RT devices available aside from Microsoft's own Surface RT. And all of them have landed with a thud, Surface arguably—very arguably—aside.
While CES was awash in Windows 8 devices, Windows RT was a complete and utter no-show. Adding even more insult to injury, Lenovo's follow-up to the Yoga 11—the Yoga 11S—is swapping out ARM for Intel's Core processors. Microsoft itself was showing off the Intel Core i5-powered Surface Pro behind closed doors, with nary a public announcement of Surface RT and its roadmap.
ARM advantages? What advantages?
Even if Microsoft had spent more of its reported $1.5 billion advertising budget explaining the differences between Windows RT and Windows 8, the message wouldn't be all that enticing to consumers, because frankly, Windows RT sucks right now. "It's like Windows 8, except it won't run desktop apps, and, oh yeah, the Windows 8 apps in the Windows Store aren't all that good," isn't exactly a killer pitch.
Although they can't run legacy desktop programs, the ARM processors powering Windows RT tablets generally offer better power efficiency and cost less than the x86-based processors made by Intel and AMD—hence their presence in so many Android and Apple tablets, where battery life and competitive pricing are two major concerns.
However, these two ARM benefits are already being challenged by x86 processors, specifically Intel's Atom Z2760 "Clover Trail" CPU. In fact, Intel's tablet-focused chip is so energy efficient, the Z2760-based Samsung ATIV Smart PC lasted a whopping 9 hours, 14 minutes in PCWorld's battery life test, besting the time of ARM-powered Windows RT slates like the Asus VivoTab RT and Microsoft's own Surface RT. The Atom Z2760 lags far behind Intel's Core processors in sheer performance, but delivers decent pep compared with ARM's offerings.
Cost-wise, Windows 8 tablets still tend to be priced a bit higher than their Windows RT counterparts, but budget options like the Dell Latitude 10 ($499) and the 32GB Acer W510 ($549 on the street)—both of which run Intel's Z2760—are already offering the full Windows 8 experience for the same price as a Windows RT tablet. The entry-level Lenovo Yoga 11S will sport the same $799 starting MSRP as the current Yoga 11 Windows RT tablet.
In other words, Windows RT tablets are burdened by all the limitations of Windows on ARM, but the supposed energy and cost advantages are disappearing rapidly.
Samsung's crushing body blow to Windows RT was followed by two solid right hooks from AMD and Intel at CES. AMD spent the week showing off its "Temash" tablet system-on-a-chip, which sports full DirectX 11.1 compatibility, thanks to its Radeon graphics cores. Both Temash and "Bay Trail"—Intel's Clover Trail successor, allegedly offering twice as much performance as Intel's current tablet-focused processor—will appear in tablets in the second half of 2013.
That's still a long way off, but expect Intel and AMD's new chips to eat into ARM's alleged advantages even further when they do pop up, running the full-blown version of Windows 8 all the while.
Rope-a-dope or just a dope?
But—but—even though Windows RT is all but dead in the water right now, that doesn't mean it's necessarily gone for good. Ironically, Windows RT's closest ally in its fight for survival is Windows 8 itself.
The biggest flaw of Windows RT is its reliance on those poorly named Windows 8 apps, and the Windows Store is currently almost as devoid of value as Windows RT's vestigial desktop. But if Microsoft can woo customers to Windows 8 in earth-moving numbers, developers are sure to follow, bringing shiny new live tile-compatible apps along with them. And these apps, lest we forget, work just as well on Windows RT tablets as they do on Windows 8 devices running proper x86 processors.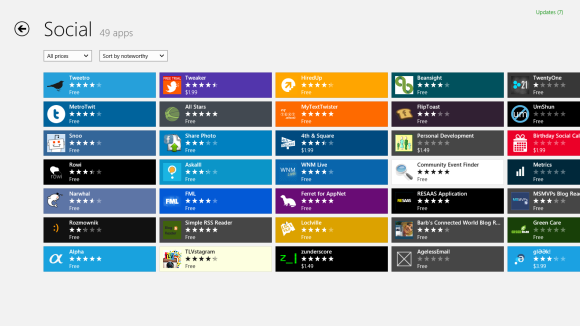 In other words, the widespread adoption of Windows 8 can only help Windows RT in the long run. If the Windows Store expands to its full potential over time, Windows RT's useless desktop could be much less of a deal-breaker than it is now, making the ARM-powered OS more of the iPad contender it so desperately wants to be. Time should also bridge the gulf between x86- and ARM-based processors, as Intel and AMD continue to increase the energy efficiency of their chips while ARM introduces beefier core designs, such as the Cortex-A15 found in Nvidia's new quad-core Tegra 4.
Can Windows 8 prop up the Windows ecosystem long enough to give Windows RT a fighting chance for survival? Despite tales of woe about Windows 8 adoption and anxious hand-wringing about the health of traditional PCs in general, new numbers from Gartner put computer sales in proper perspective.
The information technology research firm estimates that nearly 353 million laptops and desktops were sold in 2012, although shipments did taper off a bit in the holiday season compared with past years. Even if the industry continues its slight decline in 2013, Windows 8 will ship in hundreds of millions of computers throughout the year, with the unfamiliar modern UI becoming oh-so-familiar to many.
The real $1.5 billion question isn't whether Windows 8 can generate market share. Instead, the question is, Does Microsoft need ARM whatsoever if AMD and Intel can continue to deliver affordable, energy-sipping processors? All other things being equal, there's no reason to opt for Windows RT over Windows 8 and its fully functional desktop. That lack of backwards compatibility may just spell the end of Windows RT in the long run—assuming, that is, that Microsoft doesn't ditch the desktop entirely in the basic version of Windows 9.