It's hard to believe LibreOffice has only been around about two years, so thoroughly has it come to dominate as the leading free and open source productivity suite, but late last week a release candidate for its next major version appeared.
"The Document Foundation is pleased to announce the first release candidate of our upcoming LibreOffice 4.0," wrote Thorsten Behrens, SUSE developer and deputy chairman of the Document Foundation board, in the official announcement. "4.0 will be our fifth major release in just over two years, and it comes with a nice set of new features."
Last month the foundation held a "test marathon" for the software, followed soon afterwards by the appearance of a second beta release. After two more release candidates in the coming weeks, LibreOffice 4.0 is due to arrive in its final form next month.
In the meantime, there's nothing like a release candidate for offering a sneak preview. Ready for a quick peek? Here are a few key features we can expect.
1. Support for Firefox themes
Firefox fans will notice a new level of integration between LibreOffice and their favorite browser. Specifically, in this upcoming version of LibreOffice, you'll be able to choose "Tools," "Options," "Personalization," and then "Select Persona." From there, you can choose the theme you like in your browser, paste its address into a dialog box, confirm, and then see it used in LibreOffice, as shown below.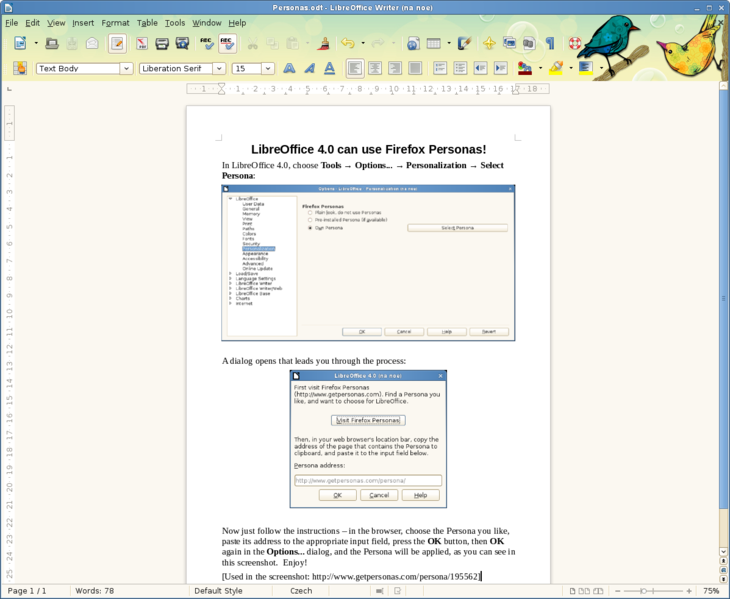 2. Integration with Ubuntu's Unity
Users of Canonical's Ubuntu Linux distribution, meanwhile, will find new integration with that distro's Unity desktop environment.
3. Wider access
New support for the Content Management Interoperability Services (CMIS) protocol, on the other hand, will make it easier to access documents stored in systems including Alfresco, Nuxeo, and SharePoint, the project team says.

4. Thunderbird integration
For users of Debian and Ubuntu Linux, a new Mork driver implementation will offer access to the address book in Mozilla's Thunderbird email software. "This means that Debian/Ubuntu users can finally integrate LO with their Thunderbird address book," the release notes explain.
5. A filter for Publisher
Then there's the new import filter for Microsoft Publisher files, allowing them to appear in LibreOffice much the way they do in Publisher. LibreOffice 4.0 also now supports all existing Visio file formats, from Visio 1.0—released in 1992—through Microsoft Visio 2013, which was released last year.
6. Faster performance
Last but not least, loading and saving multiple types of files has been sped up considerably in LibreOffice 4.0, including those in .ods and .rtf formats.
There are also myriad improvements in each of LibreOffice's individual components as well as countless bug fixes. This first release candidate is not intended for production use, of course, but if you want to check it out, it's available as a free download from the project site.