Android manufacturers, led by Samsung, held the number one spot for smartphone sales during the holidays across the world, except two key markets: the U.S. and Japan, where Apple is on top.
The latest figures from Kantar Worldpanel Comtech for the 12 weeks to December 23, 2012, show that Android maintained a stronghold in Britain, Germany, France, most European countries and Australia, with more than 50 percent of the market share, and up to 86 percent in spaces such as Spain. Android also has a 72.5 percent majority in the urban Chinese market.
However, in the U.S. and in Japan, it's Apple's iPhone that has more than 50 percent of the market, according to the study. In the U.S., Android's share declined slightly to 44.2 percent, while iOS jumped year-on-year to 51.2 percent, a 6.3 percent increase. In Japan iOS has even more of the market at 66.2 percent, while Android has just over a third.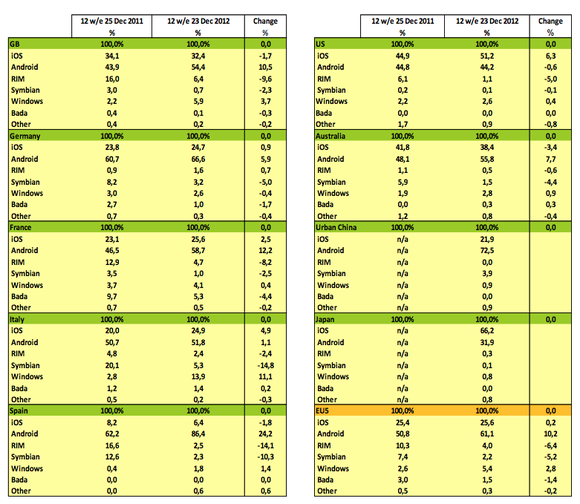 Kantar estimates that a third of all handsets bought in December were given as Christmas gifts, with the majority of recipients under 18 years old, half of whom were women. The BlackBerry 9320 was the most popular gifted handset in December, followed by the Samsung Galaxy Ace 2 and Apple iPhone 4S.
Android growth slowing down
Dominic Sunnebo, global consumer insight director at Kantar Worldpanel ComTech, said Android's rate of growth in the past year is beginning to slow down, as the number of first-time smartphone buyers is on the decline. "Among the handset manufacturers, Samsung has held on to the number one spot in Britain, claiming 35 percent of smartphone sales, although Apple is now biting at its heels with 32 percent," Sunnebo added. Overall, Samsung accounted for 43 percent of phone sales in Europe and 27 percent in the U.S.
The other players in the mobile market, BlackBerry-maker Research In Motion and Microsoft, are still at the bottom of the charts, but one of them is making progress. Windows Phone is growing in Europe, particularly in Britain and Italy, with shares hitting 5.9 percent and 13.9 percent, respectively, up from just 2.2 percent and 2.8 percent a year ago.
Sunnebo explained: "It has been far slower than Microsoft would have liked, but Windows Phone is now starting to gain respectable shares in a number of key European countries. However, its performance in the Chinese and U.S. markets remains underwhelming. As the two largest smartphone markets in the world, these remain key challenges for Microsoft to overcome during 2013."