If you're looking for a job at Google, you can now easily suck up to future managers and co-workers by adding them to your Google+ circles. The search giant has added Google+ integration to the company's job board to make it easier to tailor job searches to your qualifications, save jobs to favorites, connect with Google employees, get job posting updates via e-mail and use your Google+ information to fill out job applications.
The new opt-in feature worked pretty well in my brief trial and would probably be a handy feature for anyone looking to get a job where you can sit on a bouncy ball all day, get free meals and play foosball on your lunch breaks. But integrating Google+ data into a job board also raises issues about privacy and the continuing trend of bringing your personal activities into the dog-eat-dog world of professional life.
Facebook, after all, in early 2012 fought hard to discourage employers from pressuring applicants to fork over access to their Facebook profiles. However, the world's largest social network also recently introduced a job boardthat aggregates more than two million job postings from Monster, Work4Labs, Branchout, Jobvite and us.jobs. All of these sites use Facebook logins for their services, but there appears to be a wall between your Facebook data and prospective employers. So your embarrassing photos from last weekend are safe from prying eyes, depending on your privacy settings.
Facebook also recently announced Graph Search, another tool that could cause trouble for job seekers since it can be used to glean public data from your profile. Potential searches such as "Photos of Bob Johnson at parties" could make for an interesting follow-up interview, depending on what kind of life you lead.
The difference with Google jobs and Google+, however, is that it's not clear what kind of firewall there is between your profile and your job application, once submitted. The privacy policy for Google Jobs says any information you submit will be used to assess your candidacy. That doesn't seem to include your Google+ profile, but it's not explicitly made clear.
Here's how it works: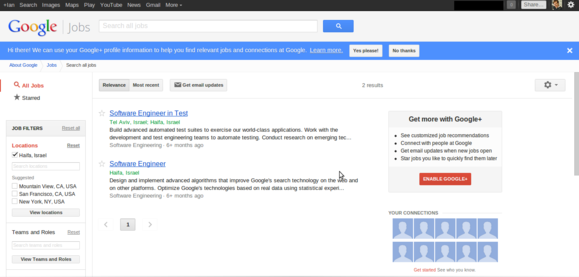 When you land on the Google Jobs search page, you see a blue banner at the top of the page asking you to integrate your Google+ account with Google Jobs.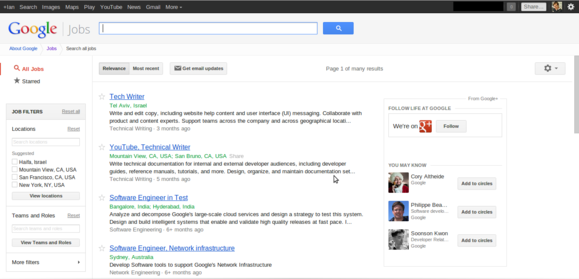 After you authorize Google+ integration, you will then see a new results page featuring positions best suited for you based on information from your profile. This data can include any previous jobs you've added to your Google+ profile, your location, and, it seems, connections and interests. In my case, I saw a lot of jobs for technical writers. But I also got suggestions for engineering positions, which I am in no way qualified for. I can only guess these jobs were added because of the people I have in my Google+ circles and communities I've joined.
On the left-hand side of the job search page, you have filters to narrow your search by location and specific teams inside Google. On the right-hand side, you will see people at Google you may know and a button to add them to your circles. And, according to Google Plus Daily, which first reported on the new Google+ integration, you will also see people who work at Google and are already in your circles.
If you apply for a job, your basic information including name, education and current job are automatically filled out for you, making the application process a little bit faster.
Google+ integration seems like a handy feature, but the idea of integrating social networking data into the job process still makes me a bit squeamish. Especially given how easy it is for online photos and other posts to leak out unintentionally. Not all social networks are created equal, however, and some are entirely appropriate for the professional world.

LinkedIn, of course, is designed for this exact situation. The professional social network has a similar feature to Google's that lets you apply for a job with just one click populating an application with data from your LinkedIn profile. The difference, however, is that LinkedIn is designed to be a social network that shows off your professional side. It lets you put your best foot forward by emphasizing your employment record and education, and puts less emphasis on your monthly heli-skiing trips with the college crew or your penchant for knitting cat sweaters.
Twitter could also work for jobs since the entire premise of the self-styled information network is to create a record of public posts. Google+ could perhaps fall into a similar category to Twitter since, in my experience, many people freely connect on Google+ with strangers who have shared interests. I wouldn't share family photos on Google+, for example, even with my private family circle. That's an activity I reserve for Facebook.
I guess it's too much to ask employers to refrain from seeking out our profiles on Facebook, Google+, and Twitter to check up on their prospective hires. So it's up to us as individuals to make sure our more peculiar or embarrassing sides are well hidden from prying eyes by keeping our privacy settings up-to-date. Or maybe by not sharing so much of ourselves online in the first place.