Google+ is now the world's second largest social network, outranking Twitter that comes in at the number four position. But both social networks are still far behind Facbook, which is used by more than 51 percent of the world's online population, according to a new survey.
Trendstream's Global Web Index for the final quarter of 2012 estimates that Facebook had some 693 million active users, seconded by Google+ with 343 million active users. The firm also tracked YouTube as a social network, which came in at number three in its ranks, followed by Twitter at 288 million active users.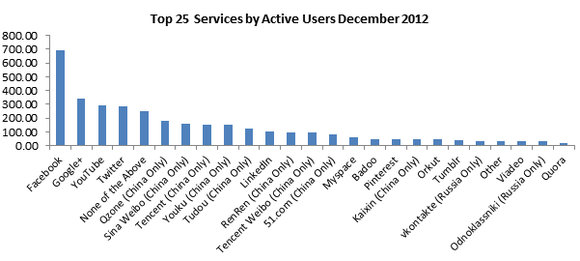 The study does not count total numbers of users, but active users on a monthly basis. In October, Facebook CEO Mark Zuckerberg said that the social network had 1 billion active users a month.
Although Google+ ranks as the world's second largest social network, many would argue the platform is a ghost town, with not many people contributing. Brett Petersen, Consulting Director of GlobalWebIndex explained: "I think that Google+ is working particularly hard to address this, and Google+ contribution is becoming increasingly important as Google ties search, along with all of their other services, together with Google+ being the glue that binds them all."
The continued growth of Facebook, Google+ and Twitter also has a secondary side effect, the survey found. Local social networks in various countries are seeing a dip in usage, up to 57 percent in some cases, particularly in China. This is apparently due to a saturation of the market and shift towards more informal social media including blogs and forums, where privacy is easier to maintain from growing government clampdowns.