Microsoft's Surface RT tablet has a sales problem, according to new analyst estimates. Despite the almost omnipresent Surface RT advertising blitz that has been blanketing television screens for months now, IHS iSuppli believes that only 680,000 to 750,000 of the tablets have sold since the slate's October 26 launch, while IDC released a report Thursday stating that Microsoft only shipped 900,000 Surface RT tablets to retail.
If true, this is disappointing news for Microsoft. More worrying than the sales figures, however, is IHS iSuppli's report of "very high" return rates, which could hint at even greater concerns about Windows RT's very viability as a platform.
IHS iSuppli analyst Rhoda Alexander didn't disclose detailed return rate estimates during her chat with CNET, though she did say, "It seems to be linked in a lot of cases to a steep learning curve of the [Windows 8] OS—which is not necessarily intuitive."
In other words, the presumed cause for the high level of returns isn't a problem with the Surface RT tablet, which is a beautifully designed piece of hardware. It's an underlying problem with Windows RT itself—and it isn't the only one.
A quick word of caution
Before we dive into this too deeply, it's worth noting that many of the Surface RT tablets sold thus far probably sold via Microsoft's website and stores, as Staples and Best Buy—the only other retailers selling the slate—didn't begin offering it until mid-December. Microsoft doesn't share retail sales information with analysts, so iSuppli's estimates are far from official and likely gleaned from a mixture of third-party retailers and component channel sources.
In other words, the report of above-average Surface RT return rates is a highly educated guesstimate, not gospel. I've reached out to Microsoft, several retailers, and Windows RT tablet manufacturers to get a more concrete handle on return rates for the Surface RT and Windows RT devices in general.
Got it? Good. Let's talk Windows RT.
Core problems with Windows RT
This isn't the first time complaints have surfaced about Windows' new modern UI. Usability experts have slammed the UI again and again, and we noted similar concerns in our own review of the Surface RT.
"The system is rife with powerful touch gestures, but none of them are immediately obvious if you pick up the tablet without any training," PCWorld editor Jon Phillips wrote. "…What about the gesture that brings up the snap screen for side-by-side multitasking? Or the gesture that lets you cycle through open apps with a finger swipe? Or the gesture that produces all your Favorites in Internet Explorer? These and other touch controls aren't self-evident."
It doesn't take long to tackle the learning curve, and the modern UI is easy and engaging once you acclimate to it, but iSuppli's estimates suggest that many buyers simply aren't willing to invest the time it takes to learn Windows RT's interface.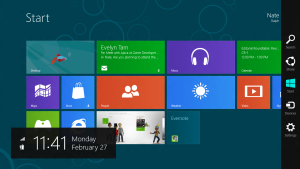 The problem is likely compounded by consumer confusion about Windows RT's capabilities. While Microsoft's advertising campaign has been successful in getting the Surface RT name out there, it has been less successful in explaining the differences between Windows RT and Windows 8. Windows RT can't run traditional desktop software, only the Windows 8 apps found in Microsoft's Windows Store marketplace. When a Samsung spokesman told CNET that the company wouldn't launch its Ativ Tab in the United States, he cited poor consumer education about Windows RT as one of the primary reasons why.
Mix a confusing interface with a neutered operating system, add a dash of ignorance about that operating system's inherent limitations, and you've got a recipe for high returns. Worse, all of those flaws are inherent to every Windows RT tablet—not just the Surface.
Given that, it comes as no surprise to hear Alexander say computer manufacturers are showing a "distinct lack of interest" in building Windows RT devices. HP, Toshiba, and Acer have already canceled or heavily delayed plans for Windows RT tablets. IHS iSuppli estimates that more than 500,000 Surface RTs sit unsold and collecting dust in stockrooms, and Alexander believes production of the tablet has been suspended until that inventory clears.
The impending February 9 launch of Microsoft's Surface Pro tablet—which sports an Intel Core i5 processor and the full-fledged version of Windows 8—could shine more light on whether it's the modern UI interface or Windows RT's inherent limitations that are driving the alleged run up of Surface RT returns. Regardless of the reason, and regardless of even whether or not IHS iSuppli's return rate estimate is exaggerated, one thing is already clear: Windows RT is teetering on the brink of disaster.