Cloud printing, it's time to talk. I just can't take this rejection anymore. According to the new rules of "anything, anywhere" mobile printing, I should be able to send print jobs to publicly accessible printers all over town—even those hidden in the most unlikely places. In theory, all it takes is a smartphone app to find a printer that's listed as being open for business.
Yes, even if that printer is located in a private school. Or in the Twitter corporate offices.
When I set out last week to try cloud printing all over San Francisco, I thought I had plenty of printers to choose from. I had downloaded HP's ePrint phone app, which lists nearby ePrint Public Print Locations. And one of HP's partners, PrinterOn, publishes a Web-based directory of its hosted PrintSpots, amounting to several dozen cloud printers in San Francisco. And then there's EFI's PrintMe, another cloud-printing technology, which has an app showing local PrintMe-enabled printers. All of these services use email or an app as the trigger for sending print jobs.
The sun was shining, the birds were singing, and there wasn't a cloud in the sky. That should have tipped me off. Cloud printing isn't a total impossibility, but finding an accessible printer isn't as easy as these apps suggest.
I found God—but no printer
My first stop was a Catholic high school crammed into a section of San Francisco that also plays host to a public high school and a college. Pray all you want, but it probably won't help you find parking, which is in short supply—and regulated by a secular authority.
The front of the school looks like a house of God, with heavy Romanesque arches and columns. The doors are unlocked, but a sign clearly states that visitors must sign in. Wasn't I already in? I had used a Web-based driver to upload a job to a printer that was listed at this location.
An acquaintance who works at the school let me in. We tried to find the printer, but the information I had about it was vague. We wandered around until we found one of the school's IT guys. He scrolled through a list of printers on his phone. I thought it was pretty cool that he could do that.
"It's not the library printer," he muttered.
"Maybe it's Tina's printer?" my acquaintance suggested.
"Does Tina know I can print to her printer?" I asked.
"Tina's printer is down," the IT guy said. "It can't print."
"So they sent you to a dead printer!" said my acquaintance.
Both confirmed that this printer, wherever it was, was not readily available to the public. Shortly after I left, the IT guy emailed me: "The printer is not available on our campus anymore. We had the printer for a bit in the library until it acted up and we had to replace it." The entire school now uses iPads, so the IT department installed an AirPlay utility called Printopia that requires user authentication.
The doctor's printer is not in
The outside temperature was a crisp 57 degrees, but in the Presidio National Park, the sun was bright, and the red roofs of the historic buildings glowed against the clear blue sky and masses of trees.
On a weekend, I would have been sitting in the sun, ideally with a dog or two as well as some human friends. On this day, I was trying to print. Following one of the directories, I made my way to a row of cute Civil War-era cottages, one of which housed a psychotherapy office.
The front door was unlocked. The foyer was empty, except for a slender console table, an ancient, hissing radiator, and framed artwork on the walls.
I walked down a long hallway, past therapist offices complete with nameplates, closed doors, and deathly quiet—save for the white-noise machines strategically placed to muffle conversation.
I checked the waiting room and a kitchen, and stopped short of the stairs. I saw no printers, and no one was present. If my print job was here, I had no idea where. The white noise was getting to me, though, so I left.
The library took my money and gave me a print
The main branch of the San Francisco Public Library is open and bright inside, and it was very busy on this Monday around lunchtime. I had sent my job to a specific printer on the third floor. A couple of helpful staff members pointed me in the right direction.
I had to buy a prepaid card to print or copy; the minimum amount you can load is $1. Directions posted next to the printer detailed how to do everything, including cloud printing. I inserted my card and entered a user ID and password on the control panel. The machine whirred and hummed, and then it printed. My first successful print job—but the library still has 40 cents of my money on this card.
Next page: Twitter doesn't share its printers
Twitter doesn't share its printers
Marijuana smoke wafting from a scruffy group of, er, Civic Center denizens offered another type of cloud experience as I walked the short distance from the library to Twitter's headquarters. It's a hulking Art Deco building that used to house furniture wholesalers.
I had used one of my app directories to send a job to a printer here, but I couldn't get anywhere near my printed output. I had to produce photo ID at the lobby security desk, and when I couldn't identify a specific person I wanted to visit, I was politely dismissed.
A Twitter contact later confirmed that the company once had "a non-firewalled printer for guests to use if they needed to print something while they were meeting at Twitter." Said the employee: "Later we discontinued it, so it was news to learn that Twitter is listed as a 'public' location. It's not, nor was it ever, for anyone but an authorized guest with reason to be here in the first place."
To avoid rejection, choose skeptically
Two hours into my cloud-printing journey, I was batting one-for-four. And the rejection mostly continued, as I tried other hotels and offices listed in my directories. An Internet café worked, but how many of those are left? Some places noted, as Twitter did, that they were no longer offering cloud printing, usually because no one was using it. A sympathetic concierge at one hotel suggested that I go across the street to a FedEx Office store: "They have Internet printing there," he said.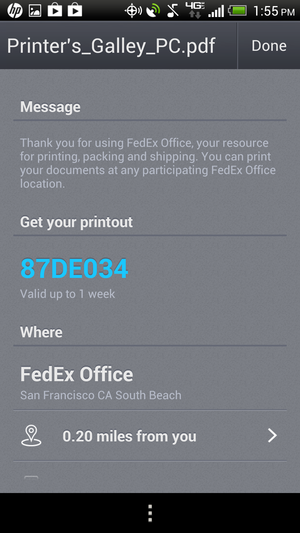 Indeed they do, as I already knew from my directories. FedEx Office stores are visible in HP's ePrint mobile app. I could email a document from the app to a chosen FedEx Office store for pickup. The app was a little confusing, though: It didn't show the address of the store on my phone, and downtown San Francisco has many FedEx Office stores.
When I got to the right one, the store manager initially thought I was asking about a custom-print job. After I showed him my phone screen, he led me to one of the self-service printers. As I printed my job, the manager commented that he had never seen anyone use the service.
Staples participates in EFI's PrintMe program, and I could see a nearby retail location on my phone's PrintMe app. A long table of Windows 8 laptops greeted me at the door, staring up at me hopefully. I could almost hear them whispering, "Hey, big spender—spend a little time with me!"
Safely past them, I saw big signs promoting cloud printing. Staples covers a lot of bases, as you can also print from Dropbox and Google Drive, or a USB key drive. I, however, was looking for the job I'd just emailed using PrintMe. At the print and copy desk, a staffer directed me to a self-service printer. As I printed and paid, the staffer noted that few people have ever used the service.
Is cloud printing for the 'burbs?
My last cloud-printing experiment took me out of the city and into the deep suburbs of Silicon Valley—namely, Palo Alto, where a neighborhood library is helping to test a Google Cloud Print public site. The library's webpage instructs you to go to the library to get the URL for the printer. On-site, the URL is prominently displayed at the main desk and at the always-busy computer stations.
The librarians had to ask one another whether the Google Cloud Print printer was working. Once they had confirmed that, it was easy to type in the printer's URL and click a button to add the printer to my Google account. I printed a couple of email messages, and the machine responded immediately.
The librarian handed me my jobs with a flourish, as if lifting a silver dome off my fancy dinner. He was young, and perhaps not far removed from the food-service portion of his career arc. Whatever the case, it was nice to end my experiment on a high note. The print was even free, compliments of Google.
Don't print to strangers
Cloud printing is possible, but not to the degree you might think. Many of the cloud printers I detected with my apps were in hotels, private offices, airport lounges, and schools, where only authorized guests or clients could use them—if the printers still existed at all. Truly public places I visited, such as libraries, cafés, and office stores, were my success stories. The libraries I tried didn't even require me to have a library card.
Although cloud-printing vendors are naturally enthusiastic advocates of this new technology, they need to manage expectations—starting with their directories. PrinterOn's PrintSpots directory brags, "With over 10,000 locations to choose from, printing on-the-go is easy and convenient. Print…to any of the locations below." There it is, in big letters, and yet a PrinterOn spokesperson contended, "PrinterOn does not promote on-the-go 'drop-in' print for the public." PrinterOn also did not concede that its directory could use some clarification and updating. At least EFI and HP sounded apologetic and claimed to be working on improvements.
Staples' enthusiastic and broad adoption of cloud-printing services could indicate an upward trend. According to Damien Leigh, vice president of U.S. retail business services for Staples, the company tested cloud-printing services in 2011, and "strong customer adoption" led to the program's rollout to all U.S. Staples stores in the fall of 2012.
Cloud printing's true lie: Available but exclusive
Still, my experiments highlight a chicken-and-egg problem, where limited accessibility could be keeping more people from trying cloud printing. Even in the locations where service was available, it seemed to be rarely used.
IDC's Keith Kmetz isn't surprised. "As an increasingly mobile workforce, office workers want access to all business information and assets wherever they are and whenever they want them. However, companies don't want printers 'spitting' out pages and pages of documents…so access could be limited." This protective stance can discourage adoption, says Kmetz: "Many potential users don't know about the cloud and the access to print, or don't know what they need to do to facilitate printing from the cloud. Sheepishly, they don't want to ask, so many forgo printing rather than use it."
I've learned that I can't cloud-print to strangers—that only certain places will allow it, no matter what the directory tells me. And if you don't like rejection any more than I do, check ahead if you're printing to anywhere other than an office superstore or copy shop.
Now I'm going home, where I know there's a printer that loves me.