A triple-A PC game can cost anywhere from $50 to $60. Buy 10 of them, and you're in the hole for as much as $600 (before tax)—which may equal the current value of your PC, factoring in hardware depreciation.
But you don't have to succumb to the madness. Independent game developers distribute their titles at insanely low prices, usually in the range of $5 to $10. Even better, the emerging "bundling" trend lets users stockpile great indie games for a fraction of their already low prices when sold separately. Some bundles even adopt a "pay what you want" model, assuring you of a PC packed with more games that you can finish in a year, for a very low price.
Interested? Allow me to share my favorite sources of inexpensive but awesome PC games.
Humble Indie Bundle
This site started the "indie bundle" trend, and it's easily the most widely known of the bunch. Humble Bundle semiregularly releases excellent pay-what-you-want collections of indie games. The offerings, which are typically available for a two-week period, let you expand your game collection without depleting your wallet.
As the screenshot above indicates, you can pay as little or as much as you want for a collection of four titles. If you pay more than the average price paid by the Humble Bundle community, however, you'll get four additional games (the ones marked with a padlock icon). You can also decide how to allocate the "contribution" that you make to Humble Bundle, designating portions of it to go to the games' developers, to charitable organizations, and/or to Humble Bundle itself.
Most of the games are DRM-free, and are available as direct downloads, torrent downloads, or Steam downloads, so you can install them wherever you want, with no limitations. The simple payment process works via PayPal or Amazon, and the site automatically saves your purchased bundles indefinitely. As a result, you can go back and redownload a game if you happen to misplace it in your labyrinth of a hard drive—as long as Humble Bundle's servers are operational.
Traditionally, Humble Bundle adds extra games, downloadable content, and soundtracks to its bundles as the offers' two-week windows approach their end. Fear not: All of the late additions are free to anyone who has already paid for the bundle.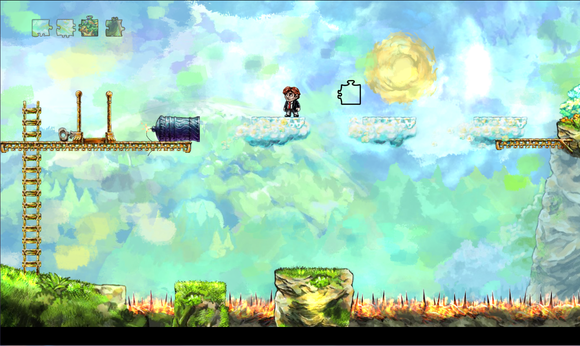 On one memorable occasion, Humble Bundle hosted a "Humble THQ Bundle" that featured triple-A games from the now-extinct THQ games studio that collectively would have retailed for well over $100; yet a simple $5 bill unlocked everything. Moral of the story: You never know when a great bundle will come along or what treasures it will contain, so it pays to stay current with the Humble Bundle website by signing up for its newsletter.
Indie Gala
Like Humble Bundle, Indie Gala offers collections of small games for the low, low price of whatever you want to pay; and it, too, rewards people who pay more than the average amount by giving them bonus games and content. As at Humble Bundle, you can split your payments—in this case, between developers, charities and organizations that promote indie game development.
Unfortunately, unlike Humble Bundle, Indie Gala puts together collections that consist primarily of games available on Steam or Desura. And because they aren't direct downloads, you'll find a light coating of DRM on each one. But you still get nice bundles at low cost.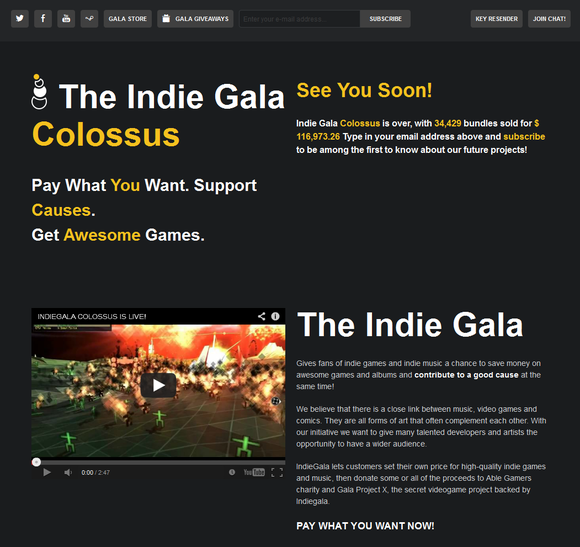 The last Indie Gala sale I looked at ended up offering 15 games and two soundtracks for people who paid over the average contribution price. You can't afford to miss a deal like that (unless, of course, you have something productive to do).
Indie Royale
If Humble Bundle's schedule isn't predictable enough for you, give Indie Royale a try. The chances are that it has something going at this very moment. Like the proprietors of Humble Bundle, the folks at Indie Royale offer a group of four or five little-known indie games for cheap, but with a few key differences.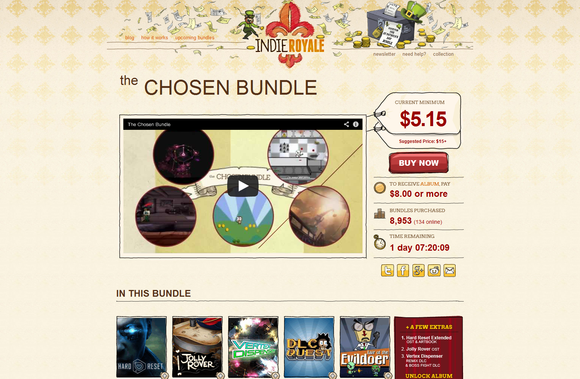 First, Indie Royale constantly runs bundling deals. An offer is always in play, and a new one appears every two weeks. Second, the site charges a minimum price, and does so in a novel way.
Every time someone pays the bare minimum price—say, $5.96—the minimum price will go up slightly for the next buyer, if only by a penny. In practice, this means that the longer you wait to buy a bundle, the more you'll likely have to pay for it.
However, the more you pay beyond the minimum price, the more you'll reduce the minimum price for all. For example, if you pay $10 for a $5.96 bundle, the minimum price will drop to $5.94. A real-time tracker at the bottom of the website shows the most recent purchases and price changes.
Though Indie Royale's bundle prices aren't as cheap as "pay what you want," they rarely exceed $6. That's still about $1 a game—a bargain when most games retail for $5 to $10 apiece.
IndieGameStand
All of the preceding sites take between two weeks and three months to post a new cheap game bundle, but IndieGameStand is different. Every 96 hours—that's every four days—it makes a single, new, DRM-free indie game available for "pay what you want."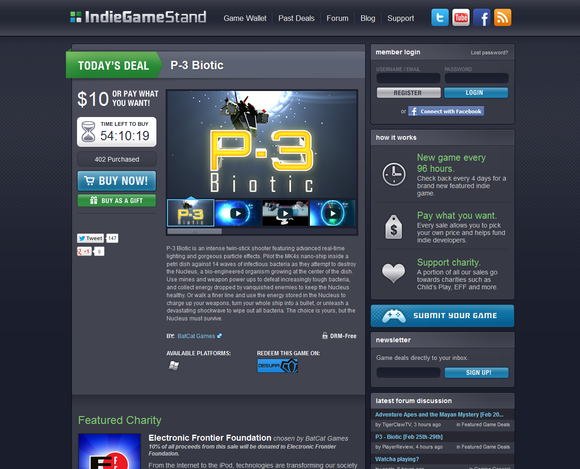 Like other indie game clearing houses, IndieGameStand takes a charitable approach to its business. A portion of every sale goes to the starving indie developers as well as to such charities as Child's Play and the Electronic Frontier Foundation.
If you're a budding developer, feel free to submit your game for consideration, even if it's still in alpha. Doing so will enable you to fund projects in development, and to receive helpful feedback from your patrons.
IndieBundle.org
It can be frustrating to wait a long time for a new indie bundle sale only to be disappointed at the selection of games it offers. But it's even worse to discover that a dream collection went off-sale a few weeks ago, never to return again. IndieBundle.org avoids those frustrations by offering new $5 bundles of games every few weeks, and never shutting down its collections.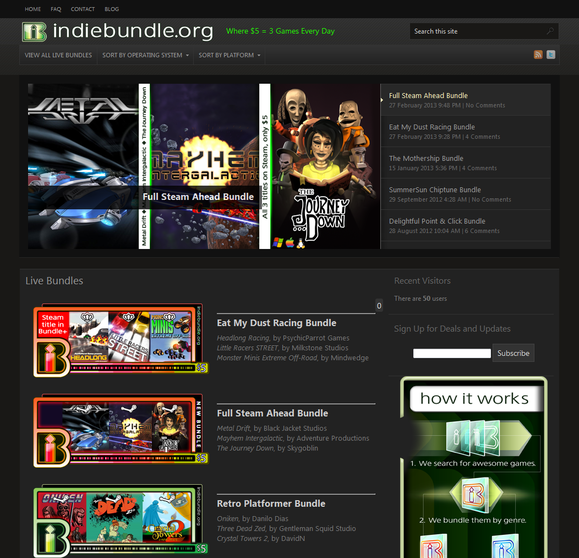 The site packages three indie games of a particular genre (such as racing games) in each each bundle; currently nine bundles (one of which is a bundle of game soundtracks) are available.
The only drawback is that you must activate the games through Steam or Desura—though many people prefer to keep their massive libraries of games organized in the cloud anyway (which is a main reason that Steam's Greenlight program exists).
The Free Bundle
People whose gaming budget puts their maximum purchase price for a game bundle at $0 should pay a visit to Free Bundle.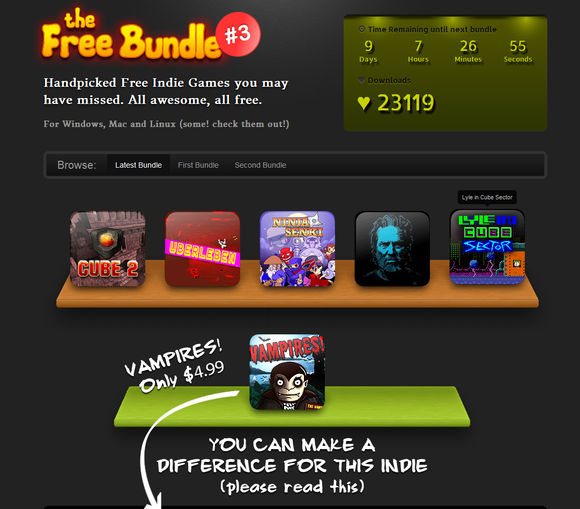 This site gathers information on all free downloadable games, and showcases them for a couple of weeks, encouraging you to download them and donate to the developers. The site's proprietors are always looking for more games to showcase, so if you know of a free, downloadable title, drop Free Bundle a line to see it promoted on the site.
/r/gamedeals
I've given some serious love to the indie gaming scene, but let's not forget inexpensive titles from traditional games studios. You can find some amazing deals without the help of Steam's crazy holiday antics, and you can count on the Reddit community to deliver. The GameDeals subreddit—a subsection of Reddit—reports price drops and time-sensitive sales across the entire world of gaming, including both PC games and console games.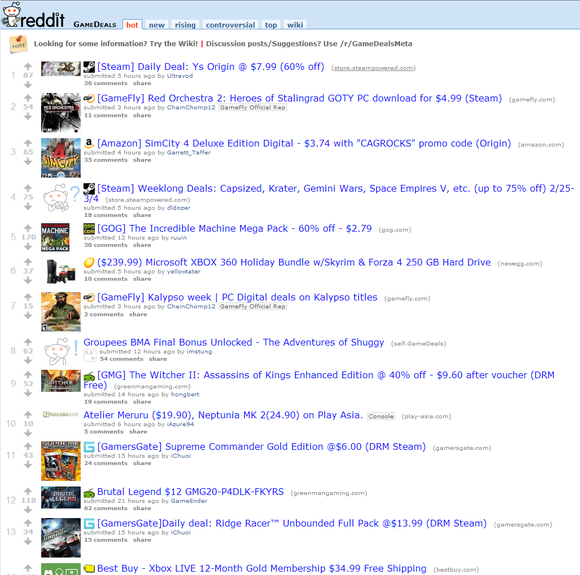 The page lays out coupons, promotional codes, BOGO deals, and plain old sales in an easy-to-read format. The Reddit format permits the best and most popular deals to bubble up to the top, while expired and less interesting deals drift to the down-voted bottom.
Reddit's comments section makes reading up on the games, DRM, and "small text" of the deals easy. Most users are well versed in the deals, what they entail, and what drawbacks, if any, accompany them. I wouldn't own half the games I do if I didn't frequent this page.