At a Glance
Expert's Rating
If anyone had the ability to bring out a laser-competitive inkjet, it'd be HP. And that's exactly what the company's laser masters in Boise have done, with the newly announced Officejet Pro X576dw color inkjet multifunction.
Now hold on, inkjet haters: This $799 machine is nothing like the $400 small-office inkjet MFPs we've lauded in the past, let alone the sub-$100 beaters that drink pricey ink. The Officejet Pro X576dw is faster than any color laser we've tested—that's its competition, not regular inkjets. Its consumables are supercheap; and its output quality is just fine, thank you. This is an inkjet that deserves respect from color lasers, including those from its own company.
Will offices comfortable with laser technology give this supercharged inkjet a chance? HP has to try. "The consumer inkjet market is declining rapidly," says IDC's Keith Kmetz. "This means inkjet has to make the move to business markets to be successful longer term. This collides against laser, and there's a well-established laser bias in that market."
The Officejet Pro X576dw has to overcome inkjet stereotypes of being slow and expensive to maintain . "Many business buyers…associate these desktop inkjet products with low cost, but also frequent cartridge replacement," Kmetz explains. "'My cartridge ran out again…what are my kids printing on the printer to use so much color?' While HP aggressively touts low cost per page, there's a well-entrenched perception of inkjet that is an ongoing battle."
We understand. We, too, have scoffed at cheesy, poky, low-end inkjets that guzzle ink like there's no tomorrow. This is not a cheesy inkjet. Read on and find out why.
If it looks like a laser and runs like a laser…
When you're competing with corporate laser MFPs, it doesn't hurt to look like one. The Officejet Pro X576dw is as big and boxy as any color laser, so much so that our lab analyst actually mistook it for one when he started testing.
The unit's speed did nothing to disabuse him of the notion. Pages hit the output tray in record times, including text and mixed monochrome pages at an aggregate 22.6 pages per minute (ppm) on the PC (using PCL6) and 24.9 ppm (using Postscript) on the Mac. It's nearly 5 ppm faster than any other color laser printer we've tested. Color 4-by-6-inch photos flew out of the unit at 6 ppm with plain paper, and a little over 2 ppm to glossy paper. Copies are similarly quick at 7.5 ppm. The only print test that the Officejet Pro X576dw didn't dominate was our full-page color photo printed on the Mac, which took a middling 43 seconds, or 1.4 ppm. Scan times are also average for the class.
Extra-wide printhead boosts performance
What makes this printer so fast? One reason is its PageWide technology. The typical inkjet has a small printhead that moves back and forth over a moving page. The challenge of getting a moving printhead over a moving page to create legible images is a big reason why inkjets can be slow. PageWide is a stationary bar of multiple printheads, with just the page moving underneath it. That means less fuss, more speed.
The other reason is the paper path—how the paper travels through the printer. Every bend in the path slows the paper's progress. HP designed the Officejet Pro X576dw's L-shaped path to minimize bends, so the page can shoot through faster even when printing in duplex (both sides). This is why the printer is so big, and also why the output tray is an elevated platform that looks like a lean-to. HP helpfully suggests that you use the space underneath it as a storage shelf, but it's really a by-product of the paper-path design.
The output quality of the Officejet Pro X576dw merits a closer look than some inkjet scoffers might otherwise give it. Yes, its text falls a dot or two short of laser-black and laser-sharp, but you'd have to be very picky to care about the difference. The pigmented inks create nicely drawn letterforms and handle difficult fonts with skill. And as an HP spokesperson gladly demonstrated for me at Macworld, the inks are so waterfast, he was willing to rub a wet page on his hair.
Paper does matter for color graphics. Images we printed look dull on mid-quality stock (such as the recycled-content paper we use in our office copier). They improved on the Hammermill LaserPrint that we use for testing, and HP's own photo paper produced vivid results. Grayscale graphics have a lightly greenish cast, and human faces on both plain and glossy paper look somewhat jaundiced. Scan quality is impressively detailed—better than we've seen in a while from any kind of multifunction printer.
Just one feature short of office-perfect
The Officejet Pro X576dw matches its color laser competition very closely in features. There's Ethernet, Wi-Fi, and USB onboard, for versatile connectivity. There's also a 4.3-inch touchscreen control panel with contextually-lit buttons. The capable HP software suite includes scanning to network folders, and remote and e-mail printing. The one corporate feature it lacks, to our surprise, is secure printing. The best you can do is plug a key drive into the front USB port and print live.
Paper handling includes an integrated 500-sheet paper cassette and 50-page auxiliary tray. You can add a second 500-sheet tray for $199. Duplex printing is automatic, as is two-sided scanning with the 50-sheet automatic document feeder (ADF). The flatbed scanner on top of the unit is letter/A4-sized, and the lid telescopes over an inch to handle thicker materials.
The Officejet Pro X576dw is even fun to watch. The ink cartridges, accessible via a front panel, rise into view like a pop star from underneath a fogged-up concert stage. Spring-loaded, they bounce out with a quick push. Paper exits through a hatch that opens and closes automatically.
Cost of consumables is very, very low
While the speed of the Officejet Pro X576dw should turn the heads of corporate buyers, it's the cheap high-capacity supplies that will make them smile. The 9200-page, 970XL high-capacity black cartridge costs $120, or a mere 1.3 cents per page. The 6600-page cyan, magenta, and yellow 971XL cartridges work out to a little over 1.8 cents per page, per color. Add that together and you have a four-color page for just under 6.8 cents–an open invitation to spice up more of your documents with color. The standard capacity 970 and 971 cartridges work out to about twice the cost—which is still cheaper than average compared to color lasers.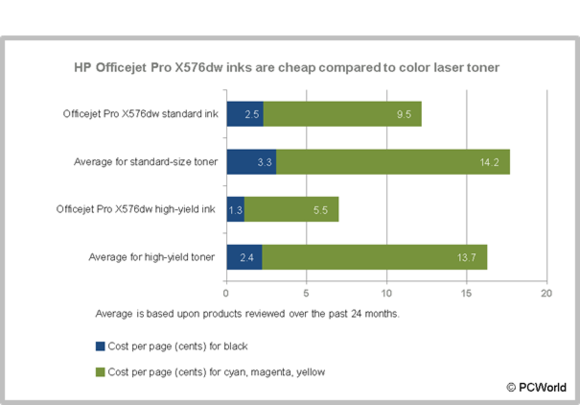 The Officejet Pro X576dw's recommended maximum monthly output of 2,800 pages is another indication of the machine's sturdiness. The standard warranty is only one year, but upgrades and service plans are available. The Officejet Pro X576dw's slightly slower cousins include the x476dw for $699, or the X476dn, without Wi-Fi, for $649. All offer the same low-cost inks.
HP color laser cousin can't compete
Still don't believe this is a good printer? Let's take a quick look at a competitive color laser product, HP's own LaserJet Pro 400 Color MFP M475dw. To its credit, this $750 color laser MFP produces supercrisp text and a surprisingly nice photo. But it's half as fast as the Officejet Pro X576dw (its top speed is 11.6 ppm printing text), and its best toner costs are 2.6 cents for high-yield black and 4.6 cents per high-yield color. Ignoring the technology, and just looking at the numbers, which printer seems like the better deal?
The Officejet Pro X576dw definitely covers the office-printer bases with its speed, capabilities, and low-cost consumables. It's facing a tough headwind, though: "There are several laser players who will work diligently protect their laser base from inkjet infiltration," warns IDC's Keith Kmetz. It's impossible to know whether any laser lovers will give the Officejet Pro X576dw a chance. If any inkjet deserves a fair hearing, it's this one.