Editor's Note: This story was published with a factual error. Other Facebook users cannot view your Facebook Activity Log, which includes a log of your search queries. The story has been corrected.]
Facebook has a new tool that lets you search for people based on their Facebook activity. It's called Graph Search, and it's gradually becoming available to every Facebook user on the planet. Once you have access—there's a waiting list—you'll be able to use it to find information such as restaurants your friends have liked, old photos containing specific family members, and alumni from your alma mater who live near your next vacation spot.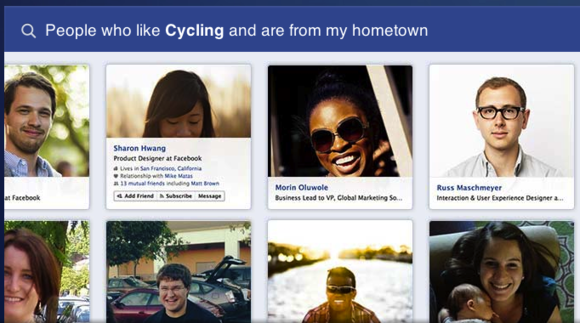 It promises to be a powerful tool for analyzing the personal data many people publish on Facebook—and that means you need to know how it works and how to prevent it from accessing data you'd prefer to keep private.
Review your Facebook privacy settings
The Graph Search tool is a work in progress and the service isn't available to all Facebook users yet, but it still represents a good opportunity to revisit your Facebook privacy settings. To get there, log in to Facebook, click the blue cog icon in the top-right corner, and select Privacy Settings. From here, you can monitor who can see your Facebook updates and retroactively set limits on your past posts—a handy trick for quickly locking down your Facebook page.
You should also browse through your Activity Log to get an idea of how much Facebook records (hint: pretty much everything you do). I was surprised to discover that Facebook has been logging my search queries for months, making it easy to see whose profiles I look at (rather than clicking and sorting through my friends list for someone, I often just type a name into the search field and go from there).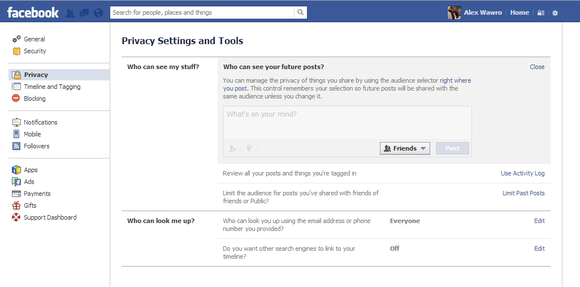 Although the 'Who Can Look Me Up?' section of the Privacy Settings menu lets you hide your Facebook profile page from search engines, doing so won't keep your profile private from Graph Search. To accomplish that, you need to go through your Facebook profile and manually select the areas you want to be inaccessible to Graph Search.
To do that, first navigate to your Facebook Timeline by clicking your name and then clicking the About section in the top-left corner of the Timeline to see your profile. This page lets you share optional information such as where you work, where you went to school, and what movies you like; Facebook shares all of this information with Graph Search by default, allowing other users to find you with natural-language search queries. You can control how Facebook shares this information by opening the Edit menu in the top-right corner of any section of your profile and changing the default 'Public' privacy setting (indicated by a globe icon) to Friends, Only Me, or Custom.
Of course, if your Facebook privacy settings are already locked up tight, you shouldn't have too much cause for concern. However, since the new tool searches across all of Facebook, you still need to be aware of posts from family, friends, and coworkers that may contain information about you that ought to be private, especially photos and videos. Open the aforementioned Activity Log and select Posts You're Tagged In on the left menu. This page will reveal how often you crop up in other people's posts, allowing you to remove yourself from embarrassing photographs and any other Facebook activity you'd prefer to keep private.