Microsoft cofounder Bill Gates let it all hang out on Monday answering questions during an ask-me-anything session on Reddit. Gates wanted questions to focus on his work with the Bill and Melinda Gates Foundation, a charitable organization dedicated to improving healthcare and reducing poverty around the world. This being Reddit and the favorite hangout of many geeks, however, there were several questions that touched on technology and the personalities surrounding the industry. Gates answered questions about his views on Windows 8, Steve Jobs, Bing, the Surface Pro, massive computer displays, and the possible reemergence of WinFS.
The new OS
Windows 8 "is a huge advance for Windows, which people will see even more as the great applications and hardware come out," Gates said. Since its introduction in October, Microsoft's newest operating system has taken a critical beating and it's not clear yet whether Windows 8 is a hit or flop with users. The company in January said it had sold 60 million Windows 8 licenses, but there are reports of slow adoption, high returns for new Surface RT devices and a lull in developer enthusiasm for creating Windows 8 touch apps.
[RELATED: How's Windows 8 doing? Microsoft reflects, 90 days in ]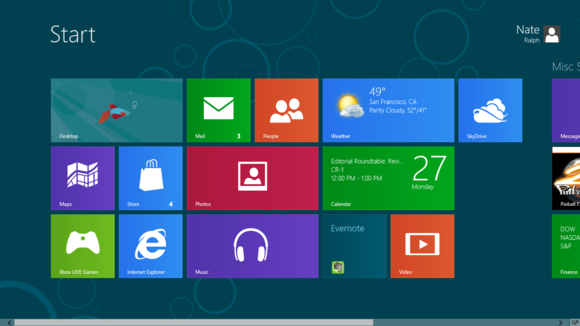 As with any new Windows release, there are also unending debates about whether Windows 7, the previous OS release, is better than the newcomer. When asked about the Windows 7 vs. Windows 8 showdown, Gates said, "higher is better."
Bing is also better
Redditor Fozzy420: "Do you guys really use Bing? I mean seriously…"
Gates: "Seriously, Bing is the better product at this point. Try the challenge. I am biased but the work to make Bing better has been amazing."
Gates was referring to the Bing It On campaign launched last fall to compare Google and Bing search results. After launching the program, Microsoft said a survey of users who took a blind test of Google and Bing results found that people preferred Bing search results nearly 2 to 1 over Google.
And yet, almost four months after the Bing challenge, Google is still the most dominant search engine in the U.S., claiming 66.7 percent of all searches in December, according to metrics firm comScore.
Apple and Steve Jobs
Bill Gates may have famously prevented his children from owning iPods and iPads , but that hasn't stopped the former Microsoft chief executive from experiencing Apple's wonder gadgets. "I mostly use Windows machines but from time to time I have tried all of Apple products," Gates said. Not a particularly surprising thing for a former technology CEO to say since you always want to know what the other guys are up to.
When asked about Steve Jobs, Gates offered nothing but respect for the deceased cofounder and driving force behind Apple. "He and I respected each other," Gates said. "Our biggest joint project was the Mac … I saw Steve regularly over the years, including spending an afternoon with him a few months before he tragically passed away."
Computer Walls and Surface Pro
During the Reddit event Gates used a massive Perceptive Pixel display to answer questions, calling it a "huge Windows 8 touch whiteboard." The display was believed to be Perceptive Pixel's 80-inch model. Gates even posted a picture to show the wall-like display in action. "These will come down in price over time and be pervasive," Gates said.
One of Microsoft's longstanding goals is to turn a wall in everyone's home into a massive computer display. While an 80-inch monitor isn't exactly wall-sized, it is a step in the right direction. Microsoft acquired Perceptive Pixelin 2012.
When not using massive displays, Gates has recently been opting for something much smaller. Microsoft's chairman said he is also using a 10.6-inch Surface Pro that he received about a week ago. "It is very nice," Gates said about the new Microsoft-branded tablet.
The return of WinFS?
WinFS was an ill-fated file storage subsystem originally slated to be incorporated into Windows Vista (then known as Longhorn), but was shelved in 2004 to expedite Vista's general release. Pieces of WinFS have since filtered into other products. The promise of WinFS was to make it easier to catalog and search data on your PC.
"We had a rich database as the client/cloud store that was part of a Windows release that was before its time," Gates said referring to WinFS. "This is an idea that will remerge since your cloud store will be rich with schema [a way to group data by generic type such as documents, images, video, etc.] rather than just a bunch of files and the client will be a partial replica of it with rich schema understanding."
Beyond technology, Gates also shared that he loves playing tennis, is an "avid bridge player," and likes to tour interesting and quirky places with his kids such as power plants, the Large Hadron Collider, and missile silos.