Any two pages among the estimated 14 billion on the Web are connected by 19 clicks or less, according to a new study of the make up of the Internet.
Just like there are no more than six degrees of separation between Kevin Bacon and any Hollywood actor, new research from Albert-László Barabási, a Hungarian physicist, indicates even the most obscure places in cyberspace are no further than 19 clicks away from your mother's Facebook profile page.
The physicist created a simulated model of the Web in order to understand its structure, and estimates there are some 14 billion pages and around 1 trillion Web documents—like images, videos, or hosted files—making up those pages.
Although there are so many pages which seem poorly connected at first, search engines, indexes, and aggregators help people move from one Web page to another and act as "nodes" for people to navigate across the entire Web in less than 19 clicks. These nodes are so valuable that removing even a small number of them would devastate the network of connections.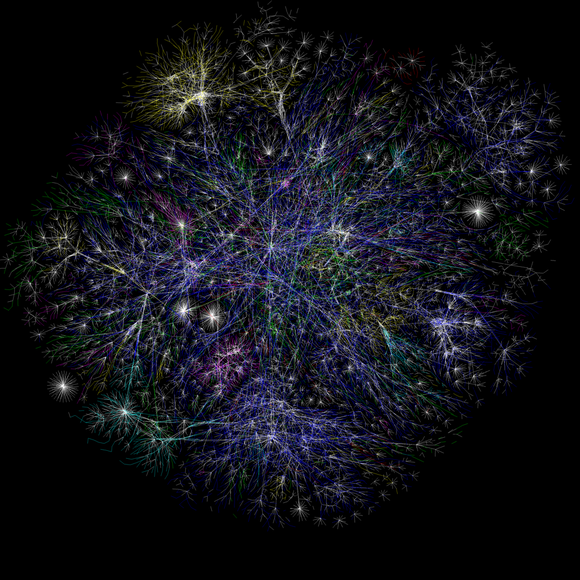 The connectedness of Web pages is due to the "small world" of human nature, Barabási explained to The Smithsonian. People naturally form groups and communities based around similar interests, and many of the crucial online aggregators are organized around particular themes or locales. As such, Barabási's research indicates that no matter how large the Web grows, the 19-click rule will continue to apply as content is organized by the likes of search engines.
While "six degrees of separation" is the idea that everyone is 6 or fewer steps away from any other person in the world by way of introduction, Facebook has made the world even smaller. A study from 2011, when Facebook had some 700 million users (it has more than 1 billion currently), indicated that there are only four degrees of separation between any two Facebook users—a number than has shrunk from 5 degrees of separation in 2008.