Editor's note: This story has been updated to reflect the pricing and features of Office 365 features released on Feb. 27.
The war between Google and Microsoft is heating up. Each tech giant offers a productivity suite serving the essentials for serious work online: word processing, spreadsheets, email, and calendars. Should you ally with Google Apps for Business, or root for Microsoft's Office 365 for Small Business?
My experience with both brands' productivity tools reflects the workflows many small businesses face. In 2007, with staff scattered across several countries, my editorial company started using Google Apps for Business. It offered email, plus shared text documents and spreadsheets all under our company domain name and logo. Meanwhile, on the desktop, we used Microsoft Word and Excel, particularly for complex documents that we shared with clients.
If we were starting over today, we would seriously consider Microsoft's desktop-hybrid Office 365 for Small Business. For years Microsoft wasn't putting significant functionality online, but the release of Office 365 small business packages is a big step forward. This story focuses on the purely online tools that each brand offers. But in addition, Microsoft offers the full, rich Word, Excel, PowerPoint and other applications included with its Office 365 Small Business Premium suite.
Google and Microsoft each allow personal and business use of their online platform, as well as simultaneous logins to multiple accounts in different browser tabs. Beyond that, however, their platforms differ greatly in usability, functionality, and mobile support. Read on to discover the standout features and surprising weak points of each suite, with a focus on how key tools operate in a Web browser.
Online word processing and collaboration
Google's word processor works extremely well. It can't create an index, but it has all the standard formatting, as well as hundreds of fonts. If I have a document pulled up in my browser while someone else is editing it on, say, their smartphone, I see the changes as they are typing them, letter by letter.
Google's word processor is a what-you-see-is-what-you-get app—unlike Microsoft's Word Web app. The way a document looks onscreen is the way it will look when downloaded to your PC as a Word or PDF file, when printed, or when published as a Web page. Critically important: Google saves your documents automatically. Back in the old days—2008, say—you might lose all your work at any moment. Today, changes are saved instantaneously, and if you lose Internet connectivity, you're alerted immediately.
Google Drive can sync documents on multiple machines and in the cloud. If a Google document is edited offline, there's a potential for conflict with other editors, and again if users apply Word formatting that isn't yet supported by Google. If there are no conflicts, the document syncs automatically. Otherwise, either a brand-new document is created with the changes, or you can choose which changes to use.
Microsoft Office 365 shares Google's synchronization problem when documents are edited locally. The Word Web App within Office 365 has a bit less functionality. Most important, it lacks what-you-see-is-what-you-get.
Also, unlike Google, the Word Web App attempts to maintain a level of compatibility with the standard desktop version of Word, but it can't yet display all the formats. Say, for example, that you have white letters on a dark background. It looks fine when first uploaded and viewed in preview. But open the document for editing, and the résumé sections are immediately misaligned, formatting commands butt into the text, and background colors all disappear. To make sure the edits look right, you'll need to switch back to the Reading View.
Editing the same sample résumé in Google is an easier matter, as this image shows:
With Microsoft's Word Web App, trying to edit the same document from multiple locations is difficult. There's a complex process of locking, unlocking, and reconciling files if multiple people edited them at once.
If your employees need to do any serious editing, they'll need to use the desktop version of Word 2013. If they don't have that, the Office on Demand feature will stream the full Office software on nearly any PC.
Microsoft's mobile functionality is in place if you're using the well-built Office apps for Windows Phone 8, or if you've paid for Office desktop software for a Windows 8 tablet. There are no iOS or Android apps for Office 365, though third-party apps let you edit Office documents. Google, on the other hand, offers free apps for iOS and Android, but not for Windows mobile devices.
Winner: Google Apps wins. Microsoft's Word Web App isn't ready for prime time.
Next page: Spreadsheets, email, calendars, and costs…
Online spreadsheets
Google's spreadsheet app supports basic Excel functionality—multiple sheets in a workspace, cross-sheet references, and standard formulas. It also has formatting options, charts, drawings, images, gadgets and scripts. Yet, when saving a Google spreadsheet in Excel format, the charts may look a little different, and some functionality might be lost. The same is true when converting an Excel document to edit in Google Apps.
The Excel Web App does have autosave, background colors on cells work fine, and multiple people can edit online at once. It supports many more features than Google's spreadsheets do. Cell formats, charts, formulas, and many other advanced functions work perfectly. Not everything is supported, such as objects or tables that pull in data from outside sources. If you upload files saved in older Excel formats, such as .xls, you will need to re-save them first in the latest .xlsx format to edit them.
Winner: Microsoft's Excel Web App is superior to Google Spreadsheets.
Email and calendars
Microsoft's and Google's Outlook, Calendar, Contacts, and Tasks are similar to Google's counterparts. Outlook allows emails to be grouped into folders and subfolders, while Google has labels and sublabels. A Google email can have multiple labels, but an Outlook email can be copied to multiple folders, and a "Category" option is similar to Gmail's labels. So it's pretty much a wash.
Gmail integrates well with many of Google's other tools. Get a foreign-language email? Gmail offers to translate it. Text chat with your contacts without leaving Gmail, add them to your Google+ circles, start a voice or video call, or set up a hangout video conference with several people.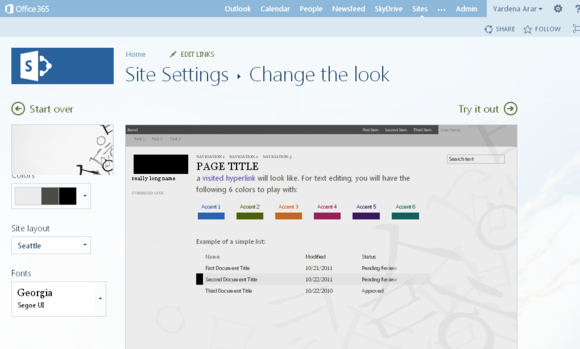 Both Outlook and Gmail have nice text editors. The Outlook Web App opens a new pop-up window when a user is reading or creating email—an annoying habit since I have pop-ups blocked.
If you've used the free, personal Outlook at Outlook.com, you'll find quite a few differences. The personal version has some nice tools not in the Office 365 version of Outlook, such as "Quick Views" of frequently-used categories. Microsoft's online Outlook and Calendar can be used as is, without needing a local copy of Outlook for functionality. The one significant exception for businesses is the lack of an online mail merge function—you'll have to switch back to the desktop Office suite for that. (Google Apps supports mail merge through either built-in scripting or with third-party apps.)
Both Gmail and Outlook allow you to manage multiple email addresses from the same account, but Gmail lets you set up different signatures for each address. Both platforms let you view appointments from multiple calendars. For example, you might have a personal calendar for your own appointments, a group one that everyone on your team has access to, and a home calendar associated with your personal email account. Events from all three calendars will show up on the same screen, color-coded so you can tell them apart. In addition, both calendars can send you reminders by email, pop-up alerts, or via text message to your cell phone.
I've used Outlook both on the desktop and on the Web, and I find Microsoft's online interface to be simpler and clearer than the desktop version. But I prefer Gmail to both, not because of any particular features, but simply because I'm more used to the interface after all these years. If your employees have been using Outlook all along, they would probably be happier with the Microsoft's online email client.
Winner: Tie
What they cost
Google Apps for Business starts at $5 per user per month, or $50 per user per year. Each user gets 25GB of storage for email, plus 5 GB of storage on Google Drive. Upgrading to Google Apps for Business with Vault costs $10 per user per month, adding more security and e-discovery features. There are no limits on how many users each company can have on the platform, and additional storage space is available at $4 per month for 20 GB. Google Apps can export documents in Word and Excel formats, but if you're dealing with more advanced features you'll also need to have local copies of Office.
Pricing for Office 365 is far more complex (chart above). Office 365 for Small Business, which only includes online tools, costs $6 per user per month, or $72 per year. Office 365 for Small Business Premium costs $150 per user per year. It adds the desktop Word, Excel, PowerPoint, OneNote, Outlook, Access, and Publisher, as well as Lync and InfoPath, for up to five devices per user. It also includes a 25GB mailbox and 10GB plus 100MB of SkyDrive cloud storage.
Both platforms offer free trial periods.
Winner: Google Apps for Business costs less. If you want to get new Office desktop software, then Office 365 Small Business Premium is a better bet despite the additional cost.
Add-ons and apps
Google Apps has its own apps store (not to be confused with the Android Apps Store) in the Google Apps Marketplace. These applications, many also available for mobile devices, integrate with the Google platform. For example, they might allow single sign-on, or add functionality to your calendars, emails, contacts, or documents. . There are many free or low-cost business productivity applications such as CRM and project management, that are easy to install.
By contrast, Microsoft has been slow to the Web, although it still dominates the offline world. Microsoft's Office Store sells apps that integrate with its desktop Office software, not the Web Apps. The Office 365 Marketplace also offers an array of serious tools for specific business needs, such as financial management, as well for IT admins. Most of these products don't apply to the majority of end users of the Office 365 online tools.
However, the Office file formats are the default standards for business documents shared with other businesses. An entire industry of developers and service providers helps companies expand on their Microsoft applications, and a great deal of legacy code is designed to work on the Microsoft platform. Microsoft's offline ecosystem isn't likely to disappear any time soon. If your company has time and money invested in this ecosystem, it makes sense to consider Office 365 for online collaboration, and to be patient while Microsoft improves the feature set.
Winner: Google is ahead with its Web ecosystem.
Which suite should you choose?
For startups and small companies without a great a deal of existing investment in Microsoft Office documents and applications, Google offers a robust and quickly evolving online ecosystem, with broad mobile support.
Google Apps is part of a wide Google ecosystem and was born on the Web. Every document—text, spreadsheet, graphic, or presentation—can be instantly published to the Web for public access, or access by a limited group of users. Data can be pulled in from Google's various other applications, including Google Finance, or from easy-to-create online forms.
If you're on the fence, ask yourself how important it is for you to access rich Office desktop applications, and in particular, to edit complex Excel spreadsheets. If you need online access to Excel charts, complicated formulas, and fancy graphics, go with Office 365 for Small Business. If you must have the latest desktop applications, however, the step-up Office 365 Small Business Premium is a far more appealing package.
Microsoft also offers more tools we have not discussed here, such as PowerPoint, and Lync for IM and conferencing, which is set for Skype integration. Otherwise, if your company operates primarily online and on the go, Google Apps for Business offers the more compelling option for those who work mostly in the cloud.